News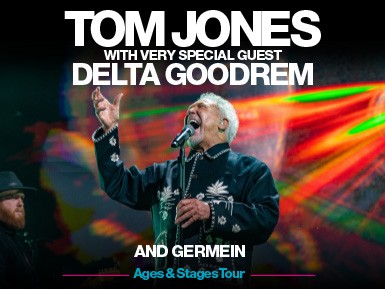 Tom Jones Ages & Stages Tour
18th September, 2023
TOM JONES ANNOUNCES
AGES & STAGES TOUR
WITH VERY SPECIAL GUEST
DELTA GOODREM
A DAY ON THE GREEN
Centennial Vineyards, Bowral – Saturday 23 March, 2024
TICKETS ON SALE FRIDAY 22 SEPTEMBER
Roundhouse Entertainment, in conjunction with Live Nation, is thrilled to announce that legendary Welsh singer and performer TOM JONES will make a welcome return to a day on the green with his Ages & Stages tour performing at the stunning Centennial Vineyards in Bowral, NSW on Saturday 23 March, 2024.

Joining TOM JONES in Bowral, to make this an event not to be missed, will be very special guest DELTA GOODREM, making her a day on the green debut.

Tickets on sale on Friday 22 September at 2.00pm local time via Ticketmaster, with AAMI members' presale and a day on the green members' presale beginning Wednesday 20 September at 3.00pm local time.

With a remarkable career spanning more than six decades, TOM JONES is widely considered to be one of the greatest singers and recording artists of all time, selling more than 100 million records and hailed by The New York Times as a "musical shapeshifter who could slide from soulful rasp to pop croon, with a voice as husky as it was pretty".

TOM JONES is indeed a living legend, one of the few musical artists whose profession began at the dawn of modern popular music who continues to have a vital recording and performing career to this day. His irresistible show traverses musical eras and genres, cuts across class divides and appeals to young and old, male and female, mainstream and cutting edge. Sir Tom has always been about the power of the song, the power of the voice – qualities that have made him a true legend in the music zeitgeist.

Kickstarting a successful and diverse career in the early '60s and achieving international fame with his powerful voice and stage presence, he has had a string of hit songs, including It's Not Unusual, What's New Pussycat?, Delilah, James Bond theme Thunderball, Green, Green Grass of Home, She's A Lady, Sex Bomb and an unforgettable cover of Prince's Kiss.

His career has been filled with numerous honours and accolades, including a deeply cherished knighthood from Queen Elizabeth II in 2006, multiple BRIT Awards, a Silver Clef Award, the prestigious Music Industry Trusts Award and a Hitmaker Award from the US Songwriters Hall of Fame.

Tom has received some of his best reviews for his most recent Ethan Johns-produced albums Surrounded By Time, Long Lost Suitcase, Spirit In The Room, and Praise & Blame. Critics have praised both the recorded material and his performances, highlighting his undeniable and unique talent in both the studio and on stage.

DELTA GOODREM is an award-winning singer-songwriter, musician, actress, number 1 best-selling author and philanthropist. Delta recently launched ATLED Records which saw an impressive debut with her single Back To Your Heart securing a spot in the UK's Top 10 charts. With 5 number 1 albums, 9 number 1 singles, 17 Top 10 hits, 12 Australian ARIA Awards, a Silver Logie TV Award and 3 World Music Awards, she is an artist in the truest sense and her story is one of hope and inspiration. Her debut album Innocent Eyes is the highest-selling local debut album of all time in Australia, spending a record-breaking 29 weeks at number one, with all five singles – Innocent Eyes, Lost Without You, Not Me, Not I, Predictable and the unforgettable anthem, Born To Try – reaching the top of the charts. Delta's musical journey is a testament to her versatility and talent.

GERMEIN's energetic and charismatic live performances have been described as nothing short of mesmerising, whether it's jamming together on their family farm in South Australia, opening stadium shows for Little Mix, or performing on the Main Stage at the Isle of Wight Festival. Sisters Georgia, Ella and Clara Germein have been turning heads with their unique brand of indie pop songs and signature harmonies, possessing the distinct and close musical partnership that can only be shared by siblings. The trio's latest single Suitcase is an effortless fusion of indie meets country-pop.

Centennial Vineyards has played host to some of the most memorable shows in a day on the green history, including music icons Sir Rod Stewart, Sting, Leonard Cohen, Crowded House, Alicia Keys, Joe Cocker, INXS, Jimmy Barnes and Lionel Richie, and a day on the green is excited to return next March with the charismatic superstar TOM JONES with very special guest DELTA GOODREM at the picturesque winery in the beautiful Southern Highlands region of NSW. Don't miss what is sure to be another magical and unforgettable show on Saturday 23 March, Centennial Vineyards, Bowral.

And for a totally relaxing, stress-free day, leave the car at home and travel by bus, with various pick-up and drop-off locations in Bowral, Mittagong, Sydney, Canberra, Campbelltown and surrounding regions.

Tickets on sale Friday 22 September from Ticketmaster.

TOM JONES TOUR DATES

A DAY ON THE GREEN
Saturday 23 March, 2024 - Centennial Vineyards, Bowral, NSW Lic. All Ages
Special guests Delta Goodrem and Germein

All event information adayonthegreen.com.au

Tom Jones touring nationally.
For complete tour, ticket and VIP Experience information, visit:
tomjones.com
livenation.com.au

TICKETING

AAMI CUSTOMER PRESALE
via AAMI Events and Experiences
Runs from: Wednesday 20 September, 3.00pm local time
until presale allocation exhausted

A DAY ON THE GREEN MEMBERS PRESALE
via adayonthegreen.com.au/register
Runs from: Wednesday 20 September, 3.00pm local time for 46 hours
Or until presale allocation exhausted

GENERAL PUBLIC ON SALE – TOM JONES
Tickets on sale Friday 22 September at 2.00pm local time
From Ticketmaster

IMPORTANT INFORMATION
Patrons are advised to purchase tickets only through authorised ticket sellers. We cannot guarantee any ticket purchase made through any means other than the official ticketing agents listed on the A Day On The Green, Live Nation and winery's websites.

All shows subject to final regulatory approvals. Live Nation and Roundhouse Entertainment reserve the right to alter show details to comply with government and health regulations.

TICKET PRICES – A DAY ON THE GREEN

Diamond Reserved Seating - From $255.00*
Gold Reserved Seating - From $205.00*
Silver Reserved Seating - From $175.00*
General Admission Lawn - From $145.00*
*A$5.95 handling fee per transaction applies.

EVENT INFORMATION
a day on the green is Licensed All Ages. Strictly no BYO alcohol. Food will be available on site or BYO. Children under 12 years are free in GA Lawn area only. Patrons under 18 must be accompanied by a responsible adult

For all transport and event information, go to adayonthegreen.com.au

TRANSPORT AND ACCOMMODATION
For a totally relaxing, stress-free day, leave the car at home and travel by bus. This is the preferred a day on the green transport option.

For accommodation enquires go to visitsouthernhighlands.com.au
For Bowral, Mittagong and local transport enquires go to buslinesgroup.com.au
For Sydney, Canberra and Campbelltown transport enquires go to murrays.com.au

Limited parking is available onsite at Centennial Vineyards for a fee of $30 per vehicle. Pre-booking is essential.

ABOUT A DAY ON THE GREEN
a day on the green is Australia's original and premier outdoor winery concert event. Since its first show in January 2001, a day on the green has firmly established itself as one of Australia's most popular concert events hosting some of the biggest music acts in the world. 2023/24 marks the 23rd season of a day on the green. After 500 shows and more than 4 million happy patrons, the a day on the green experience of good food, fine wine and great music in magnificent locations remains unrivalled.

Sign up here to become an a day on the green member to keep up to date on all the latest tour information and access presale offers, competitions and more.

tomjones.com | facebook.com/sirtomjones
twitter.com/realsirtomjones | instagram.com/realsirtomjones
Spotify | YouTube | Apple Music | TikTok

deltagoodrem.com | facebook.com/DeltaGoodremMusic
twitter.com/deltagoodrem | instagram.com/deltagoodrem
Spotify | YouTube | Apple Music | TikTok

a day on the green is proudly presented by MG Live, Roundhouse Entertainment and AAMI.