News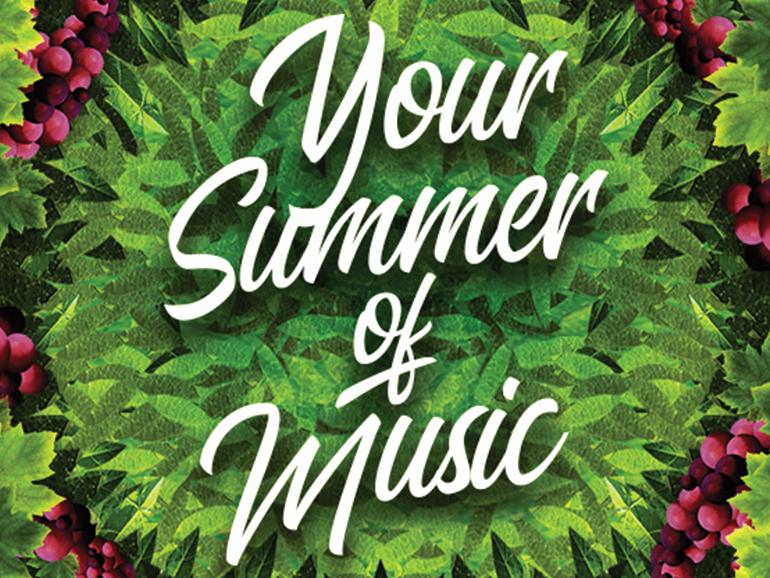 Your Summer of Music
24th October, 2019
HOT FUN IN THE SUMMERTIME – a day on the green IS YOUR SUMMER OF MUSIC

Here comes the sun – and summer's hottest line-up of entertainment.

This summer marks the 19th season of a day on the green – and our final teenage year is going to be our biggest yet!

After 470 shows and 4 million happy patrons, the a day on the green experience of good food, fine wine and great music in magnificent locations remains unsurpassed. Beware of pale imitations – a day on the green is Australia's original and premier outdoor winery concert event.

We're celebrating those lazy, hazy, crazy days of summer with some of our hottest line-ups to-date.

Your Summer of Music starts with ROB THOMAS. The much-loved Matchbox Twenty frontman and solo star brings his Chip Tooth Tour to Rochford Wines in Victoria's Yarra Valley on Saturday, November 9, followed by shows at Leconfield Wines, McLaren Vale, SA on Sunday, November 10; Bimbadgen in NSW's Hunter Valley on Saturday November 16; and Sirromet Wines at Queensland's Mount Cotton on Sunday, November 17. Rob will be joined by PETE MURRAY (all shows), DARYL BRAITHWAITE (Vic, Qld and NSW), RUSSELL MORRIS (SA, Qld & NSW) and rising star EMILY WURRAMARA (Vic & SA).

The endless summer nights continue with the year's most-anticipated tour – ELTON JOHN's Farewell Yellow Brick Road. The icon's final Australian tour will include a day on the green at Geelong's Mt Duneed Estate (limited tickets still available), plus sold-out shows at Sirromet Wines (January 18 & 19), All Saints Estate, Rutherglen, Vic (January 29), and Rochford Wines (January 31 & February 1).

2020 will kick off with Aussie legends COLD CHISEL and their Blood Moon Tour. A blood moon is a rarity – as is a Chisel tour. This is just the band's fourth national tour since their famous Last Stand in 1983, and it's their very first outdoor tour, with six exclusive a day on the green shows: All Saints Estate, Rutherglen on January 7; Rochford Wines on January 10; Mt Duneed Estate on January 11 (Sold Out); Heifer Station Wines in Orange, NSW on February 1; and two shows at Sirromet Wines on February 8 (Sold Out) and February 9.

This will be our first a day on the green event at our new venue, the stunning Heifer Station Wines in Orange. Fun fact: COLD CHISEL were known as Orange when they started out in 1973. This show was meant to be!

We're proud to be bringing Norway's biggest band, a-ha, back to Australia this summer – for their first Australian tour in 34 years. And they will be joined by UK superstar RICK ASTLEY. They're playing at Kings Park & Botanic Garden, Perth on February 19; Rochford Wines on February 22; Bimbadgen on February 29; and Sirromet Wines on March 1.

We're also thrilled to announce that a day on the green is returning to New Zealand, with a-ha and RICK ASTLEY at the Villa Maria Winery in Auckland on March 7. This will be a-ha's first NZ tour.

And that's not all … Stay tuned for more announcements. The last wave of summer is gonna be big!

The entire team at Roundhouse Entertainment can't wait to welcome fans to our 19th season. Good food, fine wine and incredible music – a day on the green is your hottest concert destination, all summer long! We know you're going to love it.

Summer is a season filled with memories. Make new memories at a day on the green … it's Your Summer of Music.

And make sure you share your memories on social media: #adayonthegreen
FACEBOOK | INSTAGRAM | TWITTER | YOUTUBE | SPOTIFY

Sat Nov 9 Rob Thomas, Pete Murray, Daryl Braithwaite, Emily Wurramara
Rochford Wines, Yarra Valley, VIC

Sun Nov 10 Rob Thomas, Pete Murray, Russell Morris, Emily Wurramara
Leconfield Wines, McLaren Vale, SA

Sat Nov 16 Rob Thomas, Pete Murray, Daryl Braithwaite, Russell Morris
Bimbadgen, Hunter Valley, NSW

Sun Nov 17 Rob Thomas, Pete Murray, Daryl Braithwaite, Russell Morris
Sirromet Wines, Mount Cotton, QLD

Sat Dec 7 Elton John
Mt Duneed Estate, Geelong, VIC
LIMITED TICKETS AVAILABLE

Tues Jan 7 Cold Chisel, Birds of Tokyo, Magic Dirt
All Saints Estate, Rutherglen, VIC
SELLING FAST

Fri Jan 10 Cold Chisel, Birds of Tokyo, Magic Dirt, The Detonators
Rochford Wines, Yarra Valley, VIC
SELLING FAST

Sat Jan 11 Cold Chisel, Paul Kelly, Birds of Tokyo, Magic Dirt
Mt Duneed Estate, Geelong, VIC
SOLD OUT

Sat Jan 18 Elton John
Sirromet Wines, Mount Cotton, QLD
SOLD OUT

Sun Jan 19 Elton John
Sirromet Wines, Mount Cotton, QLD
SOLD OUT

Wed Jan 29 Elton John
All Saints Estate, Rutherglen, VIC
SOLD OUT

Fri Jan 31 Elton John
Rochford Wines, Yarra Valley, VIC
SOLD OUT

Sat Feb 1 Elton John
Rochford Wines, Yarra Valley, VIC
SOLD OUT

Sat Feb 1 Cold Chisel, Birds of Tokyo, Magic Dirt
Heifer Station Wines, Orange, NSW
LIMITED TICKETS AVAILABLE

Sat Feb 8 Cold Chisel, Birds of Tokyo, Magic Dirt
Sirromet Wines, Mount Cotton, QLD
SOLD OUT

Sun Feb 9 Cold Chisel, Birds of Tokyo, Magic Dirt
Sirromet Wines, Mount Cotton, QLD
SECOND SHOW ON SALE NOW

Wed Feb 19 a-ha, Rick Astley, I Know Leopard
Kings Park & Botanic Garden, Perth, WA

Sat Feb 22 a-ha, Rick Astley, Pseudo Echo, I Know Leopard
Rochford Wines, Yarra Valley, VIC

Sat Feb 29 a-ha, Rick Astley, Pseudo Echo, I Know Leopard
Bimbadgen, Hunter Valley, NSW

Sun Mar 1 a-ha, Rick Astley, Pseudo Echo, I Know Leopard
Sirromet Wines, Mount Cotton, QLD

Sat Mar 7 a-ha, Rick Astley, The Beths
Villa Maria Winery, Auckland, NZ
To avoid ticket fraud, buy your tickets only from authorised outlets. If in any doubt, visit adayonthegreen.com.au for direct links to the authorised agency.

And to hear first about concert announcements and to receive early-bird discounts, become an a day on the green member – it's free.
For full event information visit adayonthegreen.com.au

a day on the green is proudly presented by Roundhouse Entertainment and AAMI.