News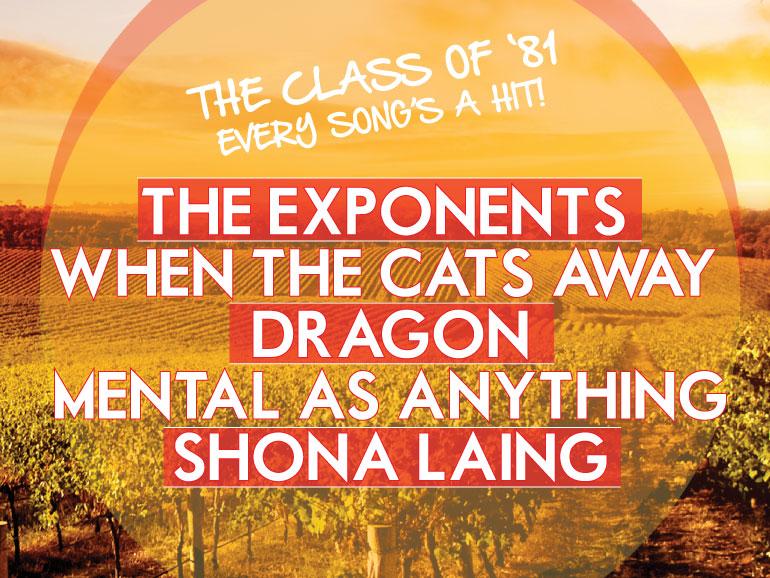 THE CLASS OF '81
17th November, 2011
Featuring
THE EXPONENTS - 30 YEAR ANNIVERSARY
WHEN THE CAT'S AWAY WITH SHARON O'NEILL
MENTAL AS ANYTHING
DRAGON
SHONA LAING
Where were you in 1981? When Charles and Diana tied the knot, when MTV music channel first launched and Raiders Of The Lost Ark was released at the box office?
Where were you in 1981? When our most iconic pop-rock band The Dance Exponents first formed in the friendly South Island town of Timaru?Get set for the biggest down under reunion of all-time!
The Class Of '81 concert event February 2012 at Villa Maria Estate Winery in Auckland! A gathering of old friends and musical heroes getting back together for what will be a mighty celebration with some of Australasia's best known songs and artists, and every song's a hit!
The Exponents have been part of New Zealand's music, a part of our sound and our lives, for 30 years! That will not surprise very many Kiwis. Their debut single 'Victoria' paved the way for a string of massive New Zealand hits and some of our best-loved songs. 'Why Does Love Do This To Me', 'I'll Say Goodbye (Even Though I'm Blue)', 'What Ever Happened To Tracey', 'Who Loves Who The Most' all shining examples of Jordan Luck and The Exponents popular song-writing ability and the legacy that continues today after 30 long, hard and above all glorious years. Headlining Class of '81, come relive the hits and sing along to The Exponents! This will be the very first concert date of their 30 year anniversary tour.
Although she is kiwi born and bred, Sharon O'Neill found real commercial success in Australia in the early 80's. Her greatest hit 1983's 'Maxine' (which chronicles the life of a King's Cross prostitute), remains a killer classic that Sharon is bound to perform when she joins When The Cat's Away on stage at a day on the green.
Annie Crummer, Debbie Harwood , Kim Willoughby and Margaret Urlich are four of the biggest names in local pop music. Add to them Sharon O'Neill and you have a number one 'Melting Pot' of some of our finest female voices. When The Cat's Away first formed in 1986 when they performed together at the annual NZ Music Awards. The five original members were all well known in their own right and, as a group, they reached the height of the NZ Music Chart. 'Asian Paradise' was their biggest follow up hit and the group went on to hold the record for the biggest grossing NZ act in the late 80's. This year marks When The Cat's Away 25th anniversary!
ARIA Hall of Fame members, Australia's new-wave rock group Mental As Anything met and formed at art school in Sydney in 1976. The bands trademark has always been their quirky and ironic sense of humour. A multitude of Top Ten Australian singles, "If You Leave Me, Can I Come Too?","Too Many Times", "Live it Up" and "Rock and Roll Music", The Mentals always did their own thing visually, musically and stylistically... Still going strong, the group will make history once again at Class of '81!
Part ozzie, part kiwi, Dragon have a made a true resurgence in the classic rock trail of late. They've toured extensively with current line up of Mark Williams, Todd Hunter, Pete Drummond and Bruce Reid. After what has been an eventful career to say the least, the band were graciously recognised by ARIA and joined their brothers Mental As Anything in the Australian Hall of Fame in 2008 and were recently also inducted into the RIANZ Hall Of Fame! But the music truly speaks for itself and numbers like 'April Sun In Cuba', 'Are You Old Enough' and 'Still In Love With You' will always be celebrated.
Shona Laing was a 17 year old school girl when she won New Zealand's "New Faces" TV talent show with her song '1905'. Her first two singles, 1905 and Show your Love both certified gold and both peaked at number 4 on the New Zealand charts during the early 70's. In 1975 she relocated to the UK where she sang for Manfred Mann's Earth Band and wrote her biggest hit, 1986's "(Glad I'm) Not A Kennedy". Back in NZ and ready to rock, Shona Laing will open the show at Villa Maria Estate Winery next February.
Old musical friends reunited for one extremely special winery concert. Class of '81 the very best New Zealand and Australian artists all together on the one stage performing their greatest hits! Why not get your old school friends together for a trip down memory lane and a real day to remember?
Roundhouse Entertainment presents
CLASS OF '81
Featuring
THE EXPONENTS - 30 YEAR ANNIVERSARY
WHEN THE CAT'S AWAY WITH SHARON O'NEILL
MENTAL AS ANYTHING
DRAGON
SHONA LAING
Saturday 11th February 2012
Villa Maria Estate Winery
TICKETS ON SALE MONDAY 28 NOVEMBER THROUGH TICKETMASTER
ticketmaster.co.nz
0800 111 999
a day on the green members pre-sale from Monday 21st November. Sign up to become a a day on the green member here for special price earlybird tickets of $81.
Click here for full concert details.