News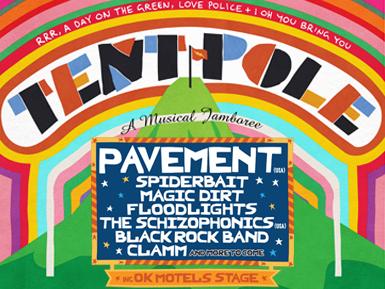 Tent Pole A Musical Jamboree
13th September, 2022
a day on the green, LOVE POLICE & I OH YOU
ANNOUNCE A NEW CONCERT EXPERIENCE AT GEELONG & THE SURF COAST'S FAVOURITE OUTDOOR VENUE – MT DUNEED ESTATE!

TENT POLE
A MUSICAL JAMBOREE
featuring PAVEMENT & friends
FIRST ANNOUNCEMENT WITH MORE TO COME …

SAT 4 MARCH – MT DUNEED ESTATE, WADAWURRUNG (GEELONG)

Welcome to Tent Pole: A Musical Jamboree! Twelve acts. Two stages. And a no-holds-barred attack on your aural senses. Come for the music, stay for the experience.

Tent Pole: A Musical Jamboree will turn the festival experience on its head with a line-up curated for maximum enjoyment over two stages, with the inaugural event taking place at Geelong's Mt Duneed Estate on their newly developed Top Paddock site on Saturday 4 March.

More than just the music, it's a cross-generational, neo-nostalgic celebration and gathering for like-minded music, art and culture lovers; the weird, the wonderful, the outsiders and everyone in between. Remembering, discovering and absorbing. All-inclusive and accessible. All senses catered for. All sensations welcome.

Influential and iconic US indie heroes PAVEMENT return to Australia to headline and christen the ground-breaking, fan-friendly new musical gathering, Tent Pole: A Musical Jamboree.

One of the most popular bands to come out of the American underground in the last three decades, PAVEMENT who last toured Australia in 2010, will feature the unbeatable line-up of Stephen Malkmus, Scott 'Spiral Stairs' Kannberg, Mark Ibold, Bob Nastanovich and Steve West.

The band have just celebrated the 30th anniversary of their seminal 1992 debut album Slanted and Enchanted, a timeless record that not only changed indie music but one that continues to inspire musicians to this day.

Joining PAVEMENT will be indie-rock royalty SPIDERBAIT, legendary Geelong locals MAGIC DIRT, alt-pop-rock faves FLOODLIGHTS, San Diego rock'n'soulers THE SCHIZOPHONICS, NT rockers BLACK ROCK BAND and punk trio CLAMM, with more acts to be revealed soon.

Tent Pole is the first collaboration between Roundhouse Entertainment (the team behind Australia's iconic outdoor summer concert series a day on the green), Love Police (led by music maverick Brian 'BT' Taranto, promoter of excellent international tours Out On The Weekend & Boogie, merch guru, book publisher and record label wiz) and Johann Ponniah, founder of I OH YOU (home to one of the country's most successful independent record labels and promoter of Campbelltown's Out Of Bounds festival). They are combining their decades of expertise in booking the finest bands from all over the globe to give music fans the ultimate experience.

And in a celebration of art, music and retro road trips, OK Motels will take over the second stage, curating a line-up featuring Geelong's own MAGIC DIRT, indie pop-rockers FLOODLIGHTS, as well as US garage duo THE SCHIZOPHONICS, hailed by Spotify as the "wildest live band in America". Embracing their unique love of all-things local, rural and retro, and with a nostalgic nod to the '70s – Kate Berry, the founder and photographer behind everyone's favourite Instagram account – with Shaun Adams, will produce a very OK program celebrating music, nostalgia and the great Aussie road trek.

Prepare for iconic, indie, lo-fi, hi-fi, post-punk, alternative, renegade rock across two stages. Celebrating an eclectic mix of artists, while showcasing a musically diverse mix of seminal and highly influential international and Aussie acts, as well as local, up-and-coming and emerging artists. So magnificent, it will take two stages to contain them all! Arrive early and discover your next favourite band!

Tickets go on sale Wednesday 21 September at 1.00pm local time from Ticketmaster, with a day on the green, AAMI and Love Police members' pre-sale beginning Monday 19 September.

With a bill bursting with revered, respected and rising stars, and a strictly limited capacity, don't miss the opportunity to get your early bird tickets for just *$149.90.

Roundhouse Entertainment Director Michael Newton said, "After 21 years and nearly 500 shows, it's exciting to launch a new event to complement the a day on the green experience. It's been fantastic to curate a smaller boutique event with BT and Johann. The Zoom calls have been fun so far. Mt Duneed Estate is a great site, and with more bands to come we look forward to firmly stamping Tent Pole as a mainstay on the Victorian festival calendar for many years to come."

BT of Love Police, said, "Let's go back to those gold soundz with Pavement on the Surf Coast and a bunch of other sweet acts we wanna see. That sounds pretty good. Let's call it Tent Pole and deliver a sweet event with a lovin' team who all bring good shit to the scene. See ya in March."

Upon reading the first draft of this press release, I OH YOU's Johann Ponniah said "…. well, how do you follow that?! See ya at the Top Paddock!"

Sign up here for membership details and updates on the full Tent Pole experience, including further line-up announcements, and full food and beverage details.

TENT POLE: A MUSICAL JAMBOREE. Moments of magic to excite all palates.

Tickets go on sale Wednesday 21 September at 1.00pm local time from Ticketmaster.

TENT POLE: A MUSICAL JAMBOREE
PAVEMENT & FRIENDS
Sat 4 March, 2023 – Mt Duneed Estate | Wadawurrung (Geelong), VIC 18+

All event information
tentpolemusicfestival.com
adayonthegreen.com.au
lovepolice.com.au
iohyou.com
okmotels.com.au

For Pavement's full Australian headline tour and ticket information, visit:
frontiertouring.com

TICKETING

AAMI CUSTOMER PRE-SALE
Via AAMI Events and Experiences
Runs from: Monday 19 September, 12.00pm local time for 48 hours
or until pre-sale allocation exhausted

A DAY ON THE GREEN MEMBERS PRE-SALE
via adayonthegreen.com.au/register
Runs from: Monday 19 September, 12.00pm local time for 48 hours
or until pre-sale allocation exhausted

LOVE POLICE PRE-SALE
Via Ticketmaster
Runs from: Monday 19 September, 12.00pm local time for 48 hours
or until pre-sale allocation exhausted

TICKETMASTER PRE-SALE
Via Ticketmaster
Runs from: Tuesday 20 September, 1.00pm local time for 23 hours
or until pre-sale allocation exhausted

GENERAL PUBLIC ON SALE – TENT POLE: A MUSICAL JAMBOREE
PAVEMENT & FRIENDS

Tickets on sale Wednesday 21 September at 1.00pm local time
From Ticketmaster & 136 100

IMPORTANT INFORMATION
Patrons are advised to purchase tickets only through authorised ticket sellers. We cannot guarantee any ticket purchase made through any means other than the official ticketing agents listed on the a day on the green, Frontier Touring, Love Police, I OH YOU, OK Motels and winery's websites. All shows subject to final regulatory approvals. Roundhouse Entertainment, Love Police and I OH YOU reserve the right to alter show details to comply with government and health regulations.

TICKET PRICES – TENT POLE: A MUSICAL JAMBOREE
General Admission *Early Bird:
*$149.90 plus booking fees (Until allocation exhausted)

*A one-off handling fee from $5.95 per transaction applies on all purchases. All ticket/item prices include GST.

TRANSPORT
For a totally relaxing, stress-free day, leave the car at home and travel by bus. This is the preferred Tent Pole transport option. Don't miss out - book your tickets early!

For coach and shuttle bus enquiries from Melbourne, Laverton and Werribee, contact Melbourne On The Move 1300 558 686.

Limited Paid Parking Available On Site
$20 parking pass must be pre-purchased.

Or gather your friends and car-pool to the event. If you arrive in a vehicle with 4 or more ticket holders, you will not be charged for parking.

Tent Pole: A Musical Jamboree is proudly presented by Roundhouse Entertainment, Love Police, I OH YOU and 3RRR

Part of the Mushroom Group | mushroom.com

tentpolemusicfestival.com

pavementband.com | facebook.com/pavementtherockband
twitter.com/pavement_band | instagram.com/pavementband
Spotify | YouTube | iTunes | TikTok

adayonthegreen.com.au
facebook.com/adayonthegreen
instagram.com/adayonthegreenofficial
twitter.com/adayonthegreen

iohyou.com
facebook.com/iohyou
instagram.com/iohyouforever
twitter.com/iohyouforever

lovepolice.com.au
facebook.com/lovepolice
instagram.com/lovepolice

okmotels.com.au
facebook.com/okmotels
instagram.com/okmotels

Aboriginal and Torres Strait Islander cultures have honoured and celebrated the role of music and songlines for over 60,000 years. Roundhouse Entertainment acknowledge and pay respect to all Traditional Custodians of Country, including the lands on which we work, and our artists create and perform.