News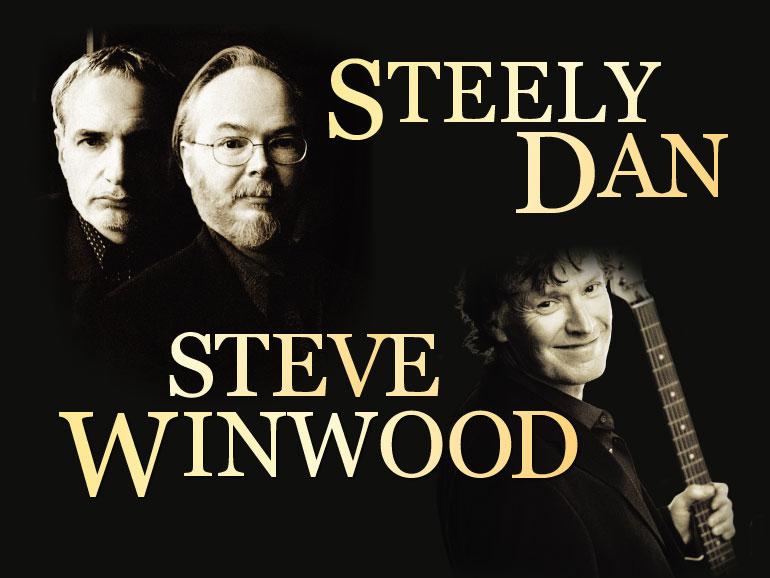 STEELY DAN WOWS U.S AUDIENCES ON RECENT TOUR
19th September, 2011
Australasian concerts next month with Steve Winwood!
Ahead of their Australia and New Zealand 'Shuffle Diplomacy' tour next month, jazz-rock pioneers STEELY DAN are currently thrilling audiences in the US with across-the-board rave reviews.
Donald Fagen and Walter Becker, backed by the awesome The Miles High Band and saucy backup trio The Embassy Brats, are currently performing a landmark series of seven shows at New York's famed Beacon Theatre, each night with a different performance schedule.
The seven shows comprise three albums 'Gaucho', 'Aja' and 'The Royal Scam' performed in entirety, 'Dawn Of The Dan' featuring songs from the groundbreaking first albums of the 70s, '21st Century Dan' showcasing material from the 2000 and 2003 albums, 'Rarities' offering songs rarely or never previously performed whilst 'By Popular Demand' has songs voted by fans on line. Each night's program will also include selected favourites and hits.
Australasian fans are in for superlative concerts with the band unquestionably in stellar form playing songs spanning their entire career from 'Reelin In The Years', 'Hey Nineteen', 'Aja' and 'Peg' to name a few.
"Veterans deliver funky big band experience," said The Santa Barbara Independent. "Steely Dan, one of the greatest recording groups of the late 20th century, looks set to also be remembered as one of the best touring acts of the 21st."
"The band is capable of damn near perfection......if its endless aural bliss you seek, it's tough to beat Steely Dan." The Riverfront Times
"....flawless in presenting the duo's songs with a combination of hard funk, precise fusion and rock." Alabama.com
"Witnessing Steely Dan live in 2011 is an experience of mythic proportions." Charlestown Daily Mail
"It was refreshing to soak up that old-school vibe again, to feel humbled by the work of giants." The Kansas City Star
"Fagen and Becker dipped into pretty much every facet of their vast and rich repertoire, serving up an 18-tune set distinguished by its muscularity, finesse and chopsmanship." Toronto Globe & Mail
"(They) left little doubt that they could not only duplicate their studio performance but raise the music beyond the perfection of their albums." The Louisville Examiner
"Becker and Fagen gave the crowd exactly what they wanted -- plenty of classic Steely Dan." The Massachusetts Times.
Steely Dan's lengthy US trek which kicked off on July 2 finishes on October 14, when the band head to Australia, for only their second visit in a distinguished 40 year career.
STEVE WINWOOD's first Australian tour since 1991 and first ever New Zealand dates is understandably highly anticipated! This prodigiously talented artist keeps an active touring and recording schedule and is very much looking forward to finally returning to Australia. With a career covering The Spencer Davis Group, Blind Faith, Traffic and his acclaimed solo recordings, 20 years has been way too long!
Steve was recently recognised for his outstanding contribution to British music by scooping the prestigious Ivor Novello award for "Outstanding Song Collection". The Ivors, which are presented annually at a glittering ceremony in London, celebrate, honour and reward excellence in British music writing.
Touring-wise Steve performed a series of shows with good friend Eric Clapton at London's Albert Hall earlier this year which garnered incredible response, and the pair will again team up for a 12 date run through Japan immediately after the Australasian shows.
He's also been back in the studio, recording a song for the new album from legendary Stax Records guitarist Steve Cropper. 'Dedicated' features duets with Lucinda Williams, BB King and Brian May amongst others, with Winwood teaming with Cropper for the cracking opening track '30 Second Lover'.
Steely Dan and Steve Winwood will perform an unforgettable night of classic music and the chance to see these revered and multi-Grammy Award winning artists on one stage is undoubtedly a night not to be missed.
The a day on the green shows will be opened by Melbourne band Oh Mercy in Australia and acclaimed Kiwi artist Anika Moa in New Zealand. For full event information for the winery shows, click here
Tues Oct 18 PERTH Challenge Stadium
Bookings thru ticketmaster.com.au & 136 100
Sat Oct 22 a day on the green - Bimbadgen Winery, Hunter Valley NSW
Bookings thru ticketmaster.com.au & 136 100
Sun Oct 23 a day on the green - Sirromet Wines, Mt Cotton QLD
Bookings thru ticketmaster.com.au & 136 100
Tue Oct 25 SYDNEY Entertainment Centre
Bookings thru ticketmaster.com.au & 136 100
Thu Oct 27 MELBOURNE Rod Laver Arena
Bookings thru ticketek.com.au & 132 849
Sat Oct 29 a day on the green - Rochford Wines, Yarra Valley VIC
Bookings thru ticketmaster.com.au & 136 100
Sun Oct 30 ADELAIDE Entertainment Centre
Bookings thru ticketek.com.au & 132 849
Wed Nov 2 WELLINGTON TSB Bank Arena
Bookings thru ticketek.co.nz & 0800 TICKET
Fri Nov 4 AUCKLAND Vector Arena
Bookings thru ticketmaster.co.nz & 09 970 9700
Sat Nov 5 a day on the green - Church Road Winery, Napier, NZ
Bookings thru ticketmaster.co.nz & 09 970 9700
Please contact Melanie Johnson at Church Road on 06 833 8232 for further information on package available through the venue.
FINAL TICKETS ON SALE NOW!
steelydan.com stevewinwood.com frontiertouring.com
Download Australian Media Release here