News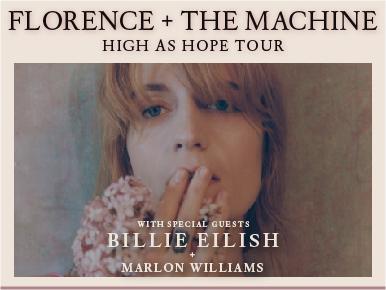 SOLD OUT!
30th July, 2018
SOLD OUT!
FLORENCE + THE MACHINE
MT DUNEED ESTATE, SATURDAY JANUARY 19

FLORENCE + THE MACHINE'S Australian fans continue to show their love for the British band with Geelong's a day on the green show now officially sold out.

20,000 fans will attend the event on Saturday January 19 at Mt Duneed Estate, once again reinforcing a day on the green's incredible popularity in the region.

Roundhouse Entertainment Promoter Michael Newton said: "We're thrilled to be bringing Florence + The Machine to Geelong. There's been a lot of excitement around this show, and if you've secured tickets it's going to be an incredible day! As always, I want to stress that we urge all fans not to purchase through unauthorised sellers to avoid the risks of fraudulent tickets."

The vocal powerhouse that is Florence Welch will be undertaking her sixth tour here, taking in capital cities across the country for their biggest ever Australian shows. With a slew of worldwide hits including You've Got The Love, Dog Days Are Over, Shake It Out, Spectrum (Say My Name) and Never Let Me Go, their highly anticipated fourth album, High As Hope, was released in June and debuted at number 2 on the Australian ARIA chart.

Breakout 16-year-old sensation BILLIE EILISH will join FLORENCE + THE MACHINE in Geelong as well as singer-songwriter MARLON WILLIAMS.

Fans who have missed out on a day on the green tickets should check chuggentertainment.com for other concert dates on FLORENCE + THE MACHINE'S High As Hope Australian tour.