News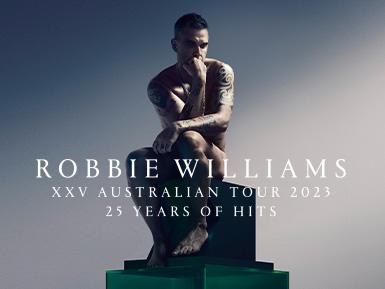 Robbie Williams Nov 2023
19th September, 2022
ROBBIE WILLIAMS
RETURNING TO AUSTRALIA IN NOVEMBER 2023

A DAY ON THE GREEN TO HOST THE ONLY QLD, WA & REGIONAL VIC SHOW

Roundhouse Entertainment, Chugg Entertainment and Frontier Touring are delighted to announce global pop phenomenon ROBBIE WILLIAMS will return to Australia in November 2023 to play headline dates across the country, including three very exciting a day on the green events.

Robbie will entertain a day on the green audiences at Queensland's Sirromet Wines, Mount Cotton on Saturday 18 November; Geelong's Mt Duneed Estate on Victoria's Surf Coast on Saturday 25 November; and he will then make his Swan Valley debut at WA's Nikola Estate on Friday 1 December.

"Australasia is one of my favourite places in the world to tour," Robbie says. "I feel so at home there and hugely appreciate the warm, loving welcome I always receive. I can't wait to do these shows in 2023 and spend some time with my fans."

Tickets go on sale on Friday 30 September from 1.00pm local time from Ticketmaster with the a day on the green and AAMI members' pre-sale beginning Thursday 29 September.

ROBBIE WILLIAMS is without doubt one of the finest male pop stars of his generation, having sold more than 85 million albums, with 14 UK number one albums and 14 number one singles as a solo artist.

With an unparalleled catalogue of pop hits, including Angels, Rock DJ, Kids (with Kylie Minogue), Feel, Better Man, Love My Life, Supreme and countless more career-defining smash singles, the Let Me Entertain You superstar does exactly that!

With his new album XXV released earlier this month, Robbie celebrates twenty-five years as a solo artist. A journey through his career-defining catalogue, featuring multiple No.1 hit singles and fan favourites, the songs of XXV offer a fresh and illuminating perspective, having been newly orchestrated by Jules Buckley, Guy Chambers and Steve Sidwell, and re-recorded with the acclaimed Metropole Orkest in the Netherlands.

Last on tour in Australia and New Zealand in 2018 on The Heavy Entertainment Show World Tour – which included two huge sold-out a day on the green events in Victoria – and more recently performing two exclusive nights in Melbourne for his Better Man biopic, Robbie is raring to deliver his live show to his favourite cities down under in 2023.

"He is Robbie f***ing Williams; he's a national treasure." – DIY Mag

"So rarely, these days, do you see someone smash it to such a high and palpable degree. So rarely does it feel as though the stars – man, mood and moment – align to create such pure, concentrated entertainment." – VICE

"There was so much joy and frivolity in this concert that it's hard to know where to begin…" – Sydney Morning Herald

Playing his highly anticipated AFL Grand Final headline performance this weekend, the iconic artist will entertain a crowd of 100,000 fans before the game kicks off on the hallowed turf of the MCG.

Do not miss the ultimate showman, ROBBIE WILLIAMS, live in concert when he returns to Australia in November 2023!

Tickets go on sale Friday 30 September from 1.00pm local time from Ticketmaster.

TOUR DATES
ROBBIE WILLIAMS
XXV AUSTRALIAN TOUR

A DAY ON THE GREEN

Sat 18 Nov 2023 – Sirromet Wines, Mount Cotton, QLD Lic. All Ages
Sat 25 Nov 2023 – Mt Duneed Estate, Geelong, VIC Lic. All Ages
Fri 1 Dec 2023 – Nikola Estate, Swan Valley, WA Lic. All Ages

All event information adayonthegreen.com.au

FRONTIER TOURING

Thurs 16 Nov 2023 – Allianz Stadium, Sydney, NSW
Thurs 23 Nov 2023 – AAMI Park, Melbourne, VIC

All event information frontiertouring.com

TICKETING

ROBBIE WILLIAMS FAN CLUB PRE-SALE
(ALL SHOWS)
Via robbiewilliams.com
Runs from: Tuesday 27 September, 12.00pm local time for 72 hours
or until pre-sale allocation exhausted

AAMI CUSTOMER PRE-SALE
(A DAY ON THE GREEN SHOWS ONLY)
Via AAMI Events and Experiences
Runs from: Thursday 29 September, 12.00pm local time for 24 hours
or until pre-sale allocation exhausted

A DAY ON THE GREEN MEMBERS PRE-SALE
via adayonthegreen.com.au/register/
Runs from: Thursday 29 September, 12.00pm local time for 24 hours
or until pre-sale allocation exhausted

GENERAL PUBLIC ON SALE
Tickets on sale Friday 30 September at 1.00pm local time
From Ticketmaster | 136 100

IMPORTANT INFORMATION
Patrons are advised to purchase tickets only through authorised ticket sellers. We cannot guarantee any ticket purchase made through any means other than the official ticketing agents listed on the A Day On The Green, Frontier Touring and winery's websites

TICKET PRICES – A DAY ON THE GREEN
Front GA Standing Only – $249.90 plus booking fees
Gold Reserved Seating – $199.90 plus booking fees
GA - Lawn – $149.90 plus booking fees

EVENT INFORMATION
a day on the green is Licensed All Ages. Strictly no BYO alcohol. Food will be available on site or BYO. Under 18 patrons must be accompanied at all times by a responsible adult. ALL patrons must have a ticket, regardless of age.

TRANSPORT
For a totally relaxing, stress-free day, leave the car at home and travel by bus. This is the preferred a day on the green transport option. For all transport and event information, go to adayonthegreen.com.au

ABOUT A DAY ON THE GREEN
2023 marks the 22nd season of a day on the green, which started in January 2001. After nearly 500 shows and more than 4 million happy patrons, the a day on the green experience of good food, fine wine and great music in magnificent locations remains unrivalled and is firmly established as one of Australia's most popular and premier outdoor concert events.

Sign up here to become an a day on the green member to keep up to date on all the latest tour information and access pre-sale offers, competitions and more.

robbiewilliams.com | facebook.com/robbiewilliams
twitter.com/robbiewilliams | instagram.com/robbiewilliams
Spotify | YouTube

mushroom.com
adayonthegreen.com.au

Proudly presented by Frontier Touring, Chugg Entertainment, Roundhouse Entertainment, Bay 93.9 & Geelong Advertiser (Geelong), Nova 106.9 & Sea FM 90.9 (Mount Cotton)

Aboriginal and Torres Strait Islander cultures have honoured and celebrated the role of music and songlines for over 60,000 years. Roundhouse Entertainment acknowledge and pay respect to all Traditional Custodians of Country, including the lands on which we work, and our artists create and perform.