News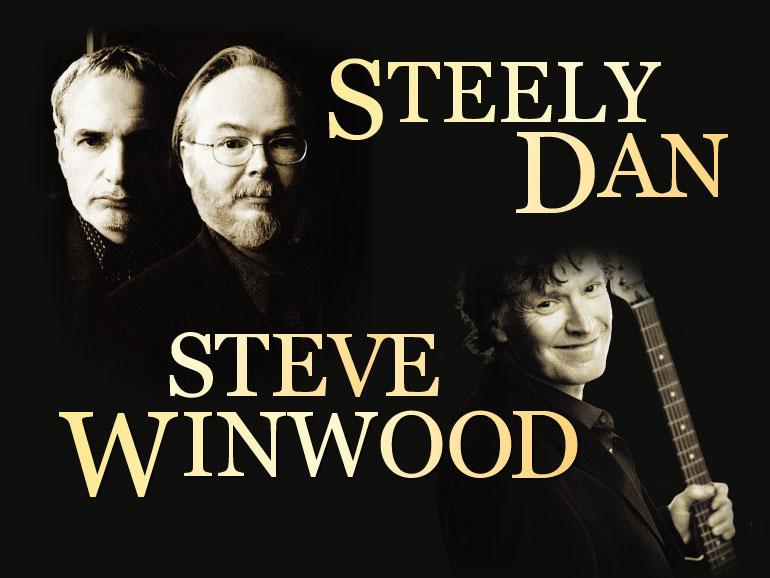 RAVE REVIEWS FOR STEELY DAN & STEVE WINWOOD
20th October, 2011
As they kick off their Australian tour
American rock icons STEELY DAN and the legendary STEVE WINWOOD have kicked off their Australian tour in fine style, thrilling audiences and critics at the first concert in Perth.
The Australian Newspaper raved: "Sometimes you're struck by the knowledge of how blessed you are to be in the presence of greatness and how foolish the notion is that mature artists in rock music are expected to be less than they once were.
Both Steve Winwood and Steely Dan played 90-plus minute sets that may have heavily featured material at least three decades old, but there wasn't a moment when it felt like a tired trip down memory lane. On this night, the past came screaming into the present not with wrinkles and a limp but with wisdom and skill.... Two times brilliant."
Fred Bottica, MIX 94.5 FM breakfast host said "We shared a religious experience last night. You really are in the presence of genius when you see these guys. They each played 1 ½ hour sets but there's not enough hours in the night with bands like that. They were just fantastic. Please, please come back again soon!"
The West Australian Newspaper described Steely Dan's set as: "An intoxicating combination of rock, funk and jazz that never wandered off to overlong solos or melodic obscurity. The two songwriters never disappointed. They dug deep into their incredible catalogue of 70's hits without making it seem like just another retro show."
Of Steve Winwood, the paper raved: "His strong performances that blended rock, R & B, soul and jazz styles into his own musical concoctions was well worth the price of admission alone. His distinctive high tenor voice remains fully intact and he is a superb Hammond B3 Organ player and guitarist... nothing short of sensational."
Steely Dan's set list delighted fans with the inclusion of two of their classic hits 'Reelin In The Years' and 'Rikki Don't Lose That Number' which were missing on the band's last Australian tour in 2007. Other highlights included 'Hey Nineteen', 'Aja' and 'Do It Again'.
Donald Fagen and Walter Becker, backed by the awesome The Miles High Band and saucy backup trio The Embassy Brats - arrived here after winning across-the-board rave reviews from their summer US tour and are unquestionably in stellar form. It is only their second visit in a distinguished 40 year career, so it's no wonder that Australasian fans are excited!
Singer/songwriter STEVE WINWOOD's first Australian tour since 1991 was understandably highly anticipated. The legendary performer's set was bookended by two Spencer Davis Group hits 'I'm A Man' and 'Gimme Some Lovin', plus Traffic's 'Dear Mr Fantasy', Blind Faith's 'Can't Find My Way Home' and classic solo hits like 'Higher Love', The Australian noting: "His voice is an instrument of pure emotion and his husky growl remains intact."
The chance to see these two multi-Grammy Award winning legends of rock on one night is absolutely not to be missed!
Tour Dates Are:
Sat Oct 22 a day on the green - Bimbadgen Winery, Hunter Valley NSW
Bookings thru ticketmaster.com.au & 136 100
Sun Oct 23 a day on the green - Sirromet Wines, Mt Cotton QLD
Bookings thru ticketmaster.com.au & 136 100
Tue Oct 25 SYDNEY Entertainment Centre
Bookings thru ticketmaster.com.au & 136 100
Thu Oct 27 MELBOURNE Rod Laver Arena
Bookings thru ticketek.com.au & 132 849
Sat Oct 29 a day on the green - Rochford Wines, Yarra Valley VIC
Bookings thru ticketmaster.com.au & 136 100
Sun Oct 30 ADELAIDE Entertainment Centre
Bookings thru ticketek.com.au & 132 849
Acclaimed Melbourne band Oh Mercy will open all a day on the green shows. For full event information for the winery shows, click here
FINAL TICKETS ON SALE NOW!