News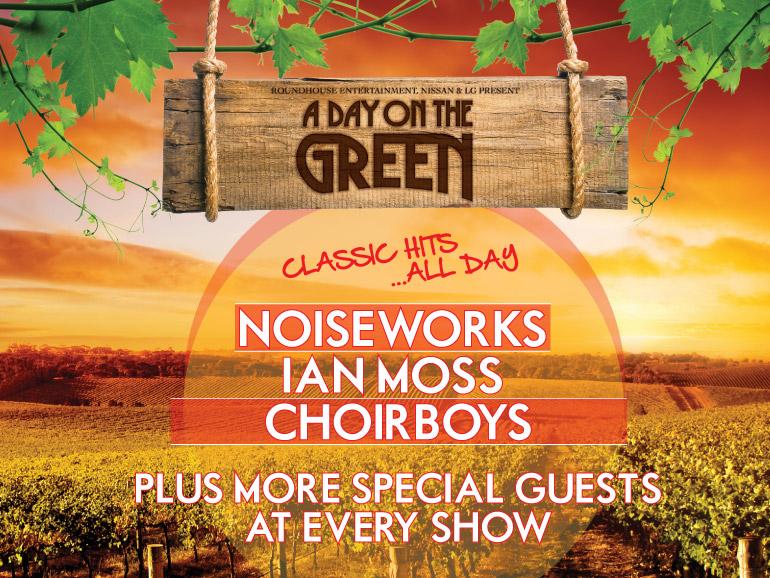 NOISEWORKS - YARRA VALLEY
7th December, 2011
A CELEBRATION OF CLASSIC OZ ROCK!
NOISEWORKS, IAN MOSS, DRAGON, MI-SEX, 1927, CHOIRBOYS!
ROCHFORD WINES, YARRA VALLEY - SATURDAY MARCH 24
The national concert series a day on the green celebrates classic Oz Rock with a mighty big bang at its next event at Rochford Wines, Yarra Valley on Saturday March 24.
Noiseworks, Ian Moss, Dragon, Mi-Sex, 1927 and Choirboys will perform in a five hour musical feast; a celebration of the Australian rock music history they have so vibrantly helped define. And how's this for value - all six fantastic bands for only $89!
You're gonna hear classics like 'Take Me Back', 'Touch', 'Love Somebody', 'No Lies', 'Tucker's Daughter', 'Bow River', 'When The War Is Over', 'April Sun In Cuba', 'Are You Old Enough', 'Computer Games', 'That's When I Think Of You', 'Run To Paradise' and 'Boys Will Be Boys' to name just a few.
With this show Roundhouse Entertainment, promoters of a day on the green, are proud to continue their decade-long support of our great Australian artists. Rochford Wines promises to be one giant sing-a-long of home-grown hits.
At a day on the green shows patrons are always welcome to bring their own picnics. However a celebration of Oz Rock deserves that certain something, and what better than a big BBQ, Aussie-style! In keeping with the theme of the day, in addition to the usual gourmet food stalls, patrons can also purchase a terrific range of well-priced BBQ food.
The concert will be all general admission, so with good food and wine and your favourite deck chair, a magnificent location, classic rock all day long and tickets at just $89 - it sounds like a sensational value-for-money party day to us!
EVENT INFORMATION:
a day on the green is a fully licensed event. Strictly no BYO alcohol. Food will be available on site or BYO picnic. Deck chairs and picnic rugs are recommended. For all event information, click here
TICKETING INFORMATION:
General Admission (front reserved area): $129 plus booking fee.
General Admission: $89 plus booking fee.
Concert & Dining Packages from Ticketmaster (03) 9685 2477 and Rochford Wines (03) 5962 2119
TRANSPORT & ACCOM INFORMATION:
For coach enquiries, contact Melbourne On The Move 1300 558 686.
Accommodation enquiries to the Yarra Valley Information Centre on (03) 5962 2600
ABOUT THE ARTISTS:
NOISEWORKS - For nearly a decade Noiseworks reigned as one of Australia's most popular and most acclaimed rock bands. Led by the charismatic Jon Stevens, the band sold in excess of 1.2 million albums that spawned 15 hit singles including 'No Lies', 'Take Me Back', 'Hot Chilli Woman' and 'Love Somebody' resulting in a domination of charts and radio airwaves. Since reforming, Noiseworks have retained their brilliant live reputation and are working on their first new album since 1991.
IAN MOSS - 'Mossy' holds a revered place in Australian music. His soulful vocals and incredible guitar playing ensure his live sets are always amazing. Fresh from the extraordinary Cold Chisel reunion tour which included a killer Wodonga show last week, and performing songs covering both his Chisel and solo careers, this master musician will be in red hot form.
DRAGON - With an unforgettable run of chart-toppers like 'Are You Old Enough', 'April Sun In Cuba', 'Still In Love With You', 'Rain' and many others, Dragon's legacy is of one of Australasia's most successful pop bands. Joined several years ago by veteran vocalist Mark Williams as front man, a revitalised Dragon release a new EP 'Chase The Sun' in November and are thrilled to be back on stage again.
MI-SEX - New Zealand new wave rockers Mi-Sex enjoyed massive hits like 'But You Don't Care', 'Graffiti Crimes' and the unforgettable 'Computer Games' but lead singer Steve Gilpin's tragic death forced the band into hiatus. The Christchurch Earthquake Appeal concert saw former Noiseworks bass player and Electric Hippies vocalist Steve Balbi front and centre for a one-off reunion show. The chemistry was undeniable and the band are now back in action.
1927 - Fronted by singer Eric Weideman, 1927's classic album "...ISH" remains one of the highest selling debut albums ever by an Australian artist with songs like 'That's When I Think Of You', 'If I Could', 'You'll Never Know' and 'Compulsory Hero' dominating charts and to this day, remaining radio favourites. The band's well-crafted songs and videos and a relentless touring schedule propelled them to become of the country's most popular classic rock bands.
CHOIRBOYS - 'Run to Paradise', 'Boys Will Be Boys' and 'Never Gonna Die' are some of the rock classics that helped put the Choirboys distinctive stamp on Aussie rock'n'roll. Headed by rock belter Mark Gable, they charted a course from pubs to the charts with unflagging energy and commitment. The Choirboys will kick off the day in great style.
ABOUT A DAY ON THE GREEN:
This summer marks the 11th year of a day on the green events. After nearly 300 shows and more than two million happy patrons, the a day on the green experience of good food, good wine and great music is firmly established as one of Australia's most popular concert events.
Don't miss this day of classic Oz rock at Rochford Wines!
TICKETS ON SALE THURSDAY DECEMBER 15
From ticketmaster.com.au & 136 100 and Rochfordwines.com & (03) 5962 2119.
a day on the green is proudly presented by Roundhouse Entertainment, MAX, LG and Nissan.