News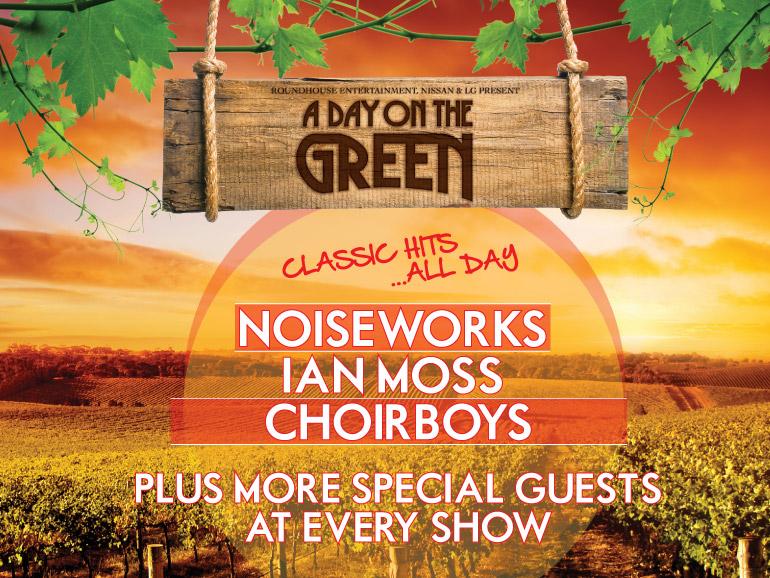 NOISEWORKS, IAN MOSS & MORE - MUDGEE
25th July, 2012
A CELEBRATION OF CLASSIC OZ ROCK!
NOISEWORKS, IAN MOSS, DARYL BRAITHWAITE, CHOIRBOYS & THE RADIATORS!
ROBERT OATLEY VINEYARDS - SATURDAY OCTOBER 27
The national concert series a day on the green celebrates classic Oz rock with a mighty big bang at its next event at Robert Oatley Vineyards, Mudgee on Saturday October 27.
Noiseworks, Ian Moss, Daryl Braithwaite, Choirboys and The Radiators will perform in a five hour musical feast; a celebration of the Australian rock music history they have so vibrantly helped define. How's this for value, all five fantastic bands for only $90!
You're gonna hear classics like 'Take Me Back', 'Touch', 'Love Somebody', 'No Lies', 'Tucker's Daughter', 'Bow River', 'When The War Is Over', 'Horses', 'As Days Go By', 'Run To Paradise', 'Boys Will Be Boys' and 'No Tragedy' to name just a few.
This classic Oz rock concert played a day on the green wineries around Australia last summer to an overwhelming response and sold out shows everywhere. Now it is Mudgee's turn to experience this fantastic line-up. Let there be rock, we say!
The event is the 12th a day on the green for Mudgee and promoters Roundhouse Entertainment are proud to continue their support of our great Australian artists. Robert Oatley Vineyards has been the scene of some sensational crowd sing-a-longs in the past and this year will be no different.
With good food & wine, your favourite deck chair, a magnificent location, classic rock all day long and tickets at just $90 - it sounds like a sensational value-for-money party day to us!
EVENT INFORMATION:
a day on the green is a fully licensed event. Strictly no BYO alcohol. Food will be available on site or BYO picnic. Deck chairs and picnic rugs are recommended. For all event information, go to adayonthegreen.com.au.
TICKETING INFORMATION:
Front General Admission: $135 plus b/fee
General Admission: $89.90 plus b/fee
For Concert & Dining Packages call Ticketmaster 02 8512 9020
TRANSPORT & ACCOM INFORMATION:
Leave the car at home and pre-book on a coach. For ticket and coach travel from surrounding towns, call Ogden's Coaches on (02) 6372 2489 or email: mudgee@ogdenscoaches.com.au (operating from Lithgow, Bathurst, Orange, Wellington, Dubbo, Kandos, Lui, Rylstone, Gulgong).
Langley's Coaches (02) 6882 8977 or email: ocoaches@bigpond.net.au will also operate from Dubbo, Geurie and Wellington,
A shuttle bus service will also operate from Mudgee accommodation venues and the CBD to the winery, returning after the show.
For accommodation and camping enquiries, call Mudgee Regional Tourism (02) 6372 1020.
ABOUT THE ARTISTS:
NOISEWORKS - For nearly a decade Noiseworks reigned as one of Australia's most popular and most acclaimed rock bands. Led by the charismatic Jon Stevens, the band sold in excess of 1.2 million albums that spawned 15 hit singles including 'No Lies', 'Take Me Back', 'Hot Chilli Woman' and 'Love Somebody' dominating charts and radio airwaves. Since reforming, Noiseworks have retained their brilliant live reputation and are working on their first new album since 1991.
IAN MOSS - 'Mossy' holds a revered place in Australian music. His soulful vocals and incredible guitar playing ensure his live sets are always amazing. Fresh from the extraordinary Cold Chisel reunion tour and performing songs covering both his Chisel and solo careers, this master musician will be in red hot form.
DARYL BRAITHWAITE - In a distinguished career spanning more than 40 years, Daryl is one of Australia's award-winning premier performers. Sherbet re-wrote the history books with 20 Top 40 hit singles, success which continued to Daryl's solo career with hits like 'As The Days Go By', 'Horses' and 'One Summer'. He continues to do what he loves, performing to a dedicated fan base all over the country.
CHOIRBOYS - 'Run to Paradise', 'Boys Will Be Boys' and 'Never Gonna Die' are some of the classics that helped put the Choirboys distinctive stamp on Aussie rock'n'roll. Headed by rock belter Mark Gable, they charted a course from pubs to the charts with unflagging energy and commitment.
THE RADIATORS - Formed in Western Sydney, 'the Rads' were the ultimate hard-working, no fuss rock'n'roll band. With hits like 'Coming Home', 'No Tragedy' and the controversial 'Gimme Head', the band toured relentlessly for decades, and still sound great today.
ABOUT A DAY ON THE GREEN:
This summer marks the 12th year of a day on the green concerts. With nearly 300 shows and more than two million happy patrons, the a day on the green experience of good food, good wine and great music is firmly established as one of Australia's most popular events.
TICKETS ON SALE MONDAY JULY 30
From ticketmaster.com.au or 136 100 and the Mudgee Bookcase 02 6372 3127
a day on the green is proudly presented by LG and MAX.