News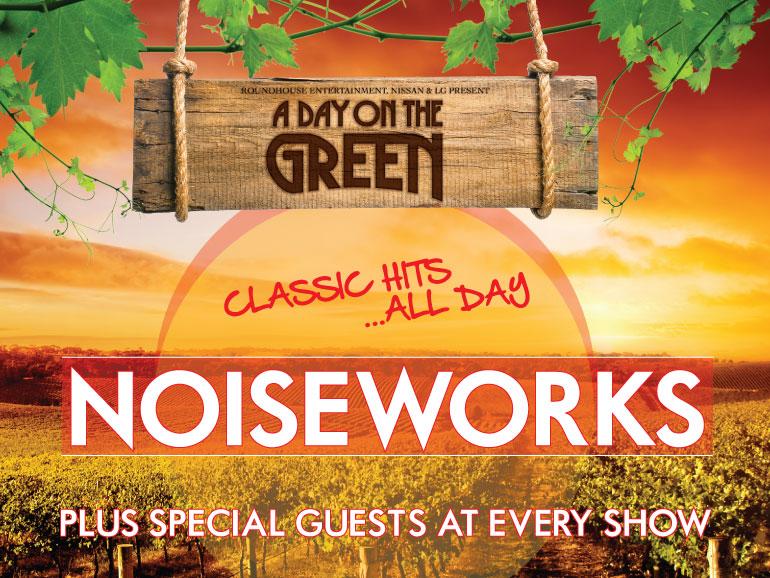 NOISEWORKS - ANNIE'S LANE
16th October, 2011
A CELEBRATION OF CLASSIC OZ ROCK!
NOISEWORKS, IAN MOSS, RICHARD CLAPTON, DRAGON & THE CHOIRBOYS!
ANNIE'S LANE, CLARE VALLEY - SATURDAY FEBRUARY 25
The national concert series a day on the green today announces a stellar all-star Australian line-up for the next event at Annie's Lane, Clare Valley on Saturday February 25.
Noiseworks, Ian Moss, Richard Clapton, Dragon and The Choirboys will perform in a five hour musical feast; a celebration of the Australian rock music history these artists have so vibrantly helped define.
You're gonna hear classic hits like 'Take Me Back', 'Touch', 'Love Somebody', 'No Lies', 'Tucker's Daughter', 'Bow River', 'When The War Is Over', 'Girls On The Avenue', 'Capricorn Dancer', 'I Am An Island', 'April Sun In Cuba', 'Are You Old Enough', 'Run To Paradise' and 'Boys Will Be Boys' to name just a few. Annie's Lane promises to be one giant sing-a-long of an unforgettable smorgasbord of hits!
With good food and wine at a magnificent location, classic rock all day long and tickets from $89, this year's a day on the green is set to be one of the best yet.
EVENT INFORMATION:
a day on the green is a fully licensed event. Strictly no BYO alcohol. Food will be available on site or BYO picnic. Deck chairs and picnic rugs are recommended. For all event information click here
TICKETING INFORMATION:
General Admission (front reserved area): $125 plus booking fee.
General Admission: $89 plus booking fee.
Concert & Dining Packages from Ticketmaster (03) 9685 2477.
TRANSPORT & ACCOM INFORMATION:
For coach enquiries from anywhere within SA, call LinkSA on (08) 8564 3022 or go to linksa.com.au. Shuttle buses will be operating from Clare to Annie's Lane on the event date and returning after the last act performs. For enquiries, call LinkSA.
For Clare Valley Accommodation and Camping Enquiries, phone 1800 242 131 or go to clarevalley.biz
ABOUT THE ARTISTS:
NOISEWORKS - For nearly a decade Noiseworks reigned as one of Australia's most popular and most acclaimed rock bands. Led by the charismatic Jon Stevens, the band sold in excess of 1.2 million albums that spawned 15 hit singles including 'No Lies', 'Take Me Back', 'Hot Chilli Woman' and 'Love Somebody' resulting in a domination of charts and radio airwaves. Since reforming, Noiseworks have proved they remain a brilliant live band.
IAN MOSS - 'Mossy' holds a revered place in Australian music and is an absolute a day on the green crowd favourite. Performing songs covering both his Cold Chisel and solo careers, Mossy's soulful vocals and incredible guitar playing ensure his live sets are always amazing. Following the extraordinary Cold Chisel reunion tour, this master musician will be in red hot form.
RICHARD CLAPTON - Richard has endeared himself to music-lovers everywhere through his heartfelt inspired performances and a songbook that defines our times. With hits like 'Girls On The Avenue', 'Deep Water', 'Capricorn Dancer', Richard is a thoroughly deserving and popular inductee into the ARIA Hall Of Fame.
DRAGON - With an unforgettable run of chart-toppers like 'Are You Old Enough', 'April Sun In Cuba', 'Still In Love With You', 'Rain' and many others, Dragon's legacy is of one of Australasia's most successful pop bands. Joined several years ago by veteran vocalist Mark Williams as front man, a revitalised Dragon release a new EP 'Chase The Sun' in November and are thrilled to be back on stage again.
CHOIRBOYS - 'Run to Paradise', 'Boys Will Be Boys' and 'Never Gonna Die' are some of the rock classics that helped put the Choirboys distinctive stamp on Aussie rock'n'roll. Headed by rock belter Mark Gable, they charted a course from pubs to the charts with unflagging energy and commitment. The Choirboys will kick off the day in great style.
Don't miss this fantastic day of great music at Annie's Lane!
TICKETS ON SALE FRIDAY OCTOBER 28
From ticketmaster.com.au & 136 100 and venuetix.com.au & (08) 8225 8888 and Annie's Lane (08) 8843 2320
For Media Information:
Sue Hill, Foster Hill PR (08) 8231 3555 / fosterhill@fosterhill.com.au
a day on the green is proudly presented by Roundhouse Entertainment, MAX, LG and Nissan.