News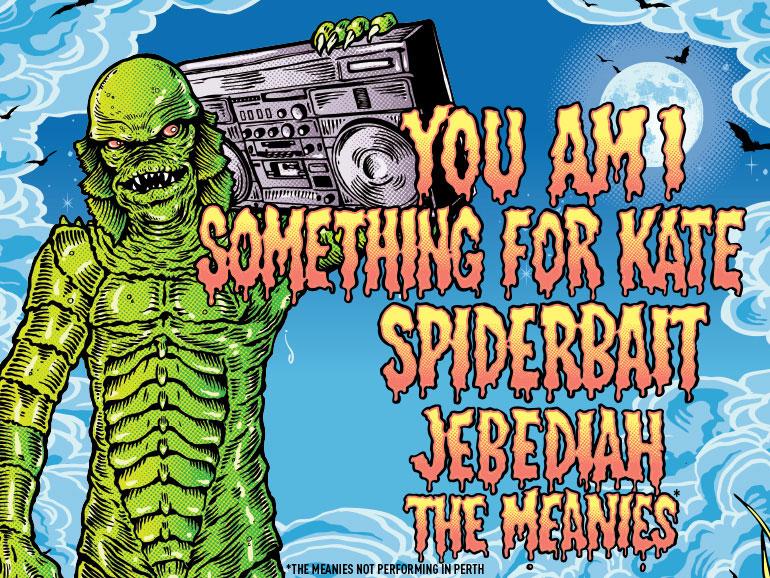 Monster National Tour
2nd June, 2016
NATIONAL WINERY TOUR IN NOVEMBER!

In a monster bill, both complementary and inspiring, You Am I, Something For Kate and Spiderbait will team up for the first time for an onslaught through a day on the green wineries in November.

As triple headliners, in common they have a revered place in Australian rock culture courtesy of a collection of seminal albums that sound as good now as when they hit the top of the charts, won ARIA awards and dominated radio airwaves.

And they share a love of the live arena, arguably their natural home. All three bands continue to receive our perennial goodwill because they rock hard, always. It's a badge of honour they wear with pride.

Special guests on this "all killer, no filler" mammoth bill will be Perth's finest, the equally much-loved and hard rockin' Jebediah with fun-lovin' Melbourne punksters The Meanies to open. We're officially excited!

As is You Am I's Tim Rogers: "To play anywhere, anytime is a gas, but to play with friends in wineries? That's high falutin' nuclear blast potential."

Something For Kate's main man Paul Dempsey said: "You Am I, Spiderbait, The Meanies… I fell in love with all of these bands as a teen attending the fabled Saturday and Sunday arvo All Ages shows that were a fixture in many Melbourne pubs like The Corner Hotel, The Central Club, The Palace and The HiFi. I was completely in awe. The raw power those bands radiated from the stage got my heart racing and my brain buzzing and gave me the kick I needed to get a band together and start making some noise ourselves. Before too long, Something For Kate were joining the line-up at those shows and not long after that we were off on our first proper national tour with none other than Jebediah. Amazing… The only thing more amazing is that here we are in 2016 and all five of these bands (all old mates now) are about to hit the road together for the very first time to take the very concept of the Afternoon All-Ages Show and tear it a new one… can't wait."

Spiderbait's Kram added: "These shows are always special, and for us particularly so as the line-up includes some of our oldest friends in Australian music... You Am I, Something For Kate, Jebediah and The Meanies (who we played some of our first ever gigs with in Melb). We've all played together many times over the years, watched each other's gigs, partied and laughed, and contemplated the meaning of an artistic existence in this country. But we've never all played on the same stage and the same tour at the same time. For me this is beautiful synchronicity and will make for great memories and awesome shows. From me, Janet and Whitt, we're all stoked to playing a day on the green this year."

This lot have never rested on their laurels so if it's a resounding good time you are seeking, may we suggest you make one of these choice wineries your destination this November!

TOUR DATES:
Saturday November 5 Bimbadgen, Hunter Valley NSW
Sunday November 6 Sirromet Wines, Mt Cotton QLD
Saturday November 12 Mt Duneed Estate, Geelong VIC
Sunday November 13 Rochford Wines, Yarra Valley VIC
Saturday November 19 Peter Lehmann Wines, Barossa Valley SA
Sunday November 20 Kings Park & Botanic Garden, Perth WA*
(*Meanies not playing Perth)

YOU AM I
After 25 years, three consecutive #1 records, 10 studio albums, 10 ARIA awards, two live albums (one a 3LP boxset), two "best of" albums, somewhere near 4000 shows worldwide, including every festival known to man and having had the opportunity to play with heroes like The Rolling Stones, The Replacements and The Who, You Am I are well… national treasures. Their 10th studio album 'Porridge & Hotsauce' released last November is vintage You Am I.

SOMETHING FOR KATE
In the past decade they've sold over half a million records and released five top ten albums, their last 2012's 'Leave Your Soul To Science' debuting at #1 on the ARIA chart. In 2014 they celebrated their 20th anniversary with a mammoth sold out tour, their first ever book, 'Paper Trail: 20 Years of Something for Kate' and the accompanying short film, whilst also re-releasing their entire back catalogue on vinyl and CD. Whilst Paul Dempsey just released his second – and rather fantastic - solo album 'Strange Loop', later in the year SFK will regroup for this special tour.

SPIDERBAIT
Janet, Whitt and Kram's unique musical alchemy has taken them on a ride to the top of their game, selling more than half a million records, sending singles variously to number 1 or into the Top 10, albums to double platinum status, winning multiple ARIA Awards and taking top spot on the Hottest 100. Throughout their wondrous career they've been a fixture on all of Australia's iconic festivals. They continue the celebrations of their 25th anniversary year saddling up for their first a day on the green shows.

JEBEDIAH
It's impossible for an Australian of a certain vintage to imagine late '90s summers without those delirious early Jebs singles - 'Jerks of Attention', 'Leaving Home', 'Teflon', 'Harpoon', 'Animal' — blasting out of every car radio and festival PA from Summersault to the Falls to Homebake. Originating from Perth, Kevin Mitchell, Chris Daymond, Vanessa Thornton and Brett Mitchell had a stellar 2015 celebrating their twentieth anniversary with a double-album release and national sell-out tour. They will no doubt hit the a day on the green stage with gusto!

THE MEANIES
Link, Wally, Jaws and Ringo have kept the spirit of the Meanies alive with selected shows every year much to the delight of fans. 2014 saw the re-master and re-release of their entire album catalogue on vinyl, while in Sept 2015 came a brand new album "It's Not Me, It's You". But it wasn't just Australians who were happy to see The Meanies return to form on the recorded front, the Europeans were beside themselves as well, particularly in stronghold Spain. The band has just returned from a five-week tour there.

EVENT INFORMATION:
a day on the green is a fully licensed event. Strictly no BYO alcohol. Food will be available on site or BYO picnic. Deck chairs and picnic rugs are recommended. For all transport, accommodation and event information, go to adayonthegreen.com.au

TICKETS ON SALE - 10am TUESDAY JUNE 14
From Ticketmaster.com.au

a day on the green is proudly presented by Roundhouse Entertainment, AAMI and Sunsuper.