News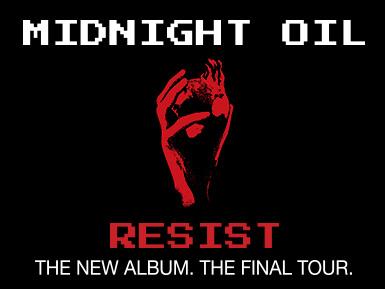 Midnight Oil - The Final Tour
25th November, 2021
MIDNIGHT OIL
ANNOUNCE 'RESIST':
THE NEW ALBUM. THE FINAL TOUR.
FEBRUARY – APRIL 2022
INCLUDING FOUR A DAY ON THE GREEN SHOWS

In 2017 Midnight Oil returned from a long hiatus with a sweat drenched pub gig at the legendary Sydney venue, Selinas. In the middle of that special set, frontman Peter Garrett borrowed some famous lines, exhorting "rage, rage, against the dying of the light". And that's exactly what they've done ever since. They sold out 77 shows in 16 countries on their epic "Great Circle" tour. They toured Europe again, did a memorable gig in the outback, then returned to the studio for the first time in over 18 years and recorded 20 new songs. The first batch of that material, The Makarrata Project, debuted at #1 on the same weekend that longtime bass player Bones Hillman sadly died. Despite that profound blow, and a global pandemic, the band and their First Nations Collaborators still mounted their acclaimed "Makarrata Live" shows early this year – championing the Uluru Statement and highlighting ongoing injustices suffered by First Nations people.

Today Midnight Oil announced that this chapter of their career will come to a memorable close next year with the release of the other 12 new songs they recorded with Bones and a series of big gigs. Both are aptly titled Resist.

The band also announced that this will be their final concert tour while making it clear that this does not mean the end of the Oils. Each of the members will continue their own projects over the years ahead. They remain very open to recording new music together in future and supporting causes in which they believe, but this will be their last tour.

Meanwhile Resist will be a fitting, forward-looking, statement for a band whose clarion call has always been "it's better to die on your feet than live on your knees". The tour will see them performing classic Midnight Oil songs from across their repertoire while also showcasing some urgent new works. As the title makes abundantly clear, Resist engages with the issues of today and tomorrow – like the lead single Rising Seas which tackles the climate crisis in typically uncompromising fashion.

The album pre-order and Australasian General Public tickets will go on-sale from next Tuesday 30 November. Dates, venues and all other info is detailed below. A handful of international concerts is also being considered (subject to Covid restrictions).

Rob Hirst says: "If I look back, I see a blur of familiar names and faces: Jim, Pete, Martin, Bear and me, slamming loud prog-pop in a Chatswood garage; Giffo, magnificent, rocking back and forth at his first Royal Antler gig; Bonesy, headphones on, singing, lounging on the deck learning our catalogue.

"I see our managers in their offices - Gary, Zev and John; our tour managers in their cars and buses - Constance, Neil, and Willie Mac; our producers in their studios, Keith, Lez, Glyn, Nick and Warne; and our crew on countless stages, Michael, Oysters, Ozzy, Doc, Nick, Jock, Gerry - and so many more.

"I see our folks-in-the-engine-room that the outside world has never seen: Stephanie, Wayne, Diana, Arlene, Jonesy, Craig, Geoff H, Chris P, Peter T, and Mel C.

"I see our wives and trusted friends, and the tiny faces of the 'Baby Oils', watching us from side of stage, from Sydney to Sao Paulo to Saskatoon.

"But mostly, blinded by stage lights, I see the first two rows of a thousand gigs: Midnight Oil fans, pumping, jumping, singing louder than the band.

"But I don't look back."

Peter Garrett says: "We all know time refuses to stand still for anyone but after many years together the band's spirit is deep, the music and words are strong, and our ideas and actions as bold as we can make them. We've reached people in ways we never could have imagined. Our desire to create and speak out is undimmed. We hope everyone who hears this album and gets to one of the shows will come away charged up about the planet's future, saying 'why stop now?'. Having always tackled every tour like it's the last – this time it actually will be."

Jim Moginie says: "We've played intensely physical gigs since our humble beginnings back in 1977 and we never want to take even the slightest risk of compromising that. A lot has happened over the last five years. Much has been achieved and with the passing of Bones much has been lost, so it now feels like we're at the end of a cycle.

"These will be sad and beautiful gigs but luckily we're still capable of blowing the roof off any stage and that's what we intend to do. You could call this a farewell tour, but Midnight Oil will still continue in some form or other as we're brothers, family. We stand as one, dependent on each other and grateful in all the important ways that make great bands great."

Martin Rotsey says: "A huge thank you to all our fans around the world. We've shared so much together from the swelter of Sydney pubs to magical nights under starry skies. Your energy took us further than we could ever have dreamed.

"To those down the front in the maelstrom, those at the back of the room singing their hearts out, and all of those onstage, backstage, and back home who helped make everything possible, we send our thanks."

Resist will be Midnight Oil's 15th studio release since the band exploded out of the post-punk scene back in 1978, blazing a singular trail of blistering gigs through Australia's pubs and clubs. In the four decades since they have created an unparalleled string of classic tracks including I Don't Wanna Be The One, Power & The Passion, US Forces, Best Of Both Worlds, The Dead Heart, Blue Sky Mine, Forgotten Years, Truganini, Redneck Wonderland, Say Your Prayers and the 2020 APRA Song of the Year, Gadigal Land (feat. Dan Sultan, Joel Davison, Kaleena Briggs and Bunna Lawrie). Their Diesel & Dust LP topped the critics' "100 Best Australian Albums Of All Time" and its worldwide hit Beds Are Burning is one of the "500 Songs That Shaped Rock'n'Roll" according to the U.S. Rock'n'Roll Hall Of Fame. The band's performance of that song at the Sydney Olympics is etched in the memory of billions.

From the northern beaches of Sydney to the streets of Manhattan, they have stopped traffic, inflamed passions, inspired fans, challenged the concepts of "business as usual" and broken much new ground. Seeing Midnight Oil in full flight is to experience the kinetic power of live rock'n'roll. They leave you inspired to live life more passionately and to Resist.

Midnight Oil calls for governments to urgently take serious actions that reduce carbon pollution. This tour will embrace best practices for emission reductions and offsetting. A portion of proceeds will be set aside for organisations seeking to elevate the existential threat posed by the climate crisis.

In addition to these shows, the band has already announced special appearances in Tasmania for Mona Foma 2022 and at Byron Bay Bluesfest next Easter. Details about those festival events at monafoma.net.au and bluesfest.com.au

Don't miss a very special Midnight Oil performance on The Sound this Sunday 28 November at 5.30pm on ABC TV or ABC iview.

The a day on the green member pre-sale kicks off from 11.00am local time on Tuesday 30 November before the General Public on-sale starting 12noon local time on Wednesday 1 December. Tickets from adayonthegreen.com.au/midnightoil

TOUR DATES – MIDNIGHT OIL
RESIST. THE FINAL TOUR

A DAY ON THE GREEN
Sat 26 Feb 2022 Heifer Station, Orange, NSW – Lic. All Ages
Sat 5 Mar 2022 Mt Duneed Estate, Geelong, VIC – Lic. All Ages
Sat 12 Mar 2022 All Saints Estate, Rutherglen, VIC – Lic. All Ages
Sat 26 Mar 2022 Nikola Estate, Swan Valley, WA

All event information adayonthegreen.com.au

FRONTIER TOURING
Wed 23 Feb 2022 Newcastle Entertainment Centre, Newcastle, NSW
Wed 2 Mar 2022 WIN Entertainment Centre, Wollongong, NSW
Wed 9 Mar 2022 Rod Laver Arena, Melbourne, VIC
Wed 30 Mar 2022 Adelaide Entertainment Centre, Adelaide, SA
Sat 2 April 2022 Darwin Amphitheatre, Darwin, NT
Wed 6 April 2022 Convention Centre Arena, Cairns, QLD
Sat 9 April 2022 Sunshine Coast Stadium, Sunshine Coast, QLD
Wed 13 April 2022 Riverstage, Brisbane, QLD
Tue 19 April 2022 Stage 88, Canberra, ACT
Thu 21 April 2022 Qudos Bank Arena, Sydney, NSW

All event information frontiertouring.com

TICKETING

A DAY ON THE GREEN MEMBERS PRE-SALE
via adayonthegreen.com.au/midnightoil
Runs 24 hours from: Tuesday 30 November at 11am local time
or until pre-sale allocation exhausted

FRONTIER TOURING MEMBERS PRE-SALE
via frontiertouring.com/midnightoil
Runs 24 hours from: Tuesday 30 November at 11am local time
or until pre-sale allocation exhausted

GENERAL PUBLIC ON SALE
Tickets on sale Wednesday 1 December at 12pm local time
From ticketmaster.com.au | Ph: 136 100

EVENT INFORMATION:
a day on the green is Licensed All Ages. Strictly no BYO alcohol. Food will be available on site or BYO. EVERY patron must have a ticket regardless of age, and under 18 patrons must be accompanied at all times by a responsible adult with their own ticket. For all transport, accommodation and event information, go to adayonthegreen.com.au

TICKET PRICES:
Front GA Standing $199.90*
A Reserved Seating $179.90*
B Reserved Seating $139.90
General Admission Lawn $119.90*
*A handling fee per transaction applies.

ABOUT A DAY ON THE GREEN
2022 marks the 21st season of a day on the green, which started in January 2001. After 490 shows and more than 4 million happy patrons, the a day on the green experience of good food, fine wine and great music in magnificent locations remains unrivalled and is firmly established as one of Australia's most popular and premier outdoor concert events.

IMPORTANT INFORMATION
Patrons are advised to purchase tickets only through authorised ticket sellers. We cannot guarantee any ticket purchase made through any means other than the official ticketing agents listed on the A Day On The Green, Frontier Touring and winery's websites

All shows subject to final regulatory approvals. Frontier Touring and Roundhouse Entertainment reserve the right to alter show details to comply with government and health regulations.

midnightoil.com | facebook.com/midnightoilofficial
Twitter: @midnightoilband | Instagram: @midnightoilband
Spotify | YouTube

fromtheheart.com.au | ulurustatement.org

Proudly presented by Frontier Touring, Roundhouse Entertainment, Triple M (QLD, NSW, VIC & WA), Bay 93.9 & Geelong Advertiser (VIC)

Aboriginal and Torres Strait Islander cultures have honoured and celebrated the role of music and songlines for over 60,000 years. Roundhouse Entertainment acknowledge and pay respect to all Traditional Custodians of Country, including the lands on which we work, and our artists create and perform.