News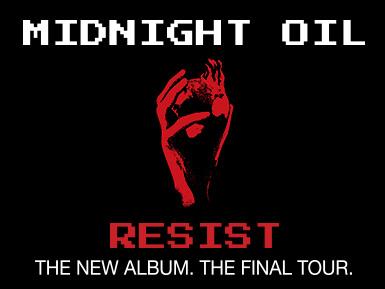 Midnight Oil Announce Guests
28th January, 2022
MIDNIGHT OIL
ANNOUNCE GUESTS FOR
NATIONAL "RESIST: THE FINAL TOUR"

In the wake of last week's acclaimed Tasmanian gigs, Midnight Oil today unveiled the full line up for each show of their imminent mainland tour. The dates will feature a broad palate of Australian sounds, from buzzing pub punks Amyl & The Sniffers through the young surf rock of Darwin's King Stingray to the mighty Hoodoo Gurus just as they launch their new album. Acclaimed singer-songwriters Jack River, William Crighton, Emily Wurramara, Stephen Pigram and Busby Marou will also appear as will Best Blues & Roots ARIA winners, All Our Exes Live In Texas. Plus the tour will feature a handful of rare reunion appearances by fellow 1980s trailblazers Goanna.

These shows kick off with sold-out gigs in Newcastle and Wollongong, shortly after the band's new album Resist is released on 18 February. When announcing the dates last November the Oils revealed that this would be their last concert tour and that it would hopefully be followed by some other shows overseas – this remains their intention providing international travel is possible. Full information for the Australian leg is detailed below.

Meanwhile critical reaction to the band's appearances last week at the Mona Foma Festival in Launceston and Hobart has been extraordinary:

"If the first concert of Midnight Oil's last tour was indicative of the 18 dates to follow, the Sydney-born band is fighting against the laws of rock 'n' roll nature by going out on top … If you can, go." – The Australian

"Farewell tours often have one eye on the past and the other on the cash register – but if Midnight Oil's show in Launceston on Sunday was any indication, they're not coasting to the finish line." – The Guardian

"Midnight Oil's farewell lap, to mark a new album, and preserve the legacy of their blistering live shows, was never going to be reflective and dewy-eyed." – Herald Sun

ALL OUR EXES LIVE IN TEXAS
Appearing at: a day on the green, Mt Duneed Estate, Geelong (Saturday 5 March) and a day on the green, All Saints Estate, Rutherglen (Saturday 12 March)

ARIA Award-winning indie-folk band ALL OUR EXES LIVE IN TEXAS is a fantasy draft of Australia's finest singer-songwriters. On mandolin, ukulele, accordion and guitar, the Exes are a powerhouse of musical prowess, known as much for their side-splitting banter and feminist politics as their devastatingly beautiful harmonies. With a Top 10 critically acclaimed debut album, When We Fall, and a reputation as festival favourites, they've had multiple sell-out tours around Australia and are carving up the USA and UK. They've been called "the most badass girl folk group ever" and their captivating live show has earned them support slots for the Backstreet Boys, Passenger, Nathaniel Rateliff, Midnight Oil and more. Experience intricate musicality, heartbreaking honesty and melodies that soar from four voices that both captivate on their own and come together like magic.

AMYL AND THE SNIFFERS
Appearing at: Rod Laver Arena, Melbourne (Wednesday 9 March)

Melbourne band AMYL AND THE SNIFFERS are Amy Taylor (vocals), Dec Martens (guitar), Gus Romer (bass) and Bryce Wilson (drums). The Sniffers wrote, recorded and uploaded their first EP, Giddy Up, in the space of 12 hours and followed with the Big Attraction EP (2017), which featured iconic tracks I'm Not A Loser, Westgate and Mole (Sniff Sniff). With a grab bag of influences, from Australian rock to rap to '70s punk, the band emerged with a sound that was totally their own – short, fast, loud and funny – which is embodied in their debut self-titled album (2019). Amyl and The Sniffers included the singles Some Mutts (Can't Be Muzzled), Got You and Monsoon Rock, which was playlisted on BBC Radio 1. The album was nominated for the Australian Music Prize and ultimately won an ARIA Award for Best Rock Album. Their sophomore album Comfort To Me (2021) was written over a long year of lockdowns and met with overwhelming critical acclaim and debuted at Number 2 in the ARIA Album Charts, Number 21 in the UK Album Charts, Number 2 on the Billboard Heatseekers Chart and Number 18 on the Billboard Album Sales Chart. It was BBC6 Album of the Day, triple j Feature Album, and Album of the Week at media outlets around the world.

BUSBY MAROU
Appearing at: a day on the green Heifer Station, Orange (Saturday 26 February) and Amphitheatre, Darwin (Saturday 2 April), Brisbane Riverstage, Brisbane (Wednesday 13 April)

BUSBY MAROU are Rockhampton duo Thomas Busby and Jeremy Marou. Their meaningful lyrics, melodic guitar riffs and delightful harmonies have seen them win over fans and critics alike and they have gained the reputation as one of Australia's hardest-working live bands best known for their distinctly Australian storytelling and gifted musicianship. Their success includes four ARIA-charting albums. Their 2010 self-titled album is certified gold, while their most recent albums The Great Divide and Farewell Fitzroy debuted in the Top 5, and Postcards From The Shell House was BUSBY MAROU's first ARIA Number 1 album. They have been nominated for multiple ARIA awards, have won 4 APRA awards, as well as The Triffid's "Queensland Album of the Year" award, multiple Queensland Music Awards and they also won 2010's Deadly Award for "Most Promising New Talent". They have millions of global streams across their four album releases.

EMILY WURRAMARA
Appearing at: a day on the green Heifer Station, Orange (Saturday 26 February), Amphitheatre, Darwin (Saturday 2 April) and Stage 88, Canberra (Tuesday 19 April

EMILY WURRAMARA originates from Groote Eylandt in the Northern Territory and is an AIR award-winning, six-time Queensland Music Award winner and ARIA-nominated artist. In 2018 Emily released an 11-track album Milyakburra, educating and informing in both English and Anindilyakwa languages. The critically acclaimed album features the emotive Lady Blue and Black Smoke. Emily has performed on many global stages, and has toured and played with iconic artists including Archie Roach, Mavis Staples, John Farnham, Missy Higgins, Jessica Mauboy, John Butler and more. Described as "one of music's most inspiring Indigenous role models", Emily's second album is set for release in 2022.

GOANNA
Appearing at: a day on the green Mt Duneed Estate, Geelong (Saturday 5 March), a day on the green Nikola Estate, Perth (Saturday 26 March) and Sunshine Coast Stadium, Sunshine Coast (Saturday 9 April).

In the 1980s, GOANNA's debut album, Spirit of Place, helped forge a new Australian identity. The iconic Solid Rock stoked a fire for Indigenous rights that hasn't gone out, while the anthemic Let The Franklin Flow was a call to arms for Australia's emerging environmental movement. GOANNA released three studio albums: 1982's Spirit of Place, 1985's Oceania and 1998's Spirit Returns. Soulful, lyrical, political, humane and brimming with musicality, originality and creative volatility, Australia has never produced a group like GOANNA, before or since. Forty years after their debut album, Shane Howard, Rose Bygrave, Marcia Howard and Graham Davidge, with special guests, are reliving those treasures, as they embark on a year of paying homage to the Goanna spirit again.

HOODOO GURUS
Appearing at: a day on the green All Saints Estate, Rutherglen (Saturday 12 March)

HOODOO GURUS are Dave Faulkner (vocals, guitars), Brad Shepherd (vocals, guitars), Rick Grossman (vocals, bass) and Nik Reith (drums). Celebrating their 40th anniversary, HOODOO GURUS boast 9 ARIA Top 20 albums, 9 ARIA Top 40 singles, a host of multi-platinum albums and an induction into the ARIA Hall of Fame. They hold a singular place in Australian and international rock 'n' roll history. The band were unrepentant garage rockers whose colourful personality and pop culture smarts took them to the top of the charts at home and to the forefront of international garage/alternative/power pop movements of the mid-'80s with classics including What's My Scene, Like Wow – Wipeout, Bittersweet, Come Anytime, Miss Freelove '69, My Girl and 1000 Miles Away. Their hotly-anticipated new studio album Chariot of the Gods is out on March 11 and the band kick off their 40th Anniversary Tour in April.

JACK RIVER
Appearing at: Entertainment Centre, Adelaide (Wednesday 30 March) and Stage 88, Canberra (Tuesday 19 April)

JACK RIVER is the stage name of Holly Rankin, a Sydney based singer-songwriter, multi-instrumentalist, producer and leapt on to the Australian music scene in 2016 with the release of her first single Talk Like That that served as a prelude for her debut EP Highway Songs #2. Two more singles followed, including Fault Line (2017) and Ballroom (2018), which helped propel the alt-rock electro-pop rockstar onto the Australian music scene shortly before the release of her three-time ARIA-nominated debut album, Sugar Mountain (2018), which peaked at Number 11 on the ARIA Albums Chart. At the 2018 ARIA Awards Sugar Mountain was nominated for Breakthrough Artist, Best Pop Release and Engineer of the Year. Most recently, Jack River released We Are The Youth (September 2021), a song dedicated to the billions of young people driving urgent political and social change.

KING STINGRAY
Appearing at: Convention Centre, Cairns (Wednesday 6 April) and Qudos Bank Arena, Sydney (Thursday 21 April)

Yirrŋa Yunupiŋu (vocals), Roy Kellaway (guitarist), Dimathaya Burarrwanga (guitarist), Campbell Messer (bass) and Lewis Stiles (drums) make up the Australian indie, pop-rock band KING STINGRAY. Hailing from the small town of Yirrkala (NT), the band perform in both English and Yolŋu Matha – the traditional language of the indigenous people of northeast Arnhem Land in northern Australia – and describe their sound as 'Yolŋu surf rock.' KING STINGRAY released their debut single Hey Wanhaka in 2020 before taking out the title of triple j Unearthed Artist of the Year in 2021. Their follow up singles Get Me Out (2021) and Milkumana (2021) made waves in the local music scene when they charted in the 2021 triple j Hottest 100 taking out places #46 and #56 respectively.

STEPHEN PIGRAM
Appearing at: a day on the green Nikola Estate, Perth (Saturday 26 March)

STEPHEN PIGRAM, a Yawuru singer/songwriter from Broome, is well known for his work with his musical brothers in the much-loved Pigram Brothers band. Stephen was also an important early pioneer of Aboriginal rock as a member of the influential '80s bands Kuckles and Scrap Metal, and was musical director for the original production of the first Aboriginal musical - Jimmy Chi's Bran Nue Dae. Stephen also produced (with brother Alan) and scored (with Alan and Alex Lloyd) the feature film Mad Bastards, which premiered at the Sundance Film Festival in 2011. Now stepping out solo – armed with his guitar, ukulele, harmonica and stompbox – Stephen released Solfish in late 2021, a follow-up to his debut solo album, Wanderer.

WILLIAM CRIGHTON
Appearing at: Entertainment Centre, Newcastle (Wednesday 23 February) and WIN Entertainment Centre (Wednesday 2 March)

Born of the Wiradjuri Nation (Dubbo, NSW), WILLIAM CRIGHTON grew up in the Riverina area of rural NSW where he developed his deep connection to country. Crighton is a passionate environmentalist both in action and his music, as demonstrated through his debut self-titled album William Crighton (2016), which attracted critical acclaim with a nomination at the 2017 AIR Awards and was praised by Rolling Stone calling it 'uniquely penetrating storytelling.' His follow up album Empire (2018) takes the same tune as a traditional Australian bush ballad that entwines tales of love for the land and people. His highly anticipated third album Water and Dust (2022) was written in collaboration with his wife Julieanne and features some incredible musicians including long-time friends and collaborators Matt Sherrod & William Barton, Midnight Oil's Rob Hirst & Jim Mogine, Jeff Lang, James Haselwood & Luke Davison. Water and Dust is scheduled for release on 11 February 2022 on vinyl, CD and streaming platforms.

Don't miss Midnight Oil "Resist: The Final Tour". Tickets on sale now from Ticketmaster.

TOUR DATES
MIDNIGHT OIL. RESIST. THE FINAL TOUR

A DAY ON THE GREEN
Sat 26 Feb 2022 – Heifer Station, Orange, NSW Lic. All Ages
Guests: Busby Marou and Emily Wurramara
Sat 5 Mar 2022 – Mt Duneed Estate, Geelong, VIC Lic. All Ages
Guests: Goanna and All Our Exes Live In Texas
Sat 12 Mar 2022 – All Saints Estate, Rutherglen, VIC Lic. All Ages
Guests: Hoodoo Gurus and All Our Exes Live In Texas
Sat 26 Mar 2022 – Nikola Estate, Swan Valley, WA
Guests: Goanna and Stephen Pigram

All event information adayonthegreen.com.au

FRONTIER TOURING
Wed 23 Feb 2022 – Newcastle Entertainment Centre, Newcastle, NSW
Guests: William Crighton SOLD OUT
Wed 2 Mar 2022 – WIN Entertainment Centre, Wollongong, NSW
Guests: William Crighton SOLD OUT
Wed 9 Mar 2022 – Rod Laver Arena, Melbourne, VIC
Guests: Amyl & The Sniffers
Wed 30 Mar 2022 – Adelaide Entertainment Centre, Adelaide, SA
Guests: Jack River
Sat 2 April 2022 – Darwin Amphitheatre, Darwin, NT
Guests: Busby Marou and Emily Wurramara
Wed 6 April 2022 – Convention Centre Arena, Cairns, QLD
Guests: King Stingray
Sat 9 April 2022 – Sunshine Coast Stadium, Sunshine Coast, QLD
Guests: Goanna and Jack River
Wed 13 April 2022 – Riverstage, Brisbane, QLD
Guests: Busby Marou SOLD OUT
Tue 19 April 2022 – Stage 88, Canberra, ACT
Guests: Emily Wurramara and Jack River
Thu 21 April 2022 – Qudos Bank Arena, Sydney, NSW
Guests: King Stingray

All event information frontiertouring.com

TICKETS ON SALE NOW
From ticketmaster.com.au | Ph: 136 100

EVENT INFORMATION:
a day on the green is Licensed All Ages. Strictly no BYO alcohol. Food will be available on site or BYO. EVERY patron must have a ticket regardless of age, and under 18 patrons must be accompanied at all times by a responsible adult with their own ticket. For all transport, accommodation and event information, go to adayonthegreen.com.au

ABOUT A DAY ON THE GREEN
2022 marks the 21st season of a day on the green, which started in January 2001. After 490 shows and more than 4 million happy patrons, the a day on the green experience of good food, fine wine and great music in magnificent locations remains unrivalled and is firmly established as one of Australia's most popular and premier outdoor concert events.

IMPORTANT INFORMATION
Patrons are advised to purchase tickets only through authorised ticket sellers. We cannot guarantee any ticket purchase made through any means other than the official ticketing agents listed on the A Day On The Green, Frontier Touring and winery's websites

All shows subject to final regulatory approvals. Frontier Touring and Roundhouse Entertainment reserve the right to alter show details to comply with government and health regulations.

Proudly presented by Frontier Touring, Roundhouse Entertainment, Triple M (QLD, NSW, VIC & WA), Bay 93.9 & Geelong Advertiser (VIC)

Aboriginal and Torres Strait Islander cultures have honoured and celebrated the role of music and songlines for over 60,000 years. Roundhouse Entertainment acknowledge and pay respect to all Traditional Custodians of Country, including the lands on which we work, and our artists create and perform.