News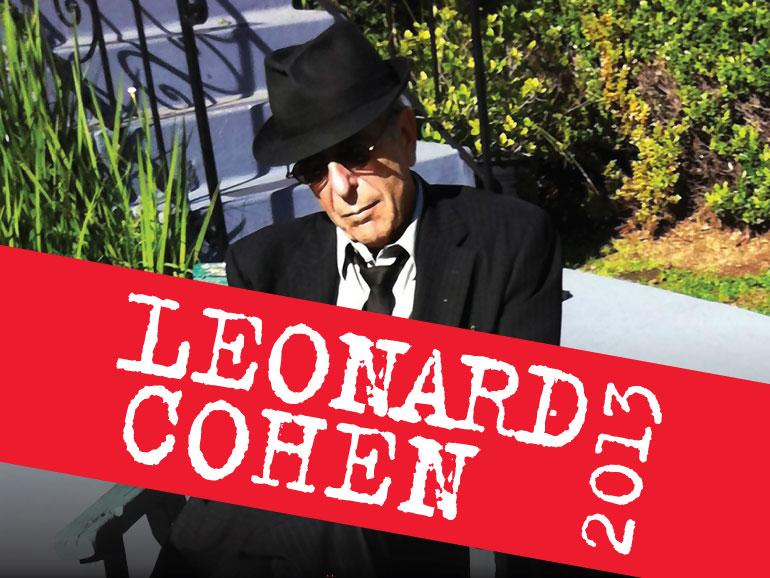 LEONARD COHEN
30th July, 2013
Returning to Australia this Summer
Including two very special outdoor performances
Critically acclaimed music legend Leonard Cohen will return to Australia and New Zealand for a series of enigmatic performances throughout November and December.
Cohen – along with his incredible nine piece band featuring the likes of Sharon Robinson, the infamous Webb Sisters and musical director Roscoe Beck - will play two very special a day on the green concerts under the stars at Bimbadgen Winery, Hunter Valley (NSW) on Saturday November 23 and The Hill Winery, Geelong (VIC) on Saturday December 7.
The shows are an encore to Cohen's five a day on the green concerts during his 2009 tour – his first here in 25 years – which are still fondly remembered as amongst the greatest the popular winery series has ever staged.
Cohen was last here in late 2010 for Frontier Touring, which included an outdoor performance at the iconic and beautiful Hanging Rock. Cohen's soulful voice and the stunning ambience of Hanging Rock were clearly a winning combination as the performance earned Cohen the Helpmann Award for Best International Contemporary Concert and overwhelming acclaim.
An artist who requires no introduction, Cohen is arguably the greatest singer songwriter of modern times. Uniquely for such an iconic musician, Cohen's literary praise rivals that received for his music. In 2011, he was awarded the prestigious Prince of Asturias Award for Literature, which sits alongside his inductions into both America and Canada's Music Hall Of Fame and the Canadian Songwriters Hall of Fame.
At his induction into the American Rock And Roll Hall Of Fame, he was recognised by Lou Reed as "without question one of the most important and influential songwriters of our time, a figure whose body of work achieves greater mystery and depth as time goes on".
Casting an eye across Cohen's musical offerings across his decades as a performer, there is no doubt of Reed's claim. Albums like Songs Of Leonard Cohen (1967), Songs Of Love And Hate (1970) and I'm Your Man (1990), right up to 1992's The Future, 2001's Ten New Songs and 2004's Dear Heather are rightly considered classics.
Revered not only by critics and audiences but also by fellow musicians, Cohen's songs have been famously covered by a variety of artists, each version a fascinating insight on Cohen's impact and lasting influence on the music industry.
From Judy Collins' 'Suzanne' to Jeff Buckley's seminal rendition of 'Hallelujah', Cohen's songs have travelled as far and wide as their author. U2, REM, Sting, Nick Cave, Rufus Wainright and the late Johnny Cash are among the other famous devotees. It is estimated that his songbook has been covered over 1,330 times by other recording artists.
With a career spanning six decades and sell out shows around the world, the hunger to see this highly influential writer, poet and troubadour remains undiminished.
Since returning to the stage in 2008 after a 15-year hiatus, Cohen has lost nothing in his years off the road and his shows have quickly been recognised as musical history. Recent performances across the United Kingdom confirm that some things get better with age, like fine wine, cheese and Leonard Cohen:
'This was a prayer meeting, not only for the crowd... Such is the reverence, so eager are people not to miss a beat that they don't even sing along. Every song – all the hits, plus a handful from last year's Old Ideas – beams out pure, with a slight sibilant echo from the O2's walls' – The Guardian *****
'His three-hour sets are the Sistine Chapel ceiling of live performance: their exquisite beauty renders you silent, sometimes tearful but always grateful to have been able to experience such radiance and majesty. – The Telegraph *****
Don't miss the magnetic and inimitable Leonard Cohen as he returns to Australia with emotive, poignant and legendary concerts not to be missed.
A DAY ON THE GREEN SHOWS:
Saturday November 23 Bimbadgen Winery, Hunter Valley NSW
Saturday December 7 The Hill Winery, Geelong VIC
EVENT INFORMATION:
a day on the green is a fully licensed event. Strictly no BYO alcohol. Food will be available on site or BYO picnic. Deck chairs and picnic rugs are recommended. For all event information, click here.
TICKET INFORMATION:
Platinum: $259 plus b/fee
Gold: $199 plus b/fee
Silver: $149 plus b/fee
General Admission (BYO chairs & rugs): $129 plus b/fee
For full national tour dates, go to frontiertouring.com/leonardcohen
Member pre-sale starts 9am this Thursday 1 August - to sign up click here
For full event details click here
GENERAL PUBLIC TICKETS ON SALE MONDAY AUGUST 12
From ticketmaster.com.au & 136 100