News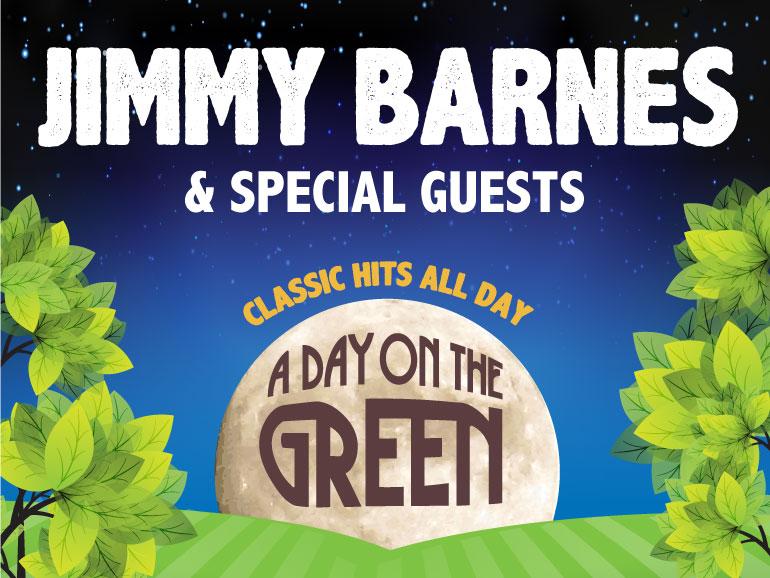 JIMMY BARNES HEADS UP CLASSIC AUSSIE ROCK
7th November, 2013
With The Angels, Ian Moss and more!
Bimbadgen Winery, Hunter Valley - Saturday March 22
Due to overwhelming demand, the very-popular a day on the green classic Aussie rock show is back!
The concerts held in the past two years have absolutely gone off, but we're predicting next year's event may well up the ante even further.
Bimbadgen Winery will rock to the sounds of Jimmy Barnes, the Angels with Dave Gleeson, Ian 'Mossy' Moss, Richard Clapton, Daryl Braithwaite and Boom Crash Opera. That's six incredible acts and more than five hours of some of the greatest Australian rock ever produced – all for just $89.90!
JIMMY BARNES is no stranger to the a day on the green stage, both as a solo performer and with Cold Chisel, however it's been four years since his last winery concerts as a solo artist.
"I've played many a day on the green concerts over the years both with my band and with Cold Chisel and we've always had an absolute blast," Jimmy says. "It's a fantastic way to enjoy music, sitting back with your friends in a great location. a day on the green's support of Australian music should be commended because the line-ups are first-class. We all have a great time catching up backstage! There's always a good feeling across the whole day which makes it a pleasure to play."
It is hard to believe but 2014 will mark 30 years since Jimmy began his solo career! Since the release of his debut album 'Bodyswerve' in 1984, he has notched up more #1 ARIA albums (nine) than any other Australian artist – an amazing achievement. Cold Chisel's triumphant sell-out return to the stage in 2011 added another chapter to that band's amazing legacy and reaffirmed – not that there were any doubts – that Jimmy reigns supreme as not only the undisputed king of Australian rock'n'roll but also one of our most-loved performers.
To say THE ANGELS have been rejuvenated since the arrival of Dave Gleeson is somewhat of an understatement! After 18 months of killer gigs and the great reception to their first studio album in 14 years, 2012's 'Take It To The Streets', the band has been energized with new optimism and have been recording a brand new album, set for release in early 2014.
IAN 'Mossy' MOSS holds a revered place in Australian music. Performing songs covering both his Cold Chisel and solo careers, Mossy's soulful vocals and incredible guitar playing ensure his live sets are always amazing. Following the extraordinary Cold Chisel reunion tour, this master musician will be in red hot form.
RICHARD CLAPTON has endeared himself to music-lovers everywhere through his heartfelt inspired performances and a songbook that defines our times. With hits like 'Girls On The Avenue', 'Deep Water', 'Capricorn Dancer' and 'I Am An Island' Richard was a thoroughly deserving and popular inductee into the ARIA Hall Of Fame. In late 2012 he released his first album in eight years "Harlequin Nights" to universal acclaim.
The release of DARYL BRAITHWAITE's new album "Forever The Tourist" and rejoining Sony Music, the home of his hugely successful solo records in the 80s, has been called a "comeback" but his hordes of fans across Australia will attest that he has never really been away. From Sherbet days to solo hits like 'As The Days Go By', 'Horses' and 'One Summer', Daryl has continued to do what he loves best - performing to a dedicated fan base all over the country.
Growing out of the fertile post-punk scene in Melbourne, BOOM CRASH OPERA hit heady heights with smash hits 'Great Wall', 'The Best Thing', 'Onionskin', 'Dancing In The Storm' and 'Get Out Of The House'. The band members have continued to work in music, theatre and TV worlds, reconvening sporadically for live appearances.
Jimmy Barnes, The Angels, Ian Moss, Richard Clapton, Daryl Braithwaite and Boom Crash Opera – see you at Bimbadgen!
SATURDAY MARCH 22 – BIMBADGEN WINERY, HUNTER VALLEY
EVENT INFORMATION:
a day on the green is a fully licensed event. Strictly no BYO alcohol. Food will be available on site or BYO picnic. Deck chairs and picnic rugs are recommended. For all event information, click here.
TICKETING INFORMATION:
Platinum: $149 plus b/fee
Gold: $129 plus b/fee
Silver: $110 plus b/fee
General Admission (BYO chairs & rugs): $89.90 plus b/fee
TRANSPORT & ACCOM INFORMATION:
For coach enquiries, call Rover Coaches (02) 4990 1699.
For accommodation enquiries, call Hunter Valley Wine Country (02) 4990 0900.
ON SALE MONDAY NOVEMBER 18
From ticketmaster.com.au & 136 100
a day on the green member presale starts 9am Monday 11 November, click here to sign up.
To view full event details, click here.