News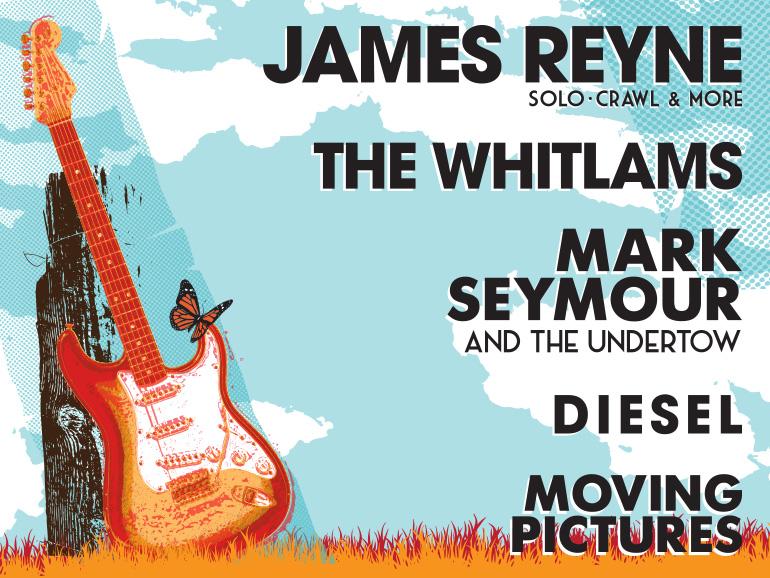 5 Huge Aussie Acts - Kings Park & Botanical Gardens PERTH
8th July, 2015
JAMES REYNE, THE WHITLAMS, MARK SEYMOUR, DIESEL & MOVING PICTURES

Sunday November 22 – Kings Park & Botanical Garden, Perth

It may well be the 68th – yep 68th - a day on the green in Western Australia since the event began there in November 2002, but once again promoters Roundhouse Entertainment and Mellen Events have another incredible line-up for the first of this season's concerts.

Continuing 13 years of stellar support for our home-grown talent, five great Aussie acts will take to the stage at Kings Park & Botanical Garden on Sunday November 22.

James Reyne, The Whitlams, Mark Seymour, Diesel and Moving Pictures will provide a sensational day of classic hits, and with General Admission tickets at just $89.90, this is another great value-for-money concert that Kings Park audiences have come to love.

Between them these five artists are responsible for many of our finest home grown hits. James Reyne's The Boys Light Up, Reckless, Beautiful People, Motor's Too Fast, Downhearted; The Whitlams' No Aphrodisiac, Blow Up The Pokies, Fall For You, Mark Seymour's Throw Your Arms Around Me, Talking To A Stranger, When The River Runs Dry, The Holy Grail; Diesel's Don't Need Love, Tip Of My Tongue, Come To Me and Moving Pictures' What About Me, Winners and Back To The Streets.

Kings Park & Botanic Garden has been the scene of some sensational crowd sing-a-longs in the past but this show may well rival the best of them.

Tickets are on sale 9.00am Wednesday July 15 from Ticketmaster.

ABOUT THE ARTISTS:

JAMES REYNE may have sold more than two million albums and had his songs provide the background to endless Aussie summers, but what excites this evergreen artist the most is that he believes he is continually getting better as a songwriter and a performer. James fronted Australian Crawl for seven years, releasing four memorable albums in the frenetic 80s. He's been a solo artist for the past 28 years, releasing eight studio albums, two acoustic collections, a covers album and two live albums. He will be playing tracks from both Australian Crawl and his solo career.

THE WHITLAMS appeal has always reached across all ages and tastes, based on the emotional clout of their songs and frontman Tim Freedman's poignant melodies. The Whitlams' recorded output spans seven albums since 1993, and includes the groundbreaking Eternal Nightcap, the double platinum Love This City, the No. 1 Torch the Moon and Truth, Beauty & A Picture of You – Best of the Whitlams which charted Top 10 for six weeks. More recently Tim released a solo album on Sony titled Australian Idle.

MARK SEYMOUR released Mayday, his ninth solo album and third with his band The Undertow on May 29. It's another wonderful record of songs about Australia, its people, its politics, its concerns and yet again confirms Mark's status as one of the country's most important artists. The last time we saw Mark on the a day on the green stage was during the Hunters & Collectors hugely successful reformation tour. As with the Hunna's, Mark knows the power of a good band and is looking forward to bringing The Undertow to Perth.

In a career spanning 13 albums and 25 years, DIESEL aka Mark Lizotte has proved himself to be a master musician across multi genres, and vocalist of the highest order. The multi ARIA-award winner is a prodigious talent both on stage and in the studio racking up sales of close to one million albums. Diesel's most recent album A Time & Place – Songs That Laid Tracks (May 2015) is Diesel joining the dots from pivotal moments of discovering songs and their subsequent influence on his own music.

MOVING PICTURES' ground-breaking debut album, Days of Innocence, was released in October 1981 and hit No.1 in February the following year. The anthemic single What About Me held Number 1 position for six weeks and backed up by energetic live shows fronted by charismatic Alex Smith, the band became hugely popular. Constant touring and a second hit album Matinee in 1983 consolidated their position. Although What About Me hit No. 29 on the American Billboard charts and another single Never appearing on two major motion picture soundtracks - Footloose and Hot Rod - the band never broke into the US and by the end of 1987, they disbanded. Although Alex Smith has lived in the UK for the past 20 years, Moving Pictures reunites occasionally and always to a huge response!

ABOUT A DAY ON THE GREEN:
This summer season marks the 15th year of a day on the green, which started in January 2001. After more than 360 shows and 2.75 million happy patrons, the a day on the green experience of good food, good wine and great music is firmly established as one of Australia's most popular concert events.

EVENT INFORMATION:
a day on the green is a fully licensed event. Minors (children under 18 years of age) may only attend the event if they are accompanied by their parent/step-parent or legal guardian. All patrons (including minors/babies) must have a valid ticket for entry.

Strictly no BYO alcohol and NO GLASS. Food will be available at the venue or BYO picnic. Low deck chairs and picnic rugs are recommended. For full event information go to: adayonthegreen.com.au or mellenevents.com

TICKET INFORMATION:
Platinum: $199.90 plus processing and transaction fees
Gold: $149.90 plus processing and transaction fees
Silver: $119.90 plus processing and transaction fees
General Admission (BYO deck chairs & rugs): $89.90 plus processing and transaction fees

TICKETS ON SALE 9.00am WEDNESDAY JULY 15
From Ticketmaster.com.au & 136 100

a day on the green is proudly presented by Roundhouse Entertainment, Mellen Events, AAMI and Sunsuper.