News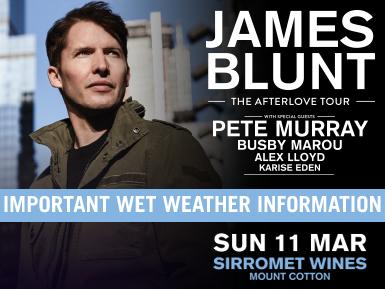 Important Wet Weather Information
10th March, 2018
JAMES BLUNT AT SIRROMET WINES, MOUNT COTTON
SUNDAY 11 MARCH 2018
IMPORTANT WET WEATHER INFORMATION

Concert venue is in good condition and the show will go ahead but due to wet conditions overnight there will be parking onsite for 4WD vehicles only. This means all patrons in normal cars including Garden Bar ticket holders MUST do either of the following:

PARK N RIDE
All non 4WD vehicles who were planning on parking at the venue will need to utilise the Park n Ride Shuttle Services to/from the venue located below. This service is complimentary upon presentation of your ticket:

Capalaba Shopping Centre Park n Ride, Moreton Bay Road, Capalaba
Services commencing from 1.00pm until 6.00pm at regular intervals from Capalaba Shopping Centre to Sirromet Wines, Mt Cotton.

Return services commencing from 7.00pm until 11.00pm at regular intervals from Sirromet Wines, Mt Cotton to Capalaba Shopping Centre.

OR ARRANGE TO BE DROPPED OFF AND PICKED UP.
Please allow plenty of time to arrive at the venue as traffic in the area will be congested.

PLEASE NOTE: YOU MUST ARRIVE & LEAVE THE VENUE IN A VEHICLE. NO PEDESTRIAN FOOT TRAFFIC WILL BE ALLOWED TO LEAVE THIS VENUE. AT ALL.

IF YOU ARE BEING DROPPED OFF OR PICKED UP YOU MUST DO SO FROM THE DROP UP AND PICK UP ZONE INSIDE THE VENUE.

SHOWTIMES:
2.00pm Gates Open
3.05pm Karise Eden
4.15pm Alex Lloyd
5.30pm Busby Marou
6.45pm Pete Murray
8.15pm James Blunt
9.30pm Approximate Finish

WHAT TO BRING: Deck chairs or picnic rug for the General Admission area. Waterproof Jacket and wet weather footwear.

Please note that umbrellas are not permitted, even if it is raining.

All patrons must adhere to local licensing laws. Intoxicated or disorderly patrons will be evicted from the venue. DON'T MISS THE SHOW - Stay In Control. Management reserves the right to refuse admission.

See complete Conditions of Entry HERE.