News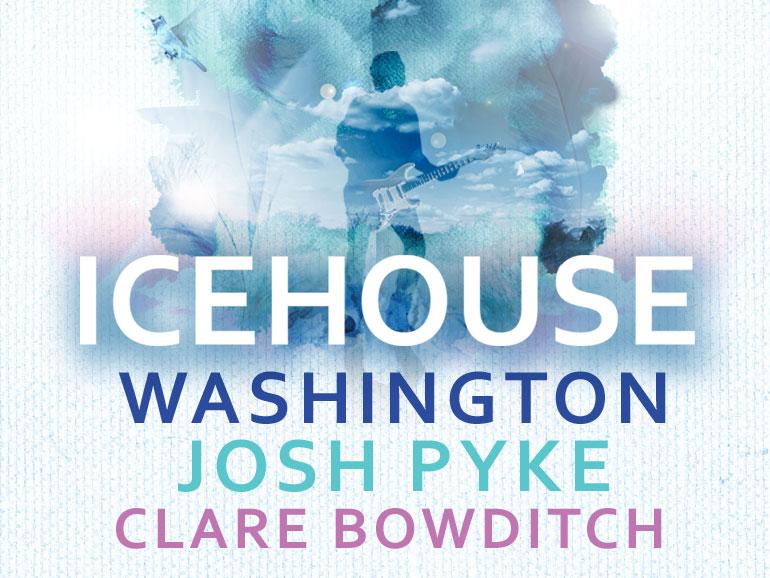 ICEHOUSE - KINGS PARK & BOTANIC GARDEN
13th October, 2011
ICEHOUSE RETURN TO PERTH!
With Washington, Josh Pyke and Clare Bowditch
KINGS PARK & BOTANIC GARDEN - SATURDAY FEBRUARY 18
For the first time in 20 years, an evening on the green welcomes the triumphant return of ICEHOUSE to Perth.
Undoubtedly one of Australia's most beloved, revered and successful bands, ICEHOUSE has been warmly embraced in their recent return to the concert and recording arenas. The band make their a day on the green debut with a series of events this summer, including Kings Park and Botanic Garden on Saturday February 18.
Charismatic ARIA Award-winner Washington is the show's special guest, along with premier singer/songwriter Josh Pyke and the vivacious Clare Bowditch. This vibrant and eclectic line-up promises a bedazzling evening of Australian music.
With a career spanning over thirty years, ICEHOUSE has continued to transcend age groups with hit songs that are loved by audiences across several generations. In Australia the band has more than three million album sales, has charted eight top 10 albums and more than thirty Top 40 singles, while internationally sales exceed nine million albums with Top twenty singles (including No. 1's) in USA, Canada, Britain and Europe - a remarkable achievement.
The recently released "White Heat: 30 Hits", a three disc set which brings together every Icehouse single ever released plus a DVD of 32 film clips, debuted at #5 on the ARIA Charts and has romped to Gold status. The lovingly compiled tribute is a remarkable journey through the band's career and a timely reminder of their contribution to Australian music history.
With classics like 'Great Southern Land', 'Hey Little Girl', 'Crazy' and 'Electric Blue', it will be an absolute pleasure to see them on stage in full flight once again. Reports from their shows in the Eastern states have been ecstatic about the power and musicality of the band, the timelessness of the songs, the strength of Iva Davies' unique voice and the great show ICEHOUSE is delivering.
WASHINGTON'S platinum-selling, ARIA award-winning debut album 'I Believe You Liar' signaled her arrival as one of music's hottest and most exciting new artists. With the album released in the UK, Europe and the US in the next few weeks, Washington is currently on a 20 date US tour with synth-rock pioneers OMD before undertaking her own headline tour of the UK in November.
Meanwhile Australian fans can devour a new eight-track offering 'Insomnia' on October 21, which includes the current radio fave 'Holy Moses'. There's no question Washington is an amazing new talent with a wow-factor in her live performances that has been astonishing fans and critics alike. Expect something special!
JOSH PYKE's ability to weave intelligent lyrics with warm melodies and quirky song structures makes him everyone's favourite modern-day storyteller. His 2007 album debut 'Memories & Dust' hit #4 on the chart and won three ARIA Awards, 2008's 'Chimney's Afire' hit #3 and also claimed an ARIA while the newly-released 'Only Sparrows' just debuted at #4. Josh's irresistible pop tunes win new converts every day.
CLARE BOWDITCH's gutsy lyrics, fascinating instrumentation and left-field humour have enraptured her to a huge fan base. She's made three awesome albums, won an ARIA for Best Female Artist, was crowned Rolling Stone Magazine's Woman of the year in 2010, opened shows for the legendary Leonard Cohen and is a social commentator and radio host amongst other things!
A sojourn in Berlin inspired Clare's last album 2010's 'Modern Day Addiction' which marked a decide change in direction for this stunning chanteuse. If there is a more enchanting, inimitable female singer/songwriter, we'd like to meet her!
EVENT INFORMATION:
an evening on the green is a fully licensed event. Minors (children under 18 years of age) may only attend the event if they are accompanied by their parent/step-parent or legal guardian. All patrons (including minors/babies) must have a valid ticket for entry.
Strictly no BYO alcohol and NO GLASS. Food will be available at the venue or BYO picnic. Low deck chairs and picnic rugs are recommended. For full event information click here
TICKETING INFORMATION:
Gold: $220 plus booking fees
Silver: $150 plus booking fees
General Admission: $99.90 plus booking fees.
Concert & Canapes Package from Ticketmaster (03) 9685 2477
PLAYING TIMES:
4.30pm Gates Open
5.00pm Clare Bowditch
6.15pm Josh Pyke
7.45pm Washington
9.15pm Icehouse
TICKETS ON SALE FRIDAY OCTOBER 21
From ticketmaster.com.au & 136 100
For Media Information:
Rosita Stangl 08-9367 8884 / rositapr@iinet.net.au
Presented by Roundhouse Entertainment, Mellen Events, MAX, LG, Nissan and vividwireless.