News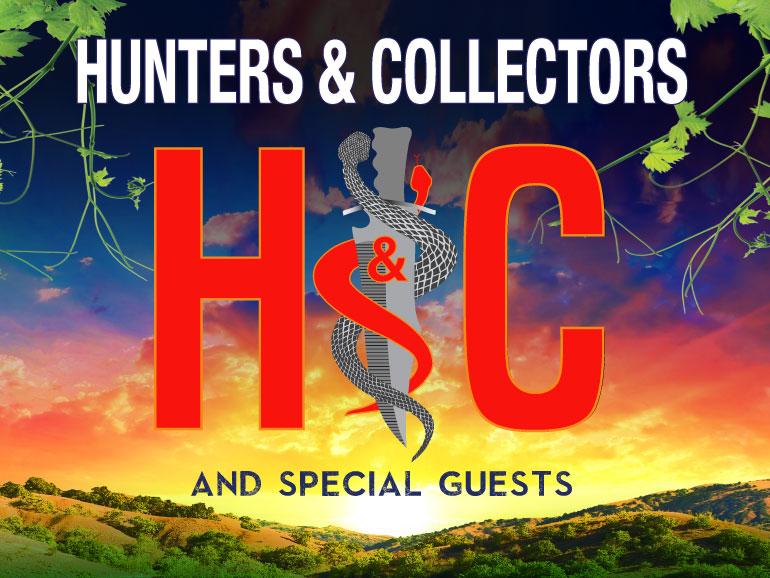 HUNTERS & COLLECTORS
18th February, 2014
Petersons Winery, Armidale – Saturday March 1
Two weeks to go!
After four incredible a day on the green concerts, the Hunters & Collectors tour hits Armidale in two weeks.
The third a day on the green event at Petersons Winery will again feature another brilliant day of Aussie music with the Hunters, Something For Kate, Diesel and British India. Reviews for the tour to date have been outstanding from both media and fans alike.
Promoter Roundhouse Entertainment is delighted to announce that local indigenous band Terra Firma, featuring vocalist Anthony Green, has been added to the bill and will open the March 1 concert.
The band's addition comes after a chance meeting at last year's concert between promoter Michael Newton and Kim McConville, CEO of Beyond Empathy, the Armidale-based arts organisation. After a lengthy discussion about Beyond Empathy's work creating opportunities for local artists, the pair agreed to talk again in the lead-up to the 2014 concert to see if anything was possible.
Mr Newton said: "a day on the green loves working with local communities. It's a huge part of what we do and after talking with Kim recently, we're pleased to give Terra Firma the chance to perform on a big stage at our show. Hunters & Collectors have also given their support. Kim and her team are doing a great job fostering local talent and helping them to improve their skills and experience and that's something we're keen to encourage. I know our audience will give Terra Firma a warm welcome."
Hunters & Collectors - Mark Seymour, Jack Howard, Michael Waters, Jeremy Smith, Doug Falconer, Barry Palmer, John Archer and Rob Miles – has been delivering all their classic hits in powerhouse two–hour sets accompanied by a stunning visual show.
Mr Newton urges fans not to miss it. "The Hunnas are without doubt one of our truly great live bands and that's what you see at the shows. They have just been fantastic. There are massive crowd sing-a-longs for 'Throw Your Arms around Me', 'When the River Runs Dry' and all those anthemic Hunters songs. The band has said they will never play again, so this is it. I urge everyone not to miss it."
Playing times are:
3.30pm Terra Firma
4.15pm British India
5.20pm Diesel
6.30pm Something For Kate
7.45pm Hunters & Collectors
Tickets will be available at the winery on the day or from Ticketmaster.com.au & 136 100.
Edwards Coaches offer a comprehensive schedule for bus pickups around the region and the shuttle service from around Armidale to the winery. To view full details with routes and pick up times, click here or call Edwards on (02) 6772 3116.
For all accommodation enquiries, contact the Armidale Visitor Information Centre on (02) 6770 3888 or email tourism@armidale.nsw.gov.au.
For full event information, click here.
See you there!
a day on the green is proudly presented by Roundhouse Entertainment, MAX, AAMI and Sunsuper.