News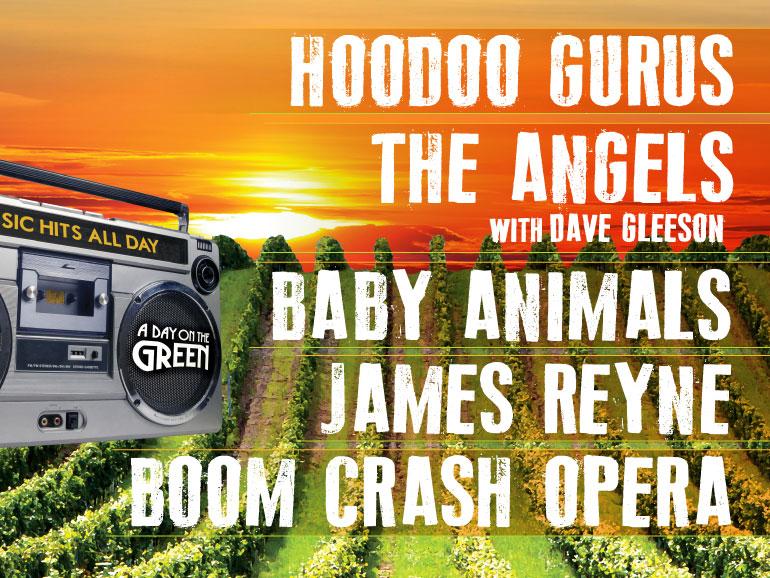 HOODOO GURUS - SOLD OUT!
5th December, 2012
JOSEF CHROMY WINES, LAUNCESTON - SOLD OUT!
HOODOO GURUS, THE ANGELS, BABY ANIMALS, JAMES REYNE, BOOM CRASH OPERA
Promoter Roundhouse Entertainment is pleased as punch to announce that all tickets to the Tasmanian a day on the green are SOLD OUT!
Josef Chromy Wines has a few of the fabulous Concert & Dining packages remaining, available from the winery on (03) 6335 8700.
This Saturday's show is the final one of a national winery tour featuring Hoodoo Gurus, The Angels, Baby Animals, James Reyne and Boom Crash Opera. More than 5000 fans will enjoy this fantastic celebration of classic Oz rock.
Promoter Michael Newton said: "We have been having a great time with this all Australian line-up all over the country and it's exciting to be finishing off the tour with a sell-out show in Launceston. The lawn at Joseph Chromy is the perfect location for a concert, and with so many classic home grown rock songs patrons are in for a real treat."
As a special added treat, the show MC on the day will be another Aussie rock legend Choirboys' lead singer Mark Gable! The Choirboys performed as part of another a day on the green Australian rock line-up and as Mark also hosts his own radio show, he's the perfect man to keep the audience entertained during the day.
This Saturday's concert marks the return of the popular winery event after a year's absence, and following the extensive renovations to the winery's cellar door and restaurant area, many patrons will also enjoy Concert & Dining packages.
TRANSPORT INFORMATION:
The car park opens at 1.00pm. A gold coin donation to the volunteer parking officers is appreciated. Alternatively leave the car at home and take a coach. Redline Coaches will operate shuttles from Launceston CBD to the winery from 2.15pm. For details call 1300 360 000 or go to www.redlinecoaches.com.au.
PLAYING TIMES:
Gates at the winery will open at 3.00pm. Playing times are:
3.30pm - 4.10pm Boom Crash Opera
4.35pm - 5.20pm James Reyne
5.45pm - 6.35pm The Angels with Dave Gleeson
7.05pm - 7.55pm Baby Animals
8.25pm - 9.30pm Hoodoo Gurus
EVENT INFORMATION:
a day on the green is a licensed event, so strictly no BYO alcohol or drinks. No umbrellas (even if it's raining), tables, glass, metal cutlery or sunshelter. Patrons may bring sealed bottled water (700 ml only), food and eskies.
In the event of inclement weather please check this website BEFORE departing for the show for messages regarding parking or wet weather arrangements.
We look forward to presenting this fantastic celebration of Australian rock'n'roll in what is sure to be another memorable a day on the green. See you there!