News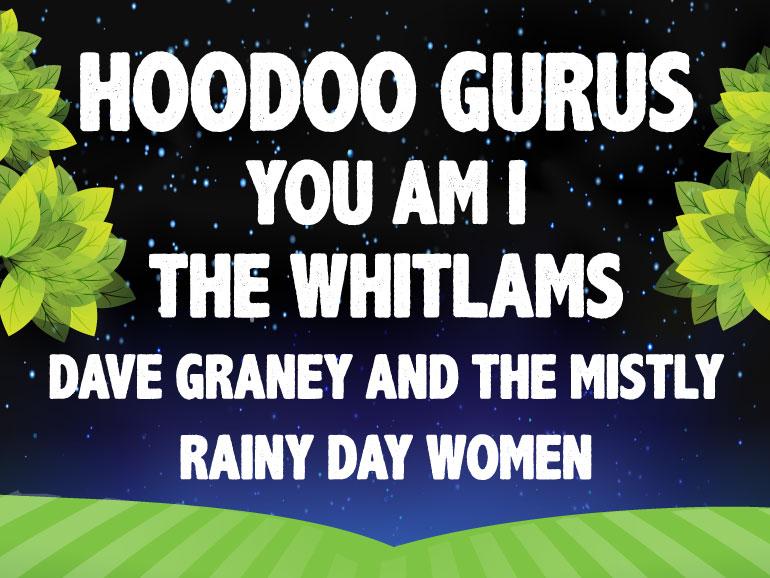 HOODOO GURUS, YOU AM I, THE WHITLAMS
2nd September, 2013
DAVE GRANEY & THE MISTLY, RAINY DAY WOMEN
For an evening on the green
Kings Park & Botanic Garden – November 16
Roundhouse Entertainment and Mellen Events are pleased to announce the great Aussie talent headlining the an evening on the green concert at Kings Park & Botanic Garden on Saturday, November 16.
Hoodoo Gurus, You Am I, The Whitlams, Dave Graney & The mistLY and Rainy Day Women are set to join forces for a sensational night of music under the stars in Kings Park.
The legendary Hoodoo Gurus are by any measure one of Australia's greatest, best loved and most enduring rock bands of all time; You Am I are this year celebrating their 20th year with an extensive Australian tour and The Whitlams, led by charismatic Tim Freedman are looking forward to returning for another an evening on the green. The always-entertaining Dave Graney and his band The mistLY and Perth's own Rainy Day Women round off this incredible line-up.
Five great bands and tickets available from $89.90, sounds like a great night to us!
ABOUT THE ARTISTS:
HOODOO GURUS – Last year marked an extraordinary milestone for the Hoodoo Gurus; 30 years since the release of the band's debut single, "Leilani". To celebrate, the Gurus compiled all their biggest hits and fan favourites onto a best-of set, aptly titled "Gold Watch: 20 Golden Greats". It included "What's My Scene?", "I Want You Back", "Miss Freelove '69", "Like Wow – Wipeout!", "The Right Time", "Bittersweet", "Come Anytime", "My Girl", "1000 Miles Away", "Waking Up Tired", tracks that represent the unmistakable sound of the irrepressible Hoodoo Gurus. In 2007 the group was inducted into the ARIA Hall of Fame. Their live performances are second to none.
YOU AM I – The stats read well: 12 records, 3 # 1's, 9 ARIAs…32 nominations, live music awards and nearing 2,000 shows all over the globe. In celebration of their 20th year as a band, their first three albums "Sound As Ever", "Hi Fi Way" and "Hourly Daily" have been reissued to huge acclaim. Come and check the kings of swagger!
THE WHITLAMS – Their appeal reaches audiences of all ages and tastes. With lyrics described as having a 'charming cynicism' and enhanced by an instinct for poignant melody, the Tim Freedman-led Whitlams have become a staple of the Australian music scene. They won Best Group at the 1998 ARIA Awards, as well as Song of the Year and Best Independent Release for their 3rd album "Eternal Nightcap". The current lineup has remained unchanged for the last 10 years and four albums.
DAVE GRANEY & THE mistLY – This latest incarnation in the always colorful career of Dave Graney and partner-in-crime Clare Moore is called The mistLY. The new name accompanied the 2012 album 'You've Been On My Mind', Dave's fourth album in as many years. Three decades, 20 plus albums, two books and countless gigs later, Dave remains as eclectic and entertaining as ever.
RAINY DAY WOMEN – These five fellows from Perth have a knack for melody and sundrenched ditties reminiscent of The Beach Boys and Fleetwood Mac. They make bright savvy music of the pop variety. The band was nominated for the Breakthrough Act and Most Promising New Act at the 2012 WAMI Awards.
AN EVENING ON THE GREEN
Featuring
HOODOO GURUS, YOU AM I, THE WHITLAMS
DAVE GRANEY & THE MISTLEY and RAINY DAY WOMEN
SATURDAY NOVEMBER 16 – KINGS PARK & BOTANIC GARDEN
EVENT INFORMATION:
an evening on the green is a fully licensed event. Minors (children under 18 years of age) may only attend the event if they are accompanied by their parent/step-parent or legal guardian. All patrons (including minors/babies) must have a valid ticket for entry.
Strictly no BYO alcohol and NO GLASS. Food will be available at the venue or BYO picnic. Low deck chairs and picnic rugs are recommended. For full event information, click here.
TICKETING INFORMATION:
Platinum – $199.00
Gold - $162.00
Silver - $129.00
GA - $89.90
Garden Bar – $104.50
Plus payment processing and transaction fees.
ON SALE 9.00am THURSDAY 12 SEPTEMBER
From ticketmaster.com.au & 136 100
Member pre-sale starts at 9am Thursday 5 September, to sign up now click here.
For full event information, click here.