News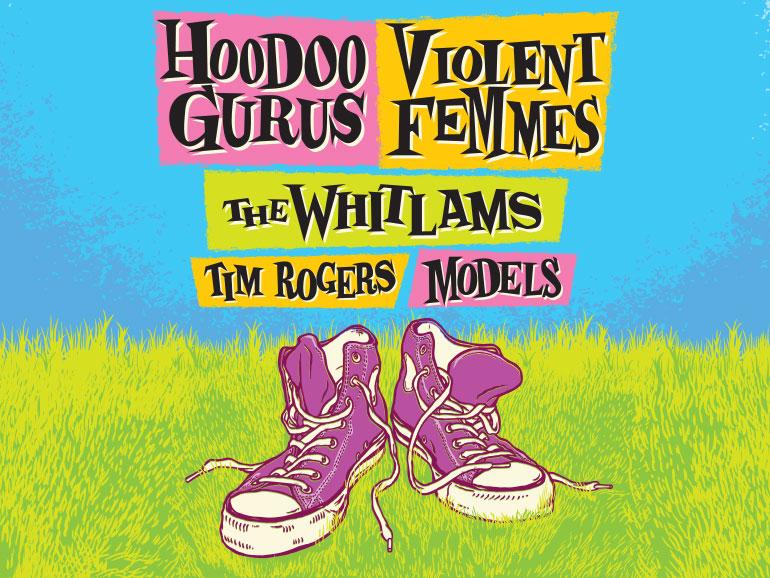 Hoodoo Gurus | Violent Femmes
9th December, 2016
EPIC LINE-UP FOR TWO HUGE REGIONAL WINERY CONCERTS
VICTORIA & SOUTH AUSTRALIA – MARCH 2017

From the golden age of indie-rock comes two giants of the era joining forces for two epic a day on the green concerts in March 2017.

The magnificent Hoodoo Gurus and the equally splendorous Violent Femmes will headline the events on Saturday 18 March in Rutherglen, Victoria and on Saturday 25 March in the Clare Valley, South Australia.

Joining our headliners will be the fabulous The Whitlams, Tim Rogers and Models.

The Gurus and Femmes played a sold-out national a day on the green tour in March this year and had such a racuous time, they knew they wanted to do it all over again!

Brian Ritchie (Violent Femmes) said: "a day on the green defies belief by running the gamut of human emotion. The power of the Gurus, absurdity of the Femmes, pathos of The Whitlams, horniness of Tim Rogers and mystery of Models combine to remind us of everything that is good about humanity in this otherwise bleak time."

With a treasure trove of much-loved classics like Bittersweet, The Right Time, Death Defying, 1000 Miles Away, Tojo and What's My Scene, The Gurus seem to get better with age, their sets always eliciting monstrous sing-alongs.
Matching that is the Femmes' shambolic splendour and the unbridled gusto of Blister In The Sun, Gone Daddy Gone, Gimme The Car, Prove My Love, Freak Magnet, Hallowed Ground and Add It Up.

Add the caustic banter of Tim Freedman and the Whitlams' lush tunes No Aphrodisiac and Blow Up The Pokies, the garrulous Tim Rogers previewing tracks from his brand new solo album and the alt-pop of I Hear Motion and Out Of Mind Out Of Sight from Models and March 18 at All Saints Estate or March 25 at Annie's Lane Winery is where you wanna be!

TOUR DATES:
Saturday March 18 All Saints Estate, Rutherglen VIC
Saturday March 25 Annie's Lane, Clare Valley SA

EVENT INFORMATION:
a day on the green is a fully licensed event. Strictly no BYO alcohol. Food will be available on site or BYO picnic. Deck chairs and picnic rugs are recommended. For all transport, accommodation and event information, go to adayonthegreen.com.au

THE ARTISTS:

HOODOO GURUS:
For more than three decades the Hoodoo Gurus have consistently been one of the most inventive, lyrically smart and exciting rock'n'roll bands Australia has ever produced. And they've done it with style, panache and a wicked sense of humour. Consistent chart-toppers, ARIA Hall of Famers, co-curators of the Dig It Up! Invitational, heavyweight champs in the live arena and other accolades far too many to mention here.

VIOLENT FEMMES:
The Wisconsin punk-folk trio has spent much of the year on a huge world tour celebrating their ninth studio album We Can Do Anything, their first full-length collection in more than 15 years. With singles Memory and Issues, the album has received rapturous responses from Violent Femmes' fervent international fan following as well as from high profile media outlets worldwide.

THE WHITLAMS' recorded output spans seven albums since 1993, including the double platinum Love This City, the No. 1 Torch the Moon and the 3 x ARIA award winning Eternal Nightcap. Tim Freedman's poignant and witty songs like No Aphrodisiac, Blow Up the Pokies, Thank You (For Loving Me At My Worst) and Royal In The Afternoon have endeared them to fans all over the country.

TIM ROGERS has always enjoyed a healthy working life outside being the formidable front man of You AM I. Since his first solo record in 1999, Tim's myriad of extra-curricular activities has involved regular solo albums, writing music for film and TV, acting and working with friends like Tex Perkins on collaborative albums. In 2017 he unleashes his next solo album.

MODELS celebrate the musical adventurousness and pioneering nature of the early Australian alternative music scene and are that rare breed of band that has successfully straddled critical acclaim, cult appeal and commercial success. From albums The Pleasure Of Your Company and Local &/or General, their chart-topping run of hits includes I Hear Motion, Big On Love, Barbados and Out Of Mind Out Of Sight. Models have been back in action playing occasional shows over the past 2 years.

ABOUT A DAY ON THE GREEN:
This summer season marks the 16th year of a day on the green, which started in January 2001. A significant milestone was achieved in November, with celebrations marking the 400th event! The a day on the green experience of good food, good wine and great music is firmly established as one of Australia's most popular concert events.

TICKETS ON SALE - FRIDAY 16 DECEMBER AT 10.00am
From Ticketmaster.com.au