News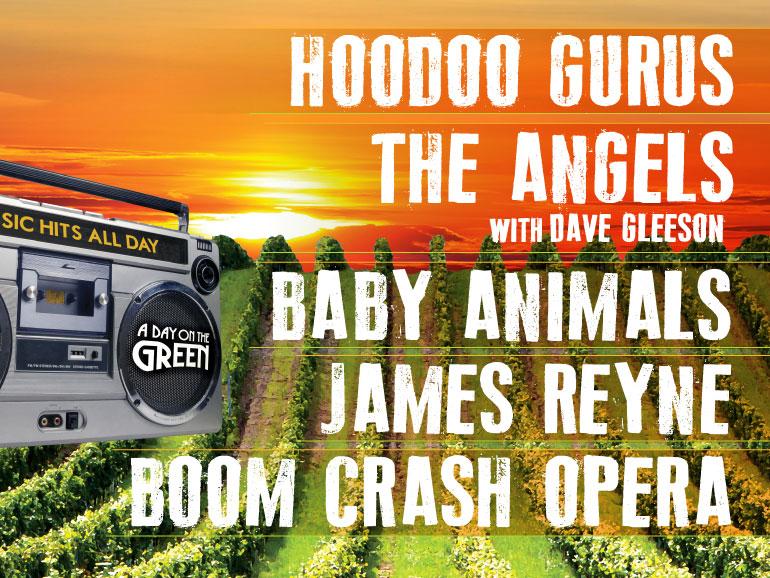 HOODOO GURUS, THE ANGELS WITH DAVE GLEESON, BABY ANIMALS, JAMES REYNE, BOOM CRASH OPERA
9th August, 2012
A SUMMER INVASION
a day on the green launches a summer invasion of Australian rock'n'roll with its next national tour through November/December.
Hoodoo Gurus, The Angels with Dave Gleeson, Baby Animals, James Reyne and Boom Crash Opera are set to join forces for five mouth-watering hours of irresistible Oz rock classics.
The legendary Gurus are by any measure one of Australia's greatest, best loved and most enduring rock bands; the Dave Gleeson-fronted Angels unleash their eagerly-awaited new album this month to feverish Angels fans; the Baby Animals are back in the studio and ready to rock again; James Reyne's 13th album "Thirteen" has proved to be anything but unlucky with stellar reviews and openers Boom Crash Opera fronted by charismatic Dale Ryder round off this incredible bill with panache.
It sounds like a mighty day of rock'n'roll to us - and all for just $89.90!
This formidable touring ensemble kicks off in Queensland at Sirromet Wines, Mt Cotton on Sunday November 4 ending at Josef Chromy Wines, Launceston on Saturday December 8.
A lovely hot night, kicking back with friends in a beautiful vineyard, classic rock pumping, good food and wine.....no wonder last season's version of the Classic Oz Rock tour sold out pronto! This year's high-octane celebration is sure to do the same, so get in fast.
EVENT INFORMATION:
a day on the green is a fully licensed event. Strictly no BYO alcohol. Food will be available on site or BYO picnic. Deck chairs and picnic rugs are recommended. For all event, transport and accommodation information, go to www.adayonthegreen.com.au.
HOODOO GURUS, THE ANGELS WITH DAVE GLEESON, BABY ANIMALS, JAMES REYNE, BOOM CRASH OPERA
Sunday November 4 SIRROMET WINES, MT COTTON QLD
Saturday November 10 BIMBADGEN WINERY, HUNTER VALLEY NSW
Saturday November 24 ROCHFORD WINES, YARRA VALLEY VIC
Saturday December 1 PETER LEHMANN WINES, BAROSSA VALLEY SA
Saturday December 8 JOSEF CHROMY WINES, LAUNCESTON TAS
ANGELS, BABY ANIMALS, IAN MOSS, JAMES REYNE, BOOM CRASH OPERA
Saturday November 17 KINGS PARK, PERTH WA
TICKETS FOR ALL SHOWS*:
Platinum - $149 plus booking fee
Gold - $129 plus booking fee
Silver - $110 plus booking fee
General Admission: $89.90 plus booking fee
*excluding PERTH: Gold $169 & General Admission $89.90 plus booking fee.
ABOUT THE ARTISTS:
HOODOO GURUS - To celebrate 30 years since their debut single 'Leilani', the Gurus have compiled all their biggest hits and fan favourites onto a best-of set, aptly-titled 'Gold Watch: 20 Golden Greats'. Tracks like 'What's My Scene?', 'Miss Freelove '69', 'The Right Time', 'Bittersweet', 'Come Anytime', and '1000 Miles Away' are but a few of songs that helped provide a soundtrack to Australian life going all the way back to the 1980s. On stage, the irrepressible Gurus have few equals and will undoubtedly light up the a day on the green shows.
THE ANGELS WITH DAVE GLEESON - With Doc Neeson pursuing a solo career, The Angels needed a new lead singer and when ex-Screaming Jets front man Dave Gleeson jumped on stage with the band in April last year, Rick & John Brewster knew instantly they had found their man. A new single 'Waiting For The Sun' followed by the August 31 release of the 'Take It to The Streets' album signals the return of this mighty rock band. New singer, new drummer, new songs but undeniably the Angels.
BABY ANIMALS - Fronted by the compelling Suze DeMarchi, Baby Animals roared into Aussie rock history in the early 90's with their 8 times platinum self-titled debut album, with hits like 'Early Warning', 'One Word' and 'Rush You'. After disbanding in 1996, the band made a popular return in 2008. Fast forward to 2012 and the band will soon record their first album of new material since 1993 and are excited to be back on stage again.
JAMES REYNE - A true icon of the Aussie music business, James Reyne just seems to get better with age. His latest solo album "Thirteen" finds the popular performer in brilliant form both as a vocalist and song-writer. His razor sharp observations and passion for melody continue to drive him to find excellence as an artist as evidenced on "Thirteen". With an enviable catalogue of great hits as well, James is always an a day on the green favourite.
BOOM CRASH OPERA - Growing out of the fertile post-punk scene in Melbourne, Boom Crash Opera hit heady heights with smash hits 'Great Wall', 'The Best Thing', 'Onionskin', 'Dancing In The Storm' and 'Get Out Of The House'. Band members have continued to work in music, theatre and TV worlds, reconvening sporadically for live appearances. Well-known for their boisterous stage shows, BCO has been lured back to the big stage for this tour.
ABOUT A DAY ON THE GREEN:
This summer marks the 12th year of a day on the green events. After nearly 300 shows and more than two million happy patrons, the a day on the green experience of good food, good wine and great music is firmly established as one of Australia's most popular concert events.
TICKETS FOR ALL SHOWS ON SALE FRIDAY AUGUST 17
From ticketmaster.com.au & 136 100
a day on the green is proudly presented by Roundhouse Entertainment, LG, MAX, Triple M, 96FM, KO FM, Gold 92.5FM and LA FM.