News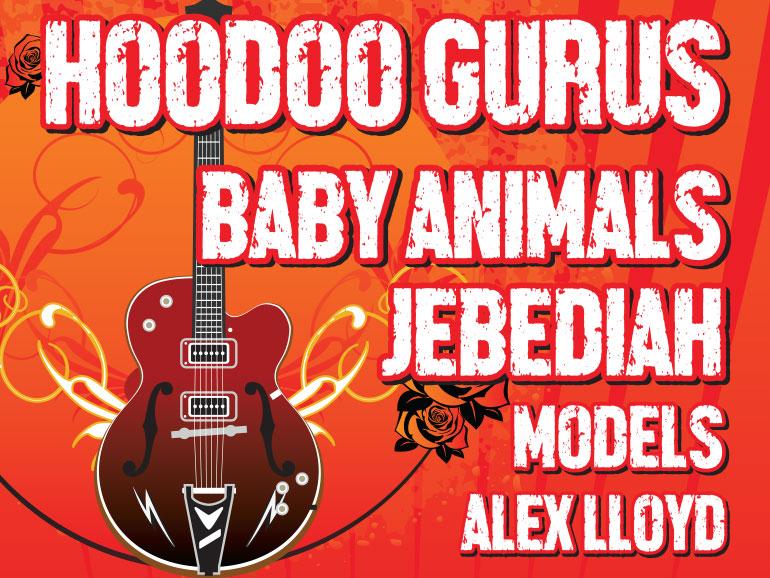 Hoodoo Gurus - Mudgee
30th June, 2017
BLOW YOUR COOL!
HOODOO GURUS RETURN TO MUDGEE
with BABY ANIMALS, JEBEDIAH, MODELS AND ALEX LLOYD
Robert Oatley Vineyards – Saturday November 4
Thirty years ago, Aussie legends HOODOO GURUS scored their biggest hit with the unforgettable What's My Scene. Now, Mudgee will be the scene of one of Central NSW's biggest gigs of the year, with the Gurus celebrating the 30th anniversary of What's My Scene when they headline Mudgee's 19th a day on the green on Saturday November 4 at Robert Oatley Vineyards.
This will be a gig jam-packed with hits, with the Gurus playing their crowd-pleasing catalogue, including classics such as Like Wow – Wipeout, Bittersweet, Come Anytime, Miss Freelove '69, My Girl, 1000 Miles Away, among many others.
Joining HOODOO GURUS will be BABY ANIMALS, JEBEDIAH, MODELS and ALEX LLOYD.
HOODOO GURUS are undoubtedly one of Australia's most-loved bands. With an extraordinary career spanning more than three decades, the band's iconic status was recognised when they were inducted into the ARIA Hall of Fame in 2007.
Thirty-six years into their stellar career, the Gurus' music still resonates with the Australian public. Their classic albums, including Stoneage Romeos, Mars Needs Guitars!, Blow Your Cool!, Magnum Cum Louder and Kinky, have provided the soundtrack to endless Australian summers.
Fronted by the compelling Suze DeMarchi, BABY ANIMALS roared into Aussie rock history in the early '90s with their 8 times platinum self-titled debut album with hits like Early Warning, One Word and Rush You. The album remains one of the greatest Australian debuts of all time and won the band three ARIA Awards. In 1992, it was declared one of the Top 25 albums of the year in UK rock bible Kerrang! After disbanding in 1996, BABY ANIMALS made a popular return in 2008, and in 2013 released their fifth studio album, This Is Not The End, followed by BA25 in 2016 celebrating 25 years since the release of their self-titled debut.
JEBEDIAH burst out of Perth in the mid-'90s, winning the National Campus Band Competition. Their debut single, Jerks of Attention, became a triple j fave, and it was followed by Teflon, Harpoon, Animal and their defining anthem, Leaving Home. Fronted by Kevin Mitchell, the Jebs became one of Australia's most popular live bands. The hits continued into the noughties with Fall Down and She's Like a Comet. In 2015, the band celebrated their twentieth anniversary with the release of their greatest hits, Twenty.
When they formed, MODELS were hailed as one of the most innovative and imaginative Australian bands. Nearly four decades later, not much has changed. Their chart-topping run of hits includes I Hear Motion, Big On Love, Barbados and Out of Mind Out of Sight. MODELS, fronted by Sean Kelly, are that rare breed of bands – one that has successfully straddled critical acclaim, cult appeal and commercial success. Proving Models never go out of style, they were inducted into the ARIA Hall of Fame in 2010.
With soaring vocals and moving melodies ALEX LLOYD is one of Australia's most popular singer-songwriters. Winning critical acclaim with his debut album Black the Sun in 1997, Alex followed this up with 2001's Watching Angels Mend featuring his breakout hit Amazing, coming in at Number 1 on triple j's Hottest 100 chart and winning APRA's Song of the Year. The multi ARIA Award-winner continued his run on the charts with hits including Green, Coming Home, 1000 Miles, Everybody's Laughing and Never Meant to Fail. Last year saw the release of Alex's seventh studio album Acoustica, featuring stripped back re-recordings of some of his much-loved classics.
What's My Scene? You'll want to be at Mudgee's Robert Oatley Vineyards on November 4 - a magnificent location, good food and wine and general admission tickets at just $99.90. Get your friends together for a celebration of Aussie music.
SATURDAY NOVEMBER 4 – ROBERT OATLEY VINEYARDS, MUDGEE
Tickets on sale at 10.00am on Monday July 10 from Ticketmaster.
ABOUT A DAY ON THE GREEN:
This summer season marks the 17th year of a day on the green, which started in January 2001. After more than 425 shows and 3 million happy patrons, the a day on the green experience of good food, good wine and great music is firmly established as one of Australia's most popular concert events.
EVENT INFORMATION:
a day on the green is fully licensed event. Strictly no BYO lcohol. Food will be vailable on site or BYO picnic. Deck chirs and picnic rugs are recommended. For all event information, click here.
No Reserved Tickets.
All tickets are General Admission (BYO chairs & rugs): $99.90 plus b/fee
TRANSPORT & ACCOM INFORMATION:
Leave the car at home and pre-book on a coach. For ticket and coach travel from surrounding towns, call Ogden's Coaches on (02) 6372 2489 or email: mudgee@ogdenscoaches.com.au (operating from Bathurst, Orange, Wellington, Dubbo, Kandos, Lui, Rylstone, Gulgong, Windeyer and Frog Rock.)
Ogdens will also operate a shuttle bus service from Mudgee accommodation venues and the CBD to the winery, returning after the show.
For all accommodation enquiries, contact the Mudgee Visitors Centre on (02) 6372 1020 or info@visitmudgeeregion.com.au
Camping is available close to the venue from www.rentatent.com.au or info@rentatent.com.au
MEMBER PRE SALE STARTS 12PM MONDAY 3 JULY – SIGN UP HERE
TICKETS ON SALE MONDAY JULY 10 AT 10.00am
From Ticketmaster.com.au & 136 100
and the Mudgee Visitors Centre