News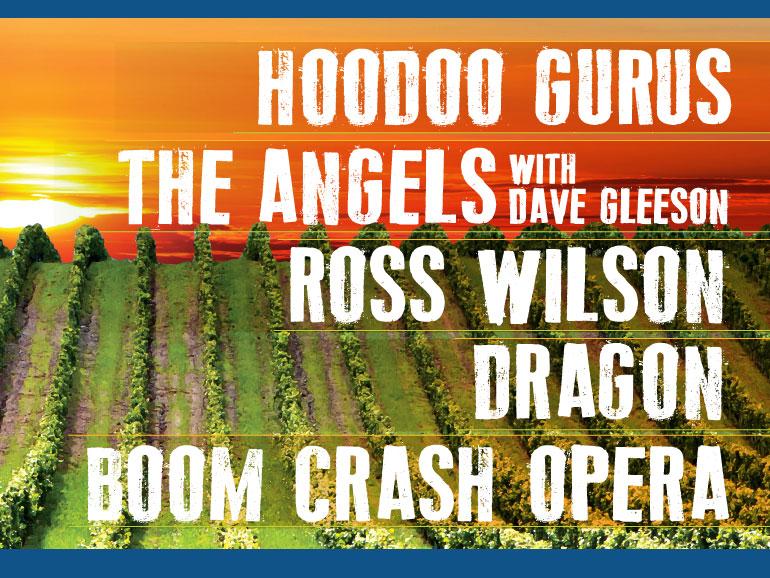 HOODOO GURUS AT THE HILL WINERY, GEELONG
1st November, 2012
A DAY ON THE GREEN RETURNS . . .
WITH AN AUSSIE ROCK SUMMER INVASION!
HOODOO GURUS, THE ANGELS, ROSS WILSON, DRAGON, BOOM CRASH OPERA
THE HILL WINERY, GEELONG - SATURDAY FEBRUARY 16
a day on the green launches a summer invasion of Australian rock'n'roll with its first show at the magnificent new winery The Hill in Geelong next year.
Hoodoo Gurus, The Angels with Dave Gleeson, Ross Wilson, Dragon and Boom Crash Opera are set to join forces for five mouth-watering hours of irresistible Oz rock classics on Saturday February 16 2013.
The concert marks the long-awaited return of the popular winery brand to the region, after hugely successfully concerts at Scotchman's Hill at Spray Farm on the Bellarine Peninsula from 2007 - 2010. The event has found a superb home in the Browne family's newly developed property The Hill Winery. And promoter Roundhouse Entertainment has assembled an all-star Aussie ensemble to ensure the new venue is launched in spectacular style!
The legendary Gurus are by any measure one of Australia's greatest, best loved and most enduring rock bands; the Dave Gleeson-fronted Angels unleashed their eagerly-awaited new album to feverish Angels fans two months ago; Ross Wilson and Dragon continue to thrill audiences nationally with their incredible catalogue of chart-toppers, while openers Boom Crash Opera fronted by charismatic Dale Ryder round off this incredible bill with panache.
Reserved seats, general admission tickets and Concert & Dining packages at the Hill's restaurant are all available. A lovely summer's night at the magnificent Hill Winery, good food and wine..... it sounds like a perfect day to get together with family and friends and all for just $89.90!
EVENT INFORMATION:
a day on the green is a fully licensed event. Strictly no BYO alcohol. Food will be available on site or BYO picnic. Deck chairs and picnic rugs are recommended. For all event, transport and accommodation information, go to adayonthegreen.com.au.
TICKET INFORMATION:
Platinum - $149 plus booking fee
Gold - $129 plus booking feE
Silver - $110 plus booking fee
General Admission - $89.90 plus booking fee
For Concert and Dining Packages call Ticketmaster 136 100
TRANSPORT INFORMATION:
For coach and shuttle bus enquiries, contact Melbourne On The Move 1300 558 686 and locally McHarry's Coaches on 03 5223 2111.
ABOUT THE ARTISTS:
HOODOO GURUS - To celebrate 30 years since their debut single 'Leilani', the Gurus have compiled all their biggest hits and fan favourites onto a best-of set, aptly-titled 'Gold Watch: 20 Golden Greats'. Tracks like 'What's My Scene?', 'Miss Freelove '69', 'The Right Time', 'Bittersweet', 'Come Anytime', and '1000 Miles Away' are but a few of songs that helped provide a soundtrack to Australian life going all the way back to the 1980s. On stage, the irrepressible Gurus have few equals and will undoubtedly light up the vineyard.
THE ANGELS - With Doc Neeson pursuing a solo career, The Angels needed a new lead singer and when ex-Screaming Jets front man Dave Gleeson jumped on stage with the band in April last year, Rick & John Brewster knew instantly they had found their man. A new single 'Waiting For The Sun' followed by the August 31 release of the 'Take It to The Streets' album signaled the return of this mighty rock band. New singer, new drummer, new songs but undeniably the Angels.
ROSS WILSON - Singer, songwriter and producer Ross 'Mr Eagle Rock' Wilson is one of the truce icons of the Aussie music industry. From the legendary Daddy Cool through 80's chart-toppers Mondo Rock, through his acclaimed solo work including latest album 'I Come In Peace', Ross's live shows are always huge a day on the green favourites.
DRAGON - With an unforgettable run of chart-toppers like 'Are You Old Enough', 'April Sun In Cuba', 'Still In Love With You', 'Rain' and many others, Dragon's legacy is of one of Australasia's most successful pop bands. Joined several years ago by veteran vocalist Mark Williams as front man, a revitalised Dragon released a new EP 'Chase The Sun' and are thrilled to be back on stage again.
BOOM CRASH OPERA - Growing out of the fertile post-punk scene in Melbourne, Boom Crash Opera hit heady heights with smash hits 'Great Wall', 'The Best Thing', 'Onionskin', 'Dancing In The Storm' and 'Get Out Of The House'. Band members have continued to work in music, theatre and TV worlds, reconvening sporadically for live appearances. Well-known for their boisterous stage shows, BCO has been lured back to the big stage to be part of the a day on the green concerts.
ABOUT A DAY ON THE GREEN:
This summer marks the 12th year of a day on the green events. After nearly 300 shows and more than two million happy patrons, the a day on the green experience of good food, good wine and great music is firmly established as one of Australia's most popular concert events.
ABOUT THE HILL WINERY:
Scotchmans Hill's Browne family recently acquired the former Pettavel Winery, which has undergone a refurbishment and been renamed The Hill Winery. Peter Rowland Catering operate the cafe and the function facilities at The Hill Winery, while Scotchmans Hill wines will also be available at the Cellar Door. The Hill Winery looks forward to hosting many a day on the green events in the future.
TICKETS ON SALE FRIDAY NOVEMBER 9
From ticketmaster.com.au & 136 100
a day on the green is proudly presented by Roundhouse Entertainment, MAX and LG.