News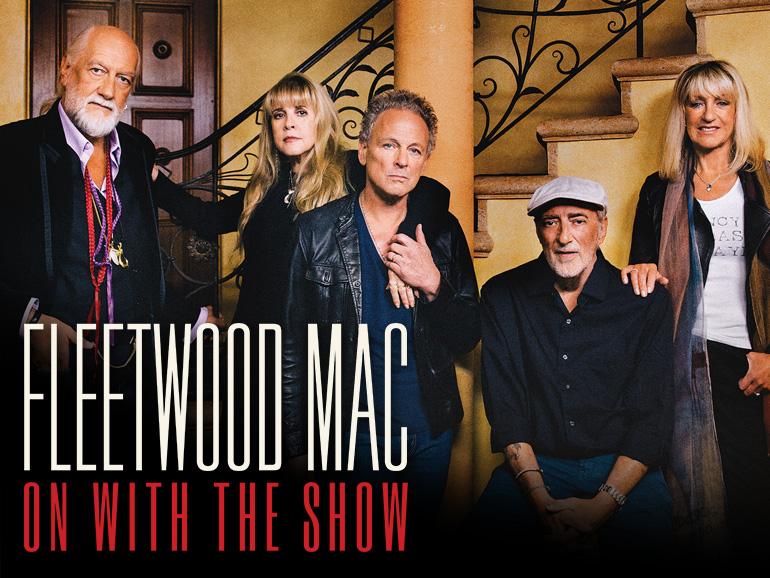 FLEETWOOD MAC
20th March, 2015
ON WITH THE SHOW TOUR AUSTRALIA & NEW ZEALAND 2015
ALL FIVE ORIGINAL BAND MEMBERS BACK TOGETHER
MT DUNEED ESTATE, GEELONG – SATURDAY NOVEMBER 7
The rumours are true - the legendary FLEETWOOD MAC will bring their On With The Show World Tour to Australia and New Zealand in 2015.
The On With The Show Tour will mark Fleetwood Mac's first series of concert dates in Australia and New Zealand since 2009's sold-out Unleashed Tour. Touring as a five-piece for the first time since 1998, Fleetwood Mac will play a selection of arena and winery shows this October - November.
The national winery event a day on the green is thrilled to announce FLEETWOOD MAC as the first concert of the 2015/16 summer season, with the legendary band performing at Mt Duneed Estate, Geelong on Saturday November 7.
All five original band members are back together, with Christine McVie rejoining band mates Mick Fleetwood, John McVie, Lindsey Buckingham and Stevie Nicks after a 16-year absence.
The news of Fleetwood Mac's return is particularly welcomed by Australian and New Zealand fans after the band were unfortunately forced to cancel their sold-out 2013 dates due to John McVie's health scare.
The On With The Show Tour will see Fleetwood Mac on stage for close to two and a half hours, showcasing hits and classic songs from their career that spans more than four decades and global album sales in excess of than 100 million, including songs such as: "The Chain", "Dreams", "Second Hand News", "Rhiannon", "Sara", "Gold Dust Woman", "Tusk", "Looking Out for Love", "Don't Stop", "Go Your Own Way"…and the list goes on and on.
Tickets for all shows go on sale at 10.00am Wednesday April 1.
a day on the green members can secure tickets first during the exclusive pre-sale beginning Noon Monday March 30 – 5.00pm Tuesday March 31. To become a member, click here.
Fleetwood Mac's sold out shows throughout North America have garnered rave reviews.
"The principal emotion during the nearly 2 1/2-hour performance was the joy of having keyboardist McVie back in this group… She brought high harmonies and several songs, including 'Little Lies,' 'You Make Loving Fun' and the closing 'Songbird,' back into the repertoire. Nicks hasn't sounded this good since the early '90's. What a rhythm machine and what an articulate emotional guitarist Buckingham is." - Minneapolis Star Tribune
"It's still magical. Between Buckingham's epic guitar solos, Mick Fleetwood's massive drumming, John McVie's strong bass work, Nicks' patented spins to punctuate the lovely 'Gypsy' and Christine McVie's lush vocals, Fleetwood Mac looked ready to take on what Buckingham has called 'the next chapter.'" - Newsday
"Fleetwood Mac has the intricacy, elegance and underlying punch of its songs…" – The New York Times.
"With Christine's songs back in the set, her calm, angular presence back on the stage, there was an undeniable feeling of rejuvenation... Fleetwood and John McVie on bass reminded concert-goers why the band is named for them... They still put a layer of muscle behind everything the band did... Buckingham was ferocious and tireless as lead guitar. This man is a vital musical presence – the soul of the band. Ditto for the vitality of Nicks, its cauldron-stirring spirit... Her showcase songs, 'Landslide,' 'Gold Dust Woman' and, especially 'Silver Springs,' were the night's highlights." - Chicago Tribune
This is a tour not to be missed.
For full Australian tour dates, visit fleetwoodmac.com and livenation.com.au
EVENT INFORMATION:
a day on the green is a fully licensed event. Strictly no BYO alcohol. Food will be available on site or BYO picnic. Deck chairs and picnic rugs are recommended. For all event information, click here.
For Concert and Dining Packages call Ticketmaster on 136 100.
TRANSPORT & ACCOM INFORMATION:
For coach and shuttle bus enquiries, contact Melbourne On The Move 1300 558 686 and locally McHarry's Coaches on 03 5223 2111.
TICKETS ON SALE 10.00am WEDNESDAY APRIL 1
From ticketmaster.com.au & 136 100
a day on the green is proudly presented by Roundhouse Entertainment, AAMI and Sunsuper.