News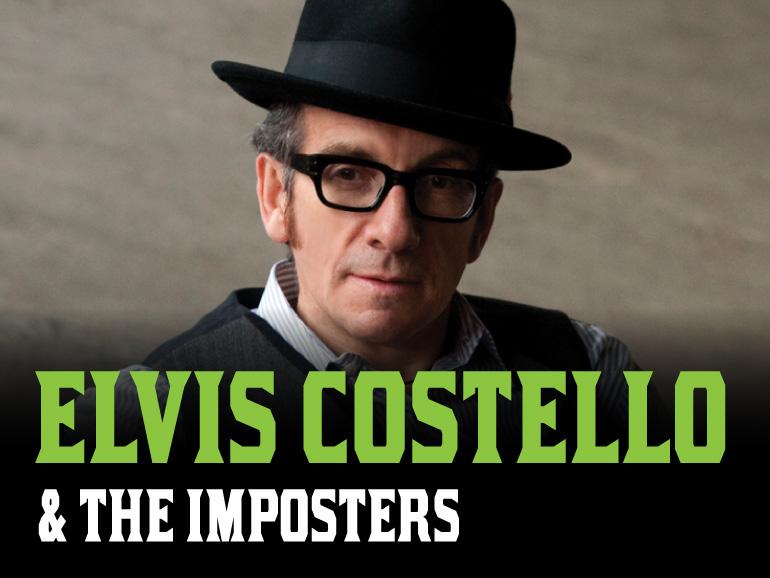 ELVIS COSTELLO & THE IMPOSTERS - NEW ZEALAND SHOW
24th October, 2012
ONE SHOW ONLY IN NEW ZEALAND
VILLA MARIA WINERY, AUCKLAND - SATURDAY JANUARY 19
Australasia continues its lengthy love affair with Elvis Costello when the acclaimed singer-songwriter returns in January 2013 for a day on the green concerts in Australia and New Zealand.
In keeping with the exuberant musicality that has defined his three decade plus career, Costello has some tasty treats in store for his only show in New Zealand, at Villa Maria Winery, Auckland on Saturday January 19.
The unabashed showman backed by the trusty Imposters - keyboardist Steve Nieve, drummer Pete Thomas and bassist Davey Faragher - will take audiences through the Costello musical encyclopaedia refresher course with a selection of classic hits.
Today's announcement will be sweet news to Costello fans that missed out on seeing the performer when promoters cancelled the proposed Grass Roots festival in Auckland last year. Costello's previous visit was 13 years ago so his return next January is long overdue!
His outstanding musical pedigree has inspired promoters to assemble a fantastic all-round bill. Check this out!
Joining Elvis will be true NZ music icon, Tim Finn! Tim Finn, OBE, is one of New Zealand's most revered musical acts, from co-founding the groundbreaking Split Enz to his critically acclaimed solo albums.
Former Australian Crawl front man James Reyne will join the impressive line up, and he has the musical pedigree to perform alongside these legends with numerous Australian classics like "Reckless", and "Boys Light Up" under his belt.
Don McGlashan and The Seven Sisters rounds out the bill. Don is an award winning singer-songwriter & former member of such seminal kiwi bands such as Blam Blam Blam, The Front Lawn and The Mutton Birds.
Costello toured a day on the green wineries in Australia in 2004, a tour which still rates as one of the event's finest, so salivate indeed for this Villa Maria Winery concert promises to be one of the musical highlights of the summer.
ELVIS COSTELLO
Elvis Costello has followed his musical curiosity in a career spanning more than three decades. He is probably best known for his performances with The Attractions, The Imposters and his concert appearances with Steve Nieve. In 2003 The Attractions were inducted into the Rock and Roll Hall of Fame while he has twice won the prestigious Ivor Novello Songwriting Award. The extensive list of performers that he has enjoyed collaborations with - including his wife, the jazz pianist and singer Diana Krall - and that have covered his songs reflects his interest in a wide range of musical styles. His internationally acclaimed music television series "Spectacle: Elvis Costello with.... "perhaps best showcases this uniquely qualified musician, a songwriter and performer comfortable in almost every genre imaginable and a musicologist of formidable breadth and knowledge.
TIM FINN - Tim Finn has carved an impressive solo career in music, from his chart topping solo debut "Escapade", to his work with Crowded House (co-writing the massive international hit "Weather With You") to his recent work with brother Neil with The Finn Brothers project. His ninth solo studio album, "The View Is Worth The Climb", released last year, is another example of his successful collaborations, this time with acclaimed producer Jacquire King (Norah Jones, Kings of Leon), ARIA award winning Australian singer Megan Washington and local artist Mara TK.
JAMES REYNE - A true icon of the Aussie music business, James Reyne just seems to get better with age. His latest solo album "Thirteen" finds the popular performer in brilliant form both as a vocalist and song-writer. His razor sharp observations and passion for melody continue to drive him to find excellence as an artist as evidenced on "Thirteen". With an enviable catalogue of great hits as well, James is always an a day on the green favourite
DON McGLASHAN & THE SEVEN SISTERS - From "Anchor Me" to the Hollie Smith sung hit "Bathe in the River", Don McGlashan has penned some of New Zealand's most loved songs. Prolific throughout the 80s with Blam Blam Blam & The Front Lawn, the 90's with The Mutton Birds, and the 00's with solo albums and writing music for soundtracks and theatre shows, Don is showing no signs of slowing down. Don will be joined by his live backing band, The Seven Sisters.
SATURDAY JANUARY 19 - VILLA MARIA WINERY, AUCKLAND
TICKETS ON SALE THURSDAY NOVEMBER 1
From ticketmaster.co.nz Phone: 0800 111999
Roundhouse members pre-sale from 9am Thursday 25th Oct - 5pm Sunday 28th Oct
Ticketmaster pre-sale from 9am Friday 26th Oct - 5pm Wednesday 31st Oct
BUS PASS: Available from ticketmaster.co.nz or 0800 111 999. ACCOMMODATION: Go to: aucklandnz.com
EVENT INFORMATION: Go to: adayonthegreen.co.nz
CHILDREN UNDER 12 YEARS OF AGE ARE FREE WHEN ACCOMPANIED BY AN ADULT!
EVENT INFORMATION:
a day on the green is a fully licensed event. Strictly no BYO alcohol. Food will be available on site or BYO picnic. Deck chairs and picnic rugs are recommended. For all event information, go to adayonthegreen.com.au.
TICKETING INFORMATION:
Platinum: $179 plus b/fee
Gold: $154 plus b/fee
Silver: $129 plus b/fee
General Admission: $99 plus b/fee