News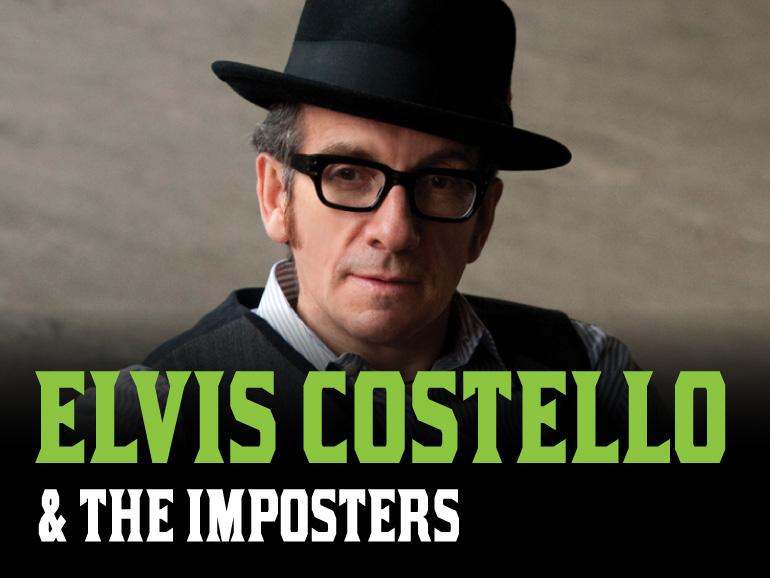 ELVIS COSTELLO & THE IMPOSTERS
17th October, 2012
2013 AUSTRALIAN TOUR
Special guests Sunnyboys join five-band bill for Winery shows.
The Spectacular Spinning Songbook for theatres.
Australia continues its lengthy love affair with Elvis Costello when the acclaimed singer-songwriter returns in January 2013 for a national tour.
In keeping with the exuberant musicality that has defined his three decade plus career, Costello has some tasty treats in store for both a day on the green shows (a reprise from his 2004 a day on the green tour) and two special theatre performances in Melbourne and Sydney.
For the winery concerts, the unabashed showman backed by the trusty Imposters - keyboardist Steve Nieve, drummer Pete Thomas and bassist Davey Faragher - will take audiences through the Costello musical encyclopaedia refresher course with a selection of classic hits. His outstanding musical pedigree has inspired promoters to assemble one of the finest damn line-ups in a day on the green history.
Check this out! In a massive coup, the truly legendary original line-up of Sunnyboys will return to the stage for their first national tour in more than 20 years! Joe Camilleri will re-assemble the mighty Jo Jo Zep & the Falcons, the enigmatic Tex Perkins takes the saddle again with the Dark Horses while Sports ex-frontman, Stephen Cummings will make a rare concert appearance.
Elvis Costello & The Imposters, Sunnyboys, Jo Jo Zep & The Falcons, Tex Perkins & The Dark Horses and Stephen Cummings ....... salivate indeed, for this eclectic bill promises to be one of the musical highlights of the summer.
Mr Costello has another delight in store for fans at the two theatre performances. For the past year or so, he has been travelling around the world with a gigantic vaudevillian game-show Wheel as the centrepiece of a show called 'The Spectacular Spinning Songbook". At each concert fans are invited on stage to spin the Wheel, thereby creating the night's set list from 40 selections including hits, rarities and a few surprises. The stage set also includes a go-go cage and "Society Lounge".
First seen in 1986 and beloved by Elvis fans around the globe, the Wheel makes its first appearance in Australia on this tour, following unanimous acclaim at every turn - 'hilarity, musicality and unabated joy'; 'funny, boisterous, big-hearted musical-hall variety show', 'breathtakingly personal' and 'it's hard to imagine any other musician in the world playing the show that Elvis Costello did'.
Due to production and stage requirements, 'The Spectacular Spinning Songbook' can make only two very special appearances at Melbourne's Palais Theatre and Sydney's State Theatre. Due to the set size, the support artist at these shows will be a Joe Camilleri duo. We heartily recommend you sample Costello's most recent recorded offering "The Return Of The Spectacular Spinning Songbook" (CD and DVD), filmed at the Los Angeles shows.
Elvis Costello and the Imposters, the long-awaited return of Sunnyboys and Jo Jo Zep and the Falcons in a not-to-be-missed five hours of musical splendour a day on the green AND the Australian premiere of "The Spectacular Spinning Songbook" at the theatre shows!
A DAY ON THE GREEN SHOWS
with Sunnyboys, Jo Jo Zep & The Falcons, Tex Perkins & the Dark Horses, Stephen Cummings
Saturday January 26 - Rochford Wines, Yarra Valley VIC
Sunday January 27 - Leconfield Wines, McLaren Vale SA
Saturday February 2 - Bimbadgen Winery, Hunter Valley NSW
Sunday February 3 - Sirromet Wines, Mt Cotton QLD
Wednesday February 6 - Kings Park, Perth WA
For all transport, accommodation and event information go to adayonthegreen.com.au
Proudly presented by MAX and LG

THE REVOLVER TOUR
THE SPECTACULAR SPINNING SONGBOOK SHOWS
with Joe Camilleri (duo)
Friday January 25 - Palais Theatre Melbourne
Wednesday January 30 - State Theatre Sydney
For information go to frontiertouring.com
TICKETS FOR ALL SHOWS ON SALE MONDAY OCTOBER 29 from ticketmaster.com.au & 136 100
ELVIS COSTELLO
Elvis Costello has followed his musical curiosity in a career spanning more than three decades. He is probably best known for his performances with The Attractions, The Imposters and his concert appearances with Steve Nieve. In 2003 The Attractions were inducted into the Rock and Roll Hall of Fame while he has twice won the prestigious Ivor Novello Songwriting Award. The extensive list of performers that he has enjoyed collaborations with - including his wife, the jazz pianist and singer Diana Krall - and that have covered his songs reflects his interest in a wide range of musical styles. His internationally acclaimed music television series "Spectacle: Elvis Costello with...." perhaps best showcases this uniquely qualified musician, a songwriter and performer comfortable in almost every genre imaginable and a musicologist of formidable breadth and knowledge.
SUNNYBOYS
In April this year the four original members of Sunnyboys - Jeremy and Peter Oxley, Richard Burgman and Bill Bilson - played for the first time in 21 years as guests of the Hoodoo Gurus Dig It Up! Invitational. The band played with the same verve, intensity and joy as they had in their heyday and the seeds were undeniably sown for a return. Although their career was short lived (1980 - 1984), Sunnyboys are one of the most highly regarded and best loved of our post punk bands, whose influence cannot be underestimated. How good it will be to hear 'Happy Man', 'Alone With You' etc again! To coincide with the tour, there will be a long-overdue overhaul of Sunnyboys recorded output with a re-release campaign due to begin early 2013.
JOE CAMILLERI
If Elvis Costello had an Australian brother, a kindred spirit if you will, it would surely be Joe Camilleri. Joe has written and recorded an enormous catalogue of diverse and wonderful music for an astonishing 45 years and shown fans and critics alike that he is a performer and songwriter with an undeniable energy and love for it all. Many musical incarnations have featured on Joe's career dance card, but Jo Jo Zep and the Falcons may well be the best loved. Including Wilbur Wilde on sax and Jeff Burstin on guitar, the Falcons blitzed pub audiences like few others and provided classics like 'Shape I'm In', 'Hit And Run', and 'Puppet On A String'.
TEX PERKINS & THE DARK HORSES
Front man for the evocative soundscapes of The Cruel Sea and the hard edged pub rock of The Beasts of Bourbon, collaborator on the Tex, Don and Charlie outings, compadre to Tim Rogers on the TnT project and leading the Tennessee Four in the Johnny Cash musical 'The Man In Black', Tex Perkins has shown us many faces over the journey. Tex is now back to the lilting, dark country of Dark Horses, releasing a new album 'Everyone's Alone' on November 2.
STEPHEN CUMMINGS
In the two decades since The Sports disbanded, Stephen Cummings has spent years consistently releasing music for a living whilst also publishing two novels and a memoir. Stephen Cummings makes music for people who think they're still into rock music. When irony is more common than reverb, it's refreshing to see this unique artist on this extraordinary bill.