News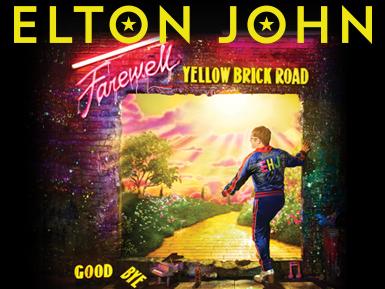 Elton John returns to Geelong
11th June, 2019
FAREWELL YELLOW BRICK ROAD
ELTON JOHN ADDS NEW DATES DUE TO DEMAND
INCLUDING A DAY ON THE GREEN
MT DUNEED ESTATE, GEELONG – SATURDAY DECEMBER 7
In response to enormous demand, and hot on the heels of the incredible global success of the Rocketman epic musical fantasy, Elton-mania has reached fever pitch! It can today be announced that SIR ELTON JOHN has extended the Australian leg of his sold-out Farewell Yellow Brick Road tour and added six new outdoor shows including a day on the green at Geelong's Mt Duneed Estate on Saturday December 7, the first of Elton's 11 Victorian concerts.

This will be Sir Elton's second appearance at Mt Duneed Estate, following a huge concert in December 2015 and is the sixth a day on the green event on his upcoming farewell tour.

The six new outdoor shows – including AAMI Park in Melbourne, plus four regional stadium "firsts" in Coffs Harbour, Townsville, Sunshine Coast and Sydney – take Australia's Farewell Yellow Brick Road concert tally to 32 and now carry the mammoth tour through five months, beginning in Perth on November 30 and wrapping up in March 2020.

"We're thrilled to be adding even more dates to Elton's final tour," said promoter Michael Chugg. "Demand has been absolutely incredible. We know the Rocketman is going to create magic memories for Australia and New Zealand when he arrives later this year!"

Tickets to a day on the green go on sale Tuesday June 25 at 9am local time from Ticketmaster.

The stunning Geelong venue, one of the region's premium wineries, has hosted some of the biggest names in music including Leonard Cohen, Neil Young, Fleetwood Mac, Sting, Paul Simon, Don Henley, Robbie Williams and last year welcomed Florence + The Machine and Red Hot Chili Peppers, with the Chili Peppers becoming the fasting-selling show in a day on the green history.

Roundhouse Entertainment Promoter Michael Newton said: "In conjunction with Chugg Entertainment, a day on the green is thrilled to bring Sir Elton John back to Mt Duneed Estate this summer. It's a privilege to welcome him back to a day on the green stages for six massive shows during his epic Farewell Yellow Brick Road Australian tour – the excitement around these events has been nothing short of incredible and we're delighted to bring that excitement to his fans in Geelong and the Surf Coast region."

Since going on sale in February this year, Australia and New Zealand have snapped up tickets to Elton's Farewell tour, with total sales approaching half a million tickets over the 32 shows announced to date.

"Australia and New Zealand, I can't wait to be with you again," said Sir Elton."Your audiences have always been very generous towards me, and I know that this final tour will be the most memorable ever."

Elton John's Farewell Yellow Brick Road global tour is intimate and personal, while also spectacular and daring. Audiences will experience a rare glimpse into Elton's life, and the deeply personal meaning behind some of his greatest hits, via mesmerising, never-before-seen images and videos displayed throughout the show from his incredible 50-year career.

"The most elaborate, high-tech arena show Elton has ever attempted ... A parade of mega-hits and one hell of a way to say goodbye." Rolling Stone, USA

"Each song felt so important. Each moment seemed so significant. And the crowd hung on every word, spoken or sung. It wasn't just a concert, but rather a chance for these fans to express their thanks to a performer whose music has played such a huge part in the soundtracks of their lives." Mercury News, California

More than a concert; an unforgettable memory!

This is the final chance to nab your spot at Elton John's Farewell Yellow Brick Road tour. Don't miss out.

SATURDAY DECEMBER 7, 2019 – MT DUNEED ESTATE, GEELONG

TOUR DATES - A DAY ON THE GREEN SHOWS
Elton John
| | | |
| --- | --- | --- |
| Sat Dec 7 | Mt Duneed Estate, Geelong VIC | New Show Just Announced |
| Sat Jan 18 | Sirromet Wines, Mount Cotton QLD | SOLD OUT |
| Sun Jan 19 | Sirromet Wines, Mount Cotton QLD | SOLD OUT |
| Wed Jan 29 | All Saints Estate, Rutherglen VIC | SOLD OUT |
| Fri Jan 31 | Rochford Wines, Yarra Valley VIC | SOLD OUT |
| Sat Feb 1 | Rochford Wines, Yarra Valley VIC | SOLD OUT |

TICKETING
Tickets on sale Tuesday June 25 at 9.00am local time
From ticketmaster.com.au & 136 100
| | |
| --- | --- |
| A Reserve | $399.90 plus booking fees |
| B Reserve | $349.90 plus booking fees |
| C Reserve | $299.90 plus booking fees |
| D Reserve | $199.90 plus booking fees |
| General Admission | $129.90 plus booking fees |

For all the latest national information go to the official home of the Elton John Farewell Yellow Brick Road tour - oznz.eltonjohn.com

Presented by Chugg Entertainment, in association with AEG Presents

IMPORTANT INFORMATION:
Ticketmaster and AAMI Lucky Club are they only authorised ticket sellers for Elton John's Farewell Yellow Brick Road a day on the green Australian dates. No responsibility is accepted for tickets purchased from unauthorised sellers; these may be refused entry, no exceptions.

TRANSPORT
For coach and shuttle bus enquiries, contact Melbourne On The Move 1300 558 686 and locally McHarry's Coaches on 03 5223 2111.

ABOUT A DAY ON THE GREEN
This summer marks the 19th season of a day on the green, which started in January 2001. After 470 shows and more than 3.5 million happy patrons, the a day on the green experience of good food, fine wine and great music in magnificent locations remains unrivalled and is firmly established as one of Australia's most popular and premier outdoor concert events.

EVENT INFORMATION
a day on the green is a fully licensed event. Strictly no BYO alcohol. Food will be available on site or BYO picnic. Camping chairs and picnic rugs are recommended. For all transport, accommodation and event information, go to adayonthegreen.com.au

ABOUT ELTON JOHN
Elton's career achievements to date are unsurpassed in their breadth and longevity. Elton is one of the top-selling solo artists of all time, with 26 gold, 38 platinum and multi-platinum albums and 1 diamond album, more than 50 Top 40 hits, and he has sold more than 300 million records worldwide. He holds the record for the biggest-selling single of all time, Candle in the Wind 1997, which sold more than 33 million copies. Diamonds (Elton's ultimate greatest hits album), reached the Top 5 of the UK album charts on its release in November 2017, becoming Elton's 40th UK Top 40 album, reaching Gold status before the end of the year. This release celebrated 50 years of his songwriting partnership with Bernie Taupin. August 2018 saw Elton named as the most successful male solo artist in Billboard Hot 100 chart history, having logged 67 entries, including nine No.1s and 27 Top 10s.

Elton announced the Farewell Yellow Brick Road tour at New York's Gotham Hall in January 2018. Encompassing 5 continents, and more than 300 dates, this 3-year-long tour started in September 2018 and marks his retirement from touring after more than 50 years on the road. In May 2019 it was named Billboard's Top Rock Tour. To date, Elton has delivered more than 4,000 performances in more than 80 countries since launching his first tour in 1970. 2019 has already seen the release of Rocketman, a fantasy musical motion picture of his life and his autobiography Me will be published later in the year.

Among the many awards and honours bestowed upon him are six GRAMMYs, including a GRAMMY Legend award, a Tony and an Oscar, a Best British Male Artist BRIT Award, induction into the Rock and Roll Hall of Fame and the Songwriters Hall of Fame, the Kennedy Center Honor, Legend of Live Award, 13 Ivor Novello Awards and a knighthood from HM Queen Elizabeth II for "services to music and charitable services."

In 1992, Elton established the Elton John AIDS Foundation, which today is one of the leading non-profit HIV/AIDS organizations and has raised more than $400 million to date in the global fight against HIV/AIDS.

eltonjohn.com
facebook.com/eltonjohn
twitter.com/eltonofficial
instagram.com/eltonjohn
youtube.com/eltonjohn

a day on the green is proudly presented by Roundhouse Entertainment and AAMI.