News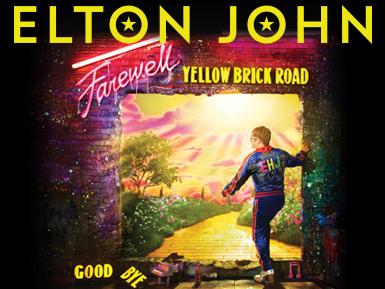 Elton John Farewell Yellow Brick Road
3rd February, 2019
ELTON JOHN AUSTRALIAN FAREWELL TOUR DATES ANNOUNCED
MUSIC ICON ANNOUNCES FIFTEEN AUSTRALIAN SHOWS IN 2019 & 2020
INCLUDING THREE A DAY ON THE GREEN EVENTS

Roundhouse Entertainment, in conjunction with Chugg Entertainment, is thrilled to announce SIR ELTON JOHN will perform three very special a day on the green outdoor concerts as part of the epic 15-date Australian leg of his global Farewell Yellow Brick Road tour.

Recently crowned by Billboard as the most successful performing male solo artist of all time, Elton John will traverse Australia and New Zealand between December 2019 and February 2020, in what will be the legendary music icon's most extensive tour of the region to date.

Elton John will deliver his famed songbook to spellbound audiences, on his very last tour, playing across a mammoth run that includes capital city concerts, along with stops at some of Australia's finest outdoor venues including three a day on the green shows – Sirromet Wines, Mount Cotton, QLD on Saturday January 18, All Saints Estate, Rutherglen, VIC on Wednesday January 29, and Rochford Wines, Yarra Valley, VIC on Friday January 31.

"Elton's continuing love affair with Australia knows no bounds, proven by this farewell tour, and the breadth and depth of the itinerary, showing his commitment to his many Australian fans," said promoter Michael Chugg. "On his very last tour, he wanted to return to some of his favourite cities, while also playing for fans in a couple of never-before-visited locations."

Elton's Australian tour will kick off with record-breaking back-to-back appearances at Perth's HBF Park (formerly nib Stadium) on Saturday November 30 and Sunday December 1 2019, a huge 48 years on from his first ever Australian show, which took place at Perth's Subiaco Oval on 17th October, 1971.

"The most elaborate, high-tech arena show Elton has ever attempted ... A parade of mega-hits and one hell of a way to say goodbye." Rolling Stone, USA

"Each song felt so important. Each moment seemed so significant. And the crowd hung on every word, spoken or sung. It wasn't just a concert, but rather a chance for these fans to express their thanks to a performer whose music has played such a huge part in the soundtracks of their lives." Mercury News, California

Beginning in Pennsylvania, USA in September 2018, Elton John's three-year Farewell Yellow Brick Road global tour has already been hailed as one of his most "energetic, dazzlingly original and joyful celebrations". Elton's legendary catalogue, including beloved songs 'Bennie and the Jets', 'Rocket Man', 'Tiny Dancer', 'Crocodile Rock', 'Philadelphia Freedom' and more, are showcased in a musical masterpiece that is a "reflective and stunning tribute to a great artist's career" (NME), also celebrating his 50-plus year collaboration with lyricist Bernie Taupin – one of the great song-writing partnerships of all time.

The milestone itinerary comprises more than 300 shows across five continents, spanning three years, with stops in Europe, North America, Asia, South America, Australia and New Zealand, and marks the last tour of its kind by the celebrated songwriter and iconic showman.

"Playing live to other human beings is the greatest gift any artist could ever have," said Sir Elton John at his Chicago show.

Audiences will experience a rare glimpse into Elton's life, and the deeply personal meaning behind some of his greatest hits, via mesmerising, never-before-seen images and videos displayed throughout the show from his incredible 50-year career. Complete with brand new stage production, and tour wardrobe designed by Italian fashion house Gucci, Elton John's Farewell Yellow Brick Road global tour is intimate and personal, while also spectacular and daring.

He will be joined by longstanding band members Nigel Olsson on drums (part of Elton's original three-piece band in 1970), esteemed musical director Davey Johnstone (who first recorded with Elton in 1971 and joined the band a year later) on guitar, virtuoso Ray Cooper on percussion, Matt Bissonette on bass, John Mahon on percussion, and Kim Bullard on keyboards.

Sir Elton John said, "I always love coming back to Australia. Ever since my first visit in 1971 it has held a very special place in my heart." Elton's enduring history with Australia is evident across the years, notably in 2012, when he opened the Perth Arena, and most recently delivering the final performance at the Sydney Entertainment Centre [since demolished], in December 2015.

He bids farewell to the road almost fifty years on from his debut Australian show, having played 196 concerts and performing to more than 1.5 million people across the country in that time. Since his career began in 1969, he has performed a staggering 4000-plus shows in more than 80 countries.

The performer said that after the tour finishes he looks forward to "coming off the road and dedicating more time to raising my children".

"I'm ecstatic and humbled to continue to play for audiences across the globe. I plan to bring to my final tour the passion and creativity that has entertained my fans for decades ... It's the most produced and fantastic show I've ever done. I want to go out with a bang ..." – Sir Elton John

Garnering rave reviews at sell-out shows across North America, Elton John's curtain call will be the last chance to catch this legendary performer touring in Australia.

More than a concert; an unforgettable memory! Tickets will go fast, don't miss out on your spot at Elton John's Farewell Yellow Brick Road Tour.

A DAY ON THE GREEN SHOWS:
Saturday January 18 Sirromet Wines, Mount Cotton QLD
Wednesday January 29 All Saints Estate, Rutherglen VIC
Friday January 31 Rochford Wines, Yarra Valley VIC

EVENT INFORMATION:
a day on the green is a fully licensed event. Strictly no BYO alcohol. Food will be available on site or BYO picnic. Camping chairs and picnic rugs are recommended and permitted in the GA area. For all transport, accommodation and event information, go to adayonthegreen.com.au

ABOUT A DAY ON THE GREEN:
This summer marks the 18th season of a day on the green, which started in January 2001. After more than 450 shows and over three million happy patrons, the a day on the green experience of good food, fine wine and great music in magnificent locations is firmly established as one of Australia's most popular concert events.

TICKETS ON SALE FRIDAY FEBRUARY 15 at 9.00AM LOCAL TIME
From ticketmaster.com.au | Ph: 136 100

a day on the green members PRE-SALE adayonthegreen.com.au/register
Wednesday 13 February 9.00am to Thursday 14 February 8:59am (local time)

TELSTRA THANKS® PRE-SALE (AU) via telstra.com/eltonjohn
Capital Cities: Wednesday 6th February (9.00am local)
All Other Shows: Friday 8th February (9.00am local)
For all the latest national information go to the official home of the Elton John Farewell Yellow Brick Road tour - oznz.eltonjohn.com

Presented by Chugg Entertainment, in association with AEG Presents.

IMPORTANT INFORMATION:
Ticketmaster and AAMI Lucky Club are they only authorised ticket sellers for Elton John's Farewell Yellow Brick Road a day on the green Australian dates. No responsibility is accepted for tickets purchased from unauthorised sellers; these may be refused entry, no exceptions.

ABOUT ELTON JOHN
Elton's career achievements to date are unsurpassed in their breadth and longevity. Elton is one of the top-selling solo artists of all time, with 38 gold records and 31 platinum and multi-platinum albums, over 50 Top 40 hits, and he has sold more than 300 million records worldwide. He holds the record for the biggest-selling single of all time, Candle in the Wind 1997, which sold more than 33 million copies. Diamonds (Elton's ultimate greatest hits album), reached the Top 5 of the UK album charts on its release in November 2017, becoming Elton's 40th UK Top 40 album, reaching Gold status before the end of the year. This release celebrated 50 years of his songwriting partnership with Bernie Taupin. August 2018 saw Elton named as the most successful male solo artist in Billboard Hot 100 chart history, having logged 67 entries, including nine No.1s and 27 Top 10s.

He has also written the music for stage and screen successes Billy Elliot: The Musical, Elton John and Tim Rice's Aida, and The Lion King, which was named the highest-grossing stage show or film release in the world. Elton announced the Farewell Yellow Brick Road tour at New York's Gotham Hall in January 2018. Encompassing five continents, and more than 300 dates, this 3-year-long tour started in September and marks his retirement from touring after more than 50 years on the road. To date, Elton has delivered more than 4,000 performances in more than 80 countries since launching his first tour in 1970. April 2018 saw the release of Revamp, an album of the world's biggest musical stars covering some of Elton's best loved Songs.

Among the many awards and honours bestowed upon him are five GRAMMYs along with a GRAMMY Legend award, a Tony and an Oscar, a Best British Male Artist BRIT Award, induction into the Rock and Roll Hall of Fame and the Songwriters Hall of Fame, the Kennedy Center Honor, Legend of Live Award, 13 Ivor Novello Awards and a knighthood from HM Queen Elizabeth II for "services to music and charitable services."

In 1992, Elton established the Elton John AIDS Foundation, which today is one of the leading non-profit HIV/AIDS organizations and has raised more than $400 million to date in the global fight against HIV/AIDS. In January 2018, he received the Crystal Award for this long-standing fight against HIV/AIDS at the World Economic Forum in Davos. At the 2018 International AIDS Conference in Amsterdam, Sir Elton John and Prince Harry, Duke of Sussex, announced the launch of the MenStar Coalition; an over $1.2 billion global partnership, that seeks to engage men in new and innovative ways to break the cycle of HIV transmission and ultimately end the AIDS epidemic by 2030.

eltonjohn.com
facebook.com/eltonjohn
twitter.com/eltonofficial
instagram.com/eltonjohn
youtube.com/eltonjohn

a day on the green is proudly presented by Roundhouse Entertainment, AAMI and Sunsuper.