News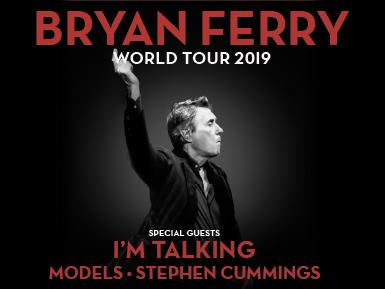 DIED PRETTY ANNOUNCEMENT
13th February, 2019
STEPHEN CUMMINGS ADDED TO A DAY ON THE GREEN'S BRYAN FERRY DATES

Roundhouse Entertainment regrets to announce that DIED PRETTY will not be performing at the upcoming a day on the green events with BRYAN FERRY.

Died Pretty management sadly advises that due to ill health, all upcoming Died Pretty shows have been cancelled. Singer Ron Peno has been diagnosed with oesophageal cancer and will be commencing immediate treatment. Please direct any messages of support via the band's Facebook page and they will be forwarded to Ron. We're sure everyone will be hoping for Ron's speedy recovery.

Roundhouse Entertainment Director Michael Newton added: "Every member of the a day on the green team was very sorry to hear this news. We all love Ronnie. He's a charming man and an immense talent, as anyone who has seen him live will know. We'll do whatever we can to support him in this battle, and we look forward to having him on another a day on the green bill when he's back in action."

Joining BRYAN FERRY, I'M TALKING and MODELS at the a day on the green events will be STEPHEN CUMMINGS.

STEPHEN CUMMINGS has a special place in the history of a day on the green – he was part of our very first show, in 2001. So we're very pleased to welcome Stephen back to the a day on the green stage. His return coincides with the release of his 20th solo album, Prisoner of Love ("sits comfortably alongside his early solo classics, Lovetown, A New Kind Of Blue and This Wonderful Life" – STACK). Since his early days fronting The Sports, Stephen has been hailed as one of Australia's finest singers and songwriters. "He is easily one of our greatest storytellers, capable of creating lives in miniature," Bernard Zuel wrote in The Sydney Morning Herald, while RocKwiz's Brian Nankervis has called his solo albums "timeless, moving, funny and utterly unique". Stephen is also releasing the 50-track solo anthology, A Life Is A Life in April.

Bryan Ferry's Australian tour kicks off next week in Perth at Kings Park and Botanic Garden, followed by a day on the green events at Rochford Wines, Yarra Valley, VIC and Sirromet Wines, Mount Cotton, QLD, as well as indoor shows in Melbourne and Sydney.

BRYAN FERRY'S set list draws on material from his whole career, including classics from Roxy Music like Love Is The Drug, Avalon, More Than This, Virginia Plain and Jealous Guy, as well as much-loved solo hits like Let's Stick Together, Slave To Love and Don't Stop The Dance.

In a reunion that's been 30 years in the making, '80s Melbourne funk/pop band I'M TALKING will be reuniting especially for these a day on the green shows. I'm Talking features original members, Robert Goodge, Kate Ceberano, Zan Abeyratne, Barbara Hogarth and Stephen Charlesworth.

Rounding out this great bill will be MODELS and STEPHEN CUMMINGS.
BRYAN FERRY, I'M TALKING, MODELS and STEPHEN CUMMINGS. Decades of hits and undeniable style. A show not to be missed.

A DAY ON THE GREEN SHOWS:
Bryan Ferry, I'm Talking, Models and Stephen Cummings

Thurs February 21 Kings Park & Botanic Garden, Perth, WA
Sat February 23 Rochford Wines, Yarra Valley, VIC
Sun March 3 Sirromet Wines, Mount Cotton, QLD

INDOOR SHOWS: (Frontier Touring)
Bryan Ferry plus Juanita Stein

Tues February 26 Margaret Court Arena, Melbourne, VIC
Fri March 1 ICC Sydney Theatre, Sydney, NSW
All event information frontiertouring.com

ABOUT A DAY ON THE GREEN:
This summer marks the 18th season of a day on the green, which started in January 2001. After 453 shows and more than three million happy patrons, the a day on the green experience of good food, fine wine and great music in magnificent locations is firmly established as one of Australia's most popular concert events.

EVENT INFORMATION:
a day on the green is a fully licensed event. Strictly no BYO alcohol. Food will be available on site or BYO picnic. Camping chairs and picnic rugs are recommended. For all transport, accommodation and event information, go to adayonthegreen.com.au
TICKETS ON SALE NOW
From ticketmaster.com.au | Ph: 136 100
a day on the green is proudly presented by Roundhouse Entertainment, AAMI and Sunsuper.

adayonthegreen.com.au
bryanferry.com