News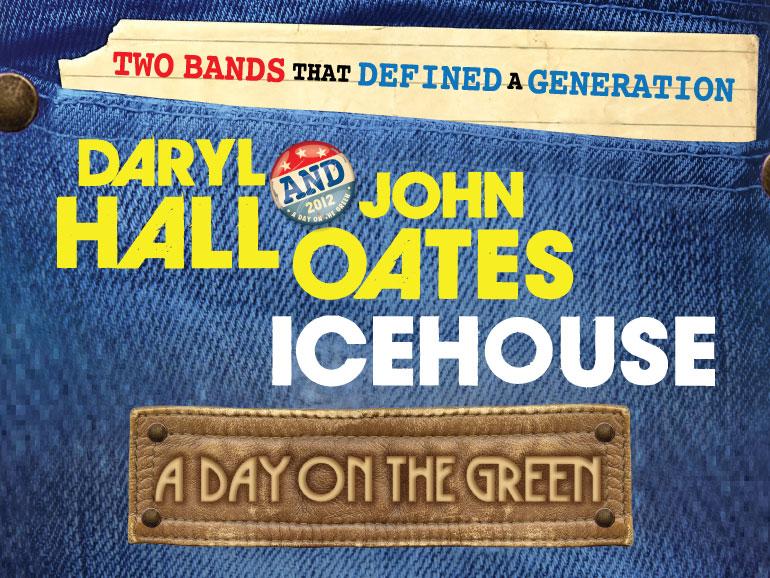 DARYL HALL & JOHN OATES TOUR AUSTRALIA
26th August, 2011
DARYL HALL & JOHN OATES RETURN TO AUSTRALIA TO TOUR WITH ICEHOUSE
THE number one selling duo in music history, the pioneers of rock'n'soul, DARYL HALL & JOHN OATES are returning to Australia for their first national tour since 1991.
Joining them for what promises to be a truly bedazzling summer concert event is Australia's own beloved and revered ICEHOUSE.
The two musical trail-blazers will perform a series of a day on the green winery events and, in conjunction with Frontier Touring, indoor concerts in February next year.
Keen music aficionados may well remember the link between these two fine acts - John Oates having co-written and sung on the Icehouse hit 'Electric Blue'. Of course, they also share a legacy of an incredible musical catalogue, chart and radio domination and have inspired and influenced the musical environment of their time - and since!
"I haven't been to Australia in way too long," Daryl says. "I love coming to Australia. The people are great and I know that they love music. We're all going to have a good time."
"I remember being invited by Iva Davies to come to Sydney to try to write a song in the late 80s," John Oates says. "We tried for a few days and didn't come up with much of anything. Then we just hung out on the beach while Iva went windsurfing and when we returned to the studio we finally came up with the song Electric Blue."
Iva Davies adds: "Electric Blue went on to be one of Icehouse's biggest hits around the world. He and Daryl Hall are amazing musicians, writers, arrangers, performers and great innovators (just check out Live From Daryl's House online and both of John and Daryl's recent solo works). So when the opportunity came to share the stage with them I leapt at it. This is going to be a lot of fun and I'm really looking forward to an exciting run of shows."
Starting out as devoted disciples of earlier soul greats, Daryl Hall & John Oates scored six US #1 singles, 'Rich Girl', 'Kiss On My List', 'Private Eyes', 'I Can't Go For That (No Can Do)', 'Maneater' and 'Out Of Touch' from six consecutive multi-platinum selling albums. Along with 'Sara Smile', 'One On One', 'You Make My Dreams' and the sublime 'She's Gone', they racked up a phenomenal 34 Billboard chart hits.
By 1987 the RIAA (Record Industry Association of America) recognised Daryl Hall & John Oates as the number one selling duo in music history, a record they still hold. One of the most sampled artists today, their impact can be heard everywhere on a new generation of musicians, prompting a SPIN Magazine cover story 'Why Hall & Oates Are The New Velvet Underground".
Most recently the duo released the box set 'Do What You Want, Be What You Are: The Music Of Daryl Hall & John Oates", their first comprehensive career spanning offering, featuring 74 tracks (16 previously unreleased).
Outside of the band Daryl Hall continues the award-winning monthly web series 'Live From Daryl's House' (www.livefromdarylshouse.com) which began in 2007. Forty-five episodes later with guests as diverse as Rob Thomas, Smokey Robinson and Todd Rundgren, the series has garnered huge acclaim including the 2011 Best Performance Series at the MTV Online Music Awards.
In late September Daryl will be releasing his new solo album 'Laughing Down Crying' on Verve Universal.
Meanwhile earlier this year John Oates released a critically acclaimed solo album 'Mississippi Mile', a beautifully recorded collection paying homage to his love of Americana Blues, and has been touring with The John Oates Band to support it.
"We've got the best of both worlds", John says. "We're both very passionate about our solo projects and then we get together and play as Hall & Oates. I'm happy that a younger generation is still discovering what Daryl and I have done, and that the songs have held up and people care enough to re-record them. It's been a cool thing to happen later in our career and it keeps our music alive."
The re-emergence of ICEHOUSE into the touring world has been met with an overwhelming response, one that befits Iva Davies' iconic status. From their recent live performances, it's obvious the band is in great form and ready to excite fans once again.
This week sees the issue of "White Heat: 30 Hits" which brings together every ICEHOUSE single ever released. The 3 disc set features 30 songs in chronological release order plus a DVD of 32 film clips. The album provides a remarkable journey through the band's career with hits like 'Great Southern Land', 'Hey Little Girl', 'Crazy;' and 'Electric Blue'.
Since forming as Flowers in 1977, Icehouse have won acclaim all over the world and it will be an absolute pleasure to see them in full flight once again during this tour.
The support acts for the winery shows will be announced soon!
CONCERT DATES
Thursday Feb 2 - THE PLENARY at Melbourne Convention and Exhibition Centre
Saturday Feb 4 - a day on the green CENTENNIAL VINEYARDS, BOWRAL NSW
Sunday Feb 5 - a day on the green SIRROMET WINES, MT COTTON QLD
Wednesday Feb 8 - SYDNEY ENTERTAINMENT CENTRE
Saturday Feb 11 - a day on the green PETER LEHMANN WINES, BAROSSA VALLEY SA
Sunday Feb 12 - a day on the green ROCHFORD WINES, YARRA VALLEY VIC
For full event information for the winery shows, click here
TICKETS ON SALE WEDNESDAY SEPTEMBER 7
From ticketmaster.com.au & 136 100
hallandoates.com
icehouse-ivadavies.com
For Media Information, please contact:
Chrissie Camp Publicity (02) 9973 3004 / chrissie@ccpublicity.com.au Adelaide - Sue Hill, Fosterhill PR (08) 8231 3555 / suehill@fosterhill.com.au
a day on the green is proudly presented by LG, Nissan and MAX.