News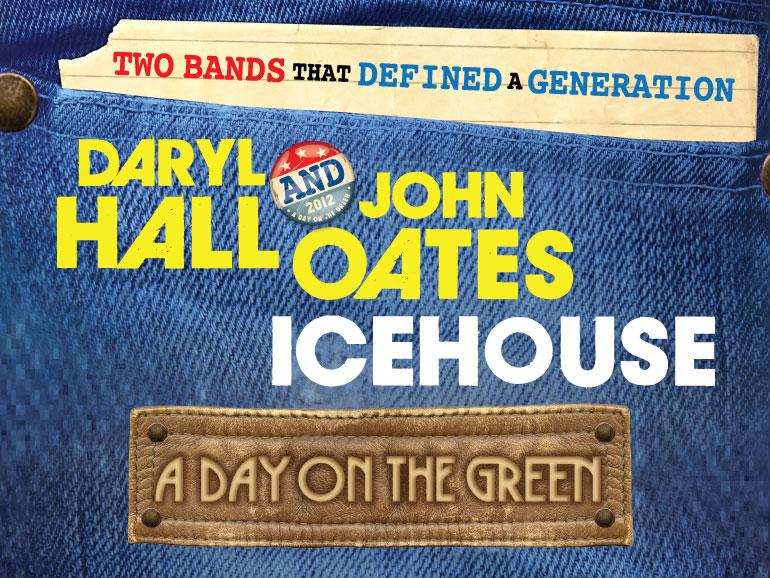 DARYL HALL & JOHN OATES TOUR
16th January, 2012
with Icehouse kicks off later this month!
There's not long to wait for the legions of Daryl Hall and John Oates fans in Australia and New Zealand! After a 20 year absence from Australia (and more than 30 years since their last tour in New Zealand), the legendary duo bring their spectacular, acclaimed stage show to New Zealand later this month before arriving in Australia for the first show in Melbourne on February 2.
The iconic duo are coming off an extensive 2011 tour which saw them play venues from Tokyo to Nashville, including three sold-out shows at the Hollywood Bowl.
Although their extraordinary run of hits - including six US #1 singles, 'Rich Girl', 'Kiss On My List', 'Private Eyes', 'I Can't Go For That (No Can Do)', 'Maneater' and 'Out Of Touch' - spanned the 80's and 90's, Daryl and John have become cool with a whole new generation of musicians and fans and are one of the most sampled artists around, impacting many new artists. It's no wonder there is real excitement about seeing these much-loved performers again.
Daryl has been busy with his critically acclaimed and multi-award-winning monthly web series Live from Daryl's House (livefromdarylshouse.com) which is garnering impressive ratings in its televised syndicated version, now available nationally in the US. Both Daryl and John released well-received solo albums last year in 'Laughing Down Crying' and 'Mississippi Mile', respectively.
"Daryl and I are both very passionate about our solo projects and then we get together and play as Hall & Oates. I'm happy that a younger generation is still discovering what we have done, and that the songs have held up and people care enough to re-record them. It's been a cool thing to happen later in our career and it keeps our music alive."
"It's a true thrill to go to Australia and New Zealand to play these shows," adds Daryl. "We have a great many fans there and we're really looking forward to reconnecting with them."
Daryl and John will be joined on all shows by ICEHOUSE, whose relationship goes back to the late '80s when John Oates co-wrote and sang vocals on the band's smash hit 'Electric Blue' with lead singer Iva Davies.
2011 has seen Iva's return to the music scene with the release of 'Flowers Icehouse 30th Anniversary Edition' and 'White Heat: 30 Hits' which went Gold after only two weeks, proving just how timeless the music of ICEHOUSE truly is.
Most recently Iva was invited to be a Friend of Australia by Tourism Australia and is currently in Los Angeles for G'day LA Week joining such past ambassadors as Baz Luhrmann, Hugh Jackman and Olivia Newton John in promoting Australia during the annual US showcase. The appointment comes in the 30th anniversary year of the release of one of the band's most successful songs and an unofficial Australian anthem - 'Great Southern Land'.
"I was absolutely delighted I was invited to be an official 'Friend of Australia' and look forward to an engaging year ahead in that role," Iva said. "It's also going to be a lot of fun touring with Daryl and John. They are amazing musicians, writers, arrangers, performers and great innovators so it will be an exciting run of shows."
Don't miss what promises to be one of the most bedazzling shows of the summer!
CONCERT DATES:
Saturday 28 January a day on the green CHURCH ROAD WINERY, NAPIER NZ
Sunday 29 January a day on the green VILLA MARIA ESTATE, AUCKLAND NZ
Thursday Feb 2 THE PLENARY at Melbourne Convention and Exhibition Centre
Saturday Feb 4 a day on the green CENTENNIAL VINEYARDS, BOWRAL NSW
Sunday Feb 5 a day on the green SIRROMET WINES, MT COTTON QLD
Wednesday Feb 8 SYDNEY ENTERTAINMENT CENTRE
Saturday Feb 11 a day on the green PETER LEHMANN WINES, BAROSSA VALLEY SA
Sunday Feb 12 a day on the green ROCHFORD WINES, YARRA VALLEY VIC
For full event information, click here
FINAL TICKETS ON SALE NOW!
From Ticketmaster
hallandoates.com
icehouse-ivadavies.com
a day on the green is proudly presented by LG, Nissan and MAX.