News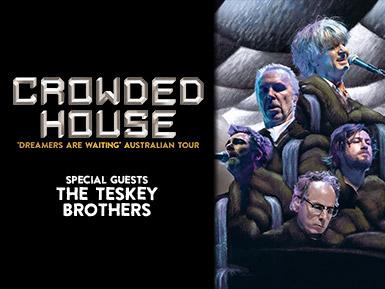 Crowded House
10th November, 2021
CROWDED HOUSE ANNOUNCE FIRST AUSTRALIAN TOUR IN 12 YEARS
Dreamers Are Waiting Tour Confirmed For April 2022
INCLUDING A DAY ON THE GREEN, CENTENNIAL VINEYARDS, BOWRAL - SATURDAY APRIL 16

Award-winning icons CROWDED HOUSE have today announced the news that fans have waited nearly 12 years to hear – they will undertake a national Australian tour in April 2022 when they bring their Dreamers Are Waiting Tour here.

The Australian shows follow their New Zealand tour earlier this year, where they played to full houses, rapturous audiences and universal critical acclaim, and mark CROWDED HOUSE'S first national tour since 2010, and only their third Australian tour during the last 15 years.

Roundhouse Entertainment, in conjunction with Live Nation, is thrilled to announce that the band will make a welcome return to a day on the green, performing at Centennial Vineyards in the stunning Southern Highlands region in Bowral, NSW on Saturday April 16.

Last week, CROWDED HOUSE were awarded Best Adult Contemporary Album for Dreamers Are Waiting at the 2021 ARIA Awards.

Tickets go on sale at 12.00pm (local time) on Friday 10 December from Ticketmaster.

CROWDED HOUSE will be joined by special guests THE TESKEY BROTHERS at the a day on the green event at Centennial Vineyards.

Melbourne four-piece THE TESKEY BROTHERS are a rare musical gem who have wowed audiences at home and all over the world with their raw combination of soul and blues, their timeless recordings, stunning live shows and singer Josh Teskey's era-defying voice. Their 2019 sophomore album, Run Home Slow, debuted at number 2 on the ARIA album chart and received critical acclaim globally. In 2020 they released their Live At The Forum album, resulting in their first number 1 album on the ARIA chart. Their latest album, recorded with Orchestra Victoria, Live At Hamer Hall, is released on Friday 3 December and sees the band continue to push the boundaries of musical possibilities.

CROWDED HOUSE unveiled a new line-up earlier this year, featuring founding members Neil Finn and Nick Seymour, along with producer and keyboardist Mitchell Froom, guitarist and singer Liam Finn and drummer Elroy Finn.

They released their seventh studio album Dreamers Are Waiting on June 4, featuring the singles Whatever You Want, Playing With Fire, To The Island, and latest offering, Love Isn't Hard At All. The band was recently nominated for Album Of The Year and Best Group at the Aotearoa Music Awards.

CROWDED HOUSE is a long-standing and much-loved vehicle for the song writing talents of Neil Finn. Formed in Melbourne in 1985 out of the ashes of New Zealand's Split Enz by Neil, Paul Hester and Nick Seymour, their eponymous self-titled debut album on Capitol Records went on to global success with the hits Don't Dream It's Over and Something So Strong. Those songs and many that followed are still resonating with audiences today, the former in particular being one of the most covered songs of the last 30 years. The band's first incarnation lasted from 1985 through 1995, produced 4 studio albums and enjoyed much success worldwide, becoming particularly beloved for their freewheeling and interactive live shows. This line-up said Farewell to the World on the steps of the Sydney Opera House in 1996 with a now legendary performance in front of 150,000 people.

In 2005 following the tragic death of Paul Hester, Neil and Nick felt emotionally compelled to bring CROWDED HOUSE back, to put some more good history, as they described it, into the story of the band. Drafting in new drummer Matt Sherrod and with long-time touring member Mark Hart they released the album Time On Earth to critical acclaim and toured the world. Another album, Intriguer, was recorded in 2009 and Crowded House was inducted into the ARIA Hall of Fame in 2016, at the same time reprising its Farewell shows at the Sydney Opera House with 4 nights of stunning performances, the last of which was broadcast nationally on ABC-TV.

Dreamers Are Waiting heralds a further chapter in the CROWDED HOUSE story. A new generation has grown up and connected with their songs and will now get to experience the band live as they perform legendary anthems from the band's 35-year career, along with fresh new music.

Tickets on sale Friday 10 December at 12pm local time.

TOUR DATES
CROWDED HOUSE
DREAMERS ARE WAITING TOUR

A DAY ON THE GREEN
Crowded House, The Teskey Brothers
Sat 16 April 2022 Centennial Vineyards, Bowral, NSW Lic. All Ages

All event information adayonthegreen.com.au

Crowded House touring nationally with special guests Middle Kids.
(*Middle Kids not performing at a day on the green)
For complete tour, ticket and VIP Experience information, visit:
crowdedhouse.com
livenation.com.au

TICKETING

AAMI CUSTOMER PRE-SALE
(A DAY ON THE GREEN SHOW ONLY)
via AAMI Customer Rewards | AAMI
Runs 21 hours from: Thursday 9 December at 2.00pm local time
or until pre-sale allocation exhausted

A DAY ON THE GREEN MEMBERS PRE-SALE
via adayonthegreen.com.au/register/
Runs 21 hours from: Thursday 9 December at 2.00pm local time
or until pre-sale allocation exhausted

GENERAL PUBLIC ON SALE – DREAMERS ARE WAITING TOUR
Tickets on sale Friday 10 December at 12.00pm local time
From ticketmaster.com.au & 136 100

IMPORTANT INFORMATION
Patrons are advised to purchase tickets only through authorised ticket sellers. We cannot guarantee any ticket purchase made through any means other than the official ticketing agents listed on the A Day On The Green, Live Nation and winery's websites

TICKET PRICES – A DAY ON THE GREEN
Diamond Reserved Seating $234.90 plus booking fees
Gold Reserved Seating $204.90 plus booking fees
Silver Reserved Seating $164.90 plus booking fees
General Admission - Lawn $129.90 plus booking fees

EVENT INFORMATION
a day on the green is Licensed All Ages. Strictly no BYO alcohol. Food will be available on site or BYO. EVERY patron must have a ticket regardless of age, and under 18 patrons must be accompanied at all times by a responsible adult. For all transport and event information, go to adayonthegreen.com.au

TRANSPORT AND ACCOMMODATION
For a totally relaxing, stress-free day, leave the car at home and travel by bus. This is the preferred a day on the green transport option.

For accommodation enquires go to visitsouthernhighlands.com.au
For transport enquires go to buslinesgroup.com.au

ABOUT A DAY ON THE GREEN
2022 marks the 21st season of a day on the green, which started in January 2001. After 490 shows and more than 4 million happy patrons, the a day on the green experience of good food, fine wine and great music in magnificent locations remains unrivalled and is firmly established as one of Australia's most popular and premier outdoor concert events.

Sign up here to become an a day on the green member to keep up to date on all the latest tour information and access pre-sale offers, competitions and more.

crowdedhouse.com
facebook.com/crowdedhouse
instagram.com/crowdedhousehq

adayonthegreen.com.au

a day on the green is proudly presented by Roundhouse Entertainment and AAMI.

Aboriginal and Torres Strait Islander cultures have honoured and celebrated the role of music and songlines for over 60,000 years. Roundhouse Entertainment acknowledge and pay respect to all Traditional Custodians of Country, including the lands on which we work, and our artists create and perform.