News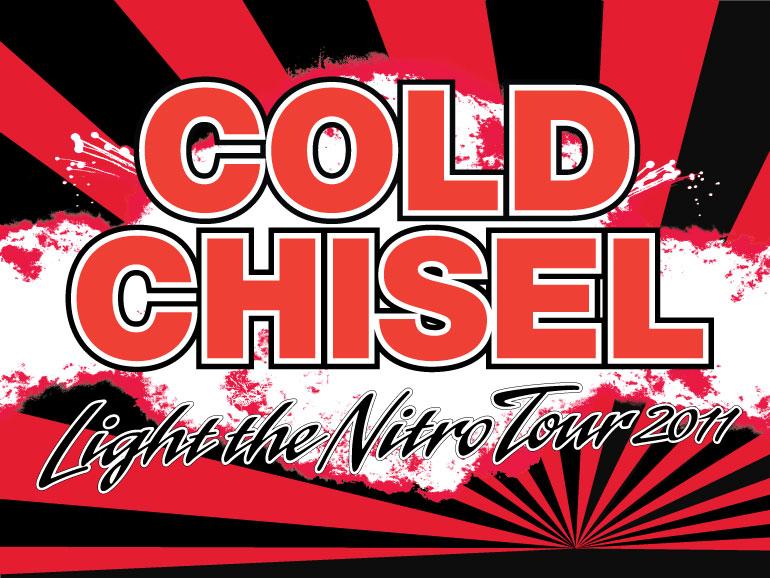 COLD CHISEL - NATIONAL TOUR
21st July, 2011
COLD CHISEL ARE BACK!
Iconic rock band, Cold Chisel, today announced their biggest tour in nearly 30 years.
The Light The Nitro Tour will kick off in October and finish on the first weekend of December with 24 concerts unveiled around Australia plus two New Zealand shows. The tour will include three huge a day on the green events at Rochford Wines Yarra Valley VIC, Robert Oatley Vineyards Mudgee NSW and Bimbadgen Winery Hunter Valley NSW.
"We can't wait to get back on the road together", said frontman, Jimmy Barnes. "Every day for years I've had at least one person come up and ask me when Cold Chisel are going to do a proper tour. I'm bloody glad to finally have something good to tell 'em!"
The tour announcement comes on a day that is already a huge one for Cold Chisel fans.
At exactly the same time as the concerts were being announced at a Sydney press conference, all of the band's recordings were being unleashed digitally for the first time in a major online launch that included 56 rare and previously unreleased tracks. Meanwhile retailers were receiving the newly remastered and repackaged CD versions of all the classic Cold Chisel albums which are in store now (each of their studio albums now comes with a bonus DVD containing rare and unreleased footage from that era).
This massive catalogue rollout had already been hailed as the most extensive archival project in the history of Australian rock. Today's timely tour announcement should help focus even more attention on these special releases.
Jimmy Barnes revealed today that the original plans for all of this were actually hatched in secret nearly two years ago around the group's memorable one-off show to over 50,000 people at Sydney's Olympic Stadium.
"We got such a buzz from that gig that it made all of us really want to get our act together", he explains. "We wanted to do things properly though because we know this band means a lot to a lot of people - especially us! So we had to do it right. That meant taking time to find lots of cool unreleased stuff and getting the albums looking and sounding great. It also meant making all the music available everywhere that people might want to get it these days. We agreed that once that was sorted we'd go out and play all those songs right around Australia and New Zealand in a way that we haven't really done since the early 80s."
These plans took the better part of two painstaking years to pull together including lengthy archival excavation and remastering activities. However, in January this year everything was suddenly put on hold with the tragic passing of the group's drummer, Steve Prestwich.
Keyboardist Don Walker explains that for two months nobody in the band discussed whether to continue what they'd been planning together. "When the four of us finally sat down to talk about it we realised we all felt the same way. Steve was really keen on seeing all these things happen. We all felt it would have been wrong to just walk away from the plans we'd started together."
In some ways Steve Prestwich's passing therefore ultimately strengthened the band's desire to present Cold Chisel's music to a 21st century audience in the best way possible.
"At one point we actually thought about calling the tour 'Unfinished Business'," explains bassist Phil Small. "After that 2009 gig we'd all quietly decided to try to do something big. To have bailed out just a few months from actually doing it would actually have felt like we were letting Steve down."
As guitarist Ian Moss explains, "It was all another reminder that life is short and you never know what's around the corner. We miss our brother Steve every single day but the four of us still love playing music together. And we know that people want to hear these songs, so we want to do more of that while we still can. The tour is going to be a celebration of what he helped us create."
Renowned drummer Charley Drayton (Keith Richards, B52's, Divinyls) will be behind the kit for the Light The Nitro Tour and one fifth of tour profits will go to Steve Prestwich's children.
The tour name refers to the practice of injecting nitrous oxide into the carburettor during a street race, which instantly doubles or triples the horsepower of a conventional engine. Incredible power, explosively unpredictable ... obviously apt for this incendiary live band.
Hardcore fans may be interested to know that "light the nitro" is also a line from one of the songs the band recorded over recent months ... a new Don Walker rocker called HQ454 Monroe about a man and his beloved hotrod.
Cold Chisel have promised to showcase "one or two" new tunes on the Light The Nitro Tour. The setlist will also feature more than 20 of their classic songs. While Cold Chisel are continuing to make progress on new recordings - including some songs written by Steve Prestwich and some featuring his performances - there will be no new album released for this tour. At this stage a release is pencilled for early 2012.
For the rest of 2011 the group will be focusing totally on supporting their massive catalogue re-release with the biggest Australian concert event of the year ... the Light The Nitro Tour.
Joining Cold Chisel for the majority of the shows including a day on the green in Mudgee and the Yarra Valley will be special guests You Am I. The group's singer, Tim Rogers, is a lifelong fan of Cold Chisel and actually joined a disparate group of luminary Australians including Ita Buttrose, John Birmingham and Midnight Oil's Jim Moginie in penning liner notes for one of the new CD reissues.
"There are wildly vacillating expectations racing round my head," says You Am I's Tim Rogers. "Cold Chisel are the real deal: they've climbed the mountain, drained the ocean, extracted the gold and the poison. We're engorged with pleasure to be asked to support them, and will be alternately brattish, reverential, charming, barbaric and hushed. Like all good little acolytes should."
Multi ARIA Award-winning Dan Sultan will support at Bimbadgen Winery in the Hunter Valley, while direct from their appearance at Glastonbury, one of the Australia's hottest young acts, the four Findlay sisters from Stonefield will open all three a day on the green shows.
The basic facts of Cold Chisel's career need no retelling. Since their initial heyday in the late 70s and early 80s their music has been embraced by subsequent generations as shown just last week by the appearance of two of their albums in a new Triple J listener poll of Australia's 100 greatest albums of all time. Hearing their classic album East played in full on the national youth broadcaster 31 years after it caused the band to trash the set at the Countdown Awards is testament to their special place in our musical landscape.
The songs of Don Walker, Phil Small, Steve Prestwich, Ian Moss and Jimmy Barnes are now utterly engrained in the fabric of Australasian life. Khe Sanh, Flame Trees, Bow River, My Baby, You Got Nothing I Want, Last Wave Of Summer, Forever Now, Cheap Wine, Choir Girl, Standing On The Outside, Rising Sun, Saturday Night ... and many more.
So many great songs. One great band.
Seeing is believing - so don't miss your chance to experience the legendary Cold Chisel live!
A DAY ON THE GREEN CONCERTS:
SATURDAY NOVEMBER 5 ROBERT OATLEY VINEYARDS, MUDGEE NSW
Supported by You Am I and Stonefield
SATURDAY NOVEMBER 12 BIMBADGEN WINERY, HUNTER VALLEY NSW
Supported by Dan Sultan and Stonefield
SATURDAY NOVEMBER 19 ROCHFORD WINES, YARRA VALLEY VIC
Supported by You Am I and Stonefield
a day on the green is a fully licensed event. Strictly no BYO alcohol. Food will be available for purchase on site or BYO picnic. Picnic rugs & deck chairs are recommended. For all show, transport, accommodation details and playing times, click here
For all national tour dates go to coldchisel.com
ON SALE 9AM THURSDAY AUGUST 4
From ticketmaster.com.au & 136 100
A Day On The Green Media Enquiries:
Chrissie Camp Publicity: (02) 9973 3004 / chrissie@ccpublicity.com.au
Proudly presented by Roundhouse Entertainment, MAX and LG.