News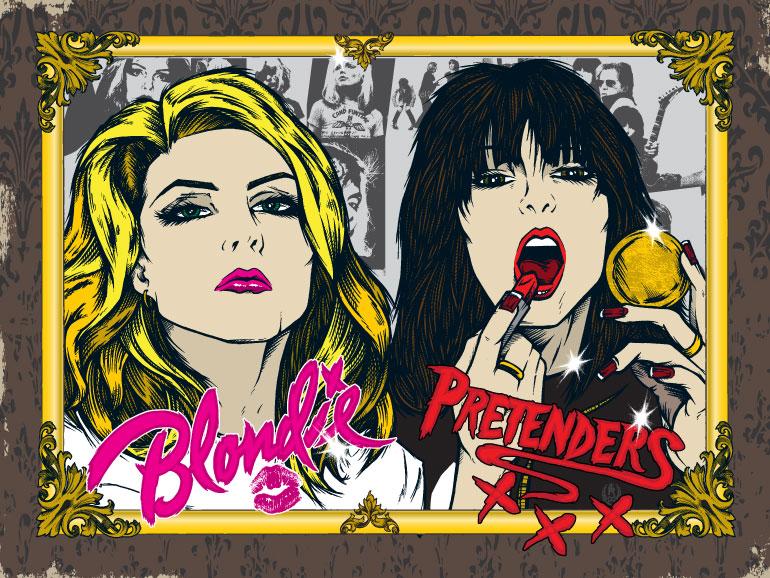 BLONDIE & THE PRETENDERS NZ TOUR NEWS
3rd June, 2010
They're two of music's most acclaimed bands boasting two of music's most compelling front women - Deborah Harry leading the wondrous Blondie and Chrissie Hynde fronting the mighty Pretenders.
As a double-bill, it's a world first! And it's also an absolute cracker and that's exactly what fans can savour when Blondie & The Pretenders co-headline a December tour of a day on the green winery shows, and in conjunction with Frontier Touring, Vector Arena.
This very special double header launches the 2010/2011 a day on the green season with concerts on Saturday December 18 at Alana Estate, Martinborough and Sunday December 19 at The Mud House Winery, Waipara as well as Vector Arena on Thursday December 16.
Both The Pretenders and Blondie have enjoyed great success in New Zealand, fuelled by a stream of timeless Top Ten hits and the popularity of Hynde and Harry. Both ladies have always escaped the usual clichés of women in rock and are unquestionably two of the most important and influential women to have graced the stage. As co-headliners, the bands will alternate in closing the shows.
Blondie emerged from the late 70's New York punk scene and quickly became music, style and pop culture icons selling more than 40 million albums. They scored hits with reggae, rock/disco, hip hop and pop songs bursting with great hooks and brilliant, ironic lyrics. 'Heart Of Glass' was Blondie's first US #1 in 1978 opening the floodgates to a run of 14 Top Ten US hits including 'The Tide Is High', 'Call Me', 'Rapture', 'Picture This', 'Rip her To Shreds', 'Hanging On The Telephone', 'Union City Blues' and 'Atomic' , racking up a phenomenal five US and five UK number one singles.
Debbie, founding member & song writing partner Chris Stein and long-time drummer Clem Burke have just completed their first new album in six years titled 'Panic Of Girls', set for release later this year, and on June 8 commence a world tour in the UK, which includes their first NZ dates since 2004.
When co-headliners The Pretenders last toured Australia and NZ in 2007, a day on the green shows were featured in Australia. Chrissie Hynde declared the concerts 'some of our favourite shows of all time' and can't wait to experience the outdoor winery concerts here.
The Pretenders are undoubtedly a special band with a special place in history. Their brand new live CD & DVD 'Pretenders-Live In London' (Liberator) captures one of their many electrifying performances and is a timely reminder of what a great rock band they are. With hits like 'Talk Of The Town', 'Kid', 'Back On The Chain Gang', 'Don't Get Me Wrong', 'Middle Of The Road', 'Message Of Love', ' I'll Stand By You', 'Stop Your Sobbing' and 'Brass In Pocket', The Pretenders may have been rockin' for 30 years but their authenticity has never diminished.
Local support for all three New Zealand concerts is Dukes, a five piece band hailing from Christchurch. Dukes has made a major impression on the kiwi public in the last twelve months after the release of their cross-over hit 'Vampires' which became a Top 10 single and achieved Gold sales. Their debut album is due for release in New Zealand this October.
Since January 2008 a day on the green has presented concerts by Joe Cocker, Simply Red, The B52's, The Proclaimers, John Mellencamp, Sheryl Crowe, Diana Krall and Tom Jones firmly establishing itself as a major concert brand across the country. As we launch the upcoming summer season, promoter Roundhouse Entertainment is pleased to welcome LG as the event's sponsor for the next three years.
"For LG, a day on the green beautifully reinforces our 'Life's Good' brand values and gives us a chance to share that with hundreds of thousands of our consumers all around Australia and New Zealand. Our partnership with a day on the green is an exciting opportunity for us, and we are delighted to be a part of it," said LG's Corporate Marketing Manager, Mark Nesci.
The chance to see these two truly great bands on the same night is not to be missed, and one week out from Christmas, it's the perfect end-of-year celebration so get in fast!
CONCERT DATES:
Thursday December 16 VECTOR ARENA, AUCKLAND
Saturday December 18 a day on the green ALANA ESTATE, MARTINBOROUGH
Sunday December 19 a day on the green THE MUD HOUSE WINERY, WAIPARA
TICKETS ON SALE TUESDAY JUNE 15
ticketmaster.co.nz or 0800-111-999