News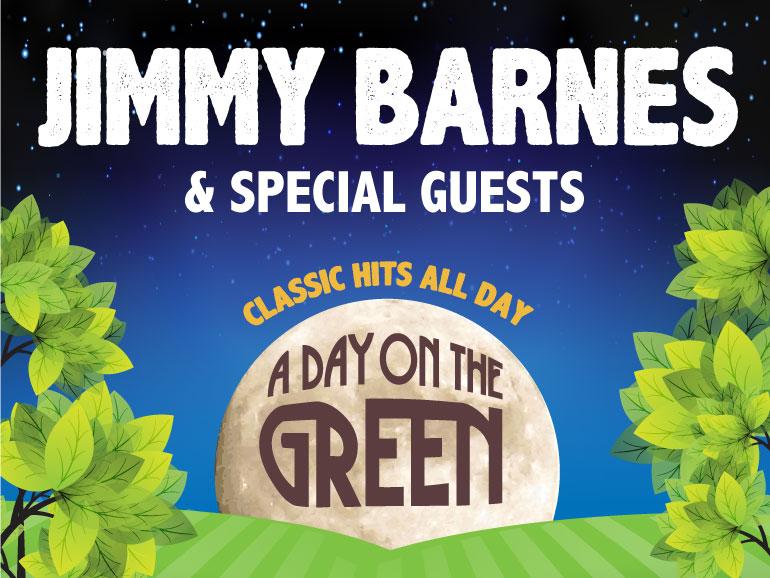 AS PART OF YARRA VALLEY GRAPE GRAZING
9th November, 2013
Jimmy Barnes Heads Up Classic Aussie Rock
With The Baby Animals, Daryl Braithwaite and Jon Stevens & The Dead Daisies
Rochford Wines – Saturday February 15
Yarra Valley's annual Grape Grazing festival is back – and what better way to add to the celebrations than with a massive a day on the green event!
Rochford Wines will ring to the sound of classic Aussie rock when an all-star line-up featuring Jimmy Barnes, the Baby Animals, Daryl Braithwaite and Jon Stevens & The Dead Daisies takes to the a day on the green stage as part of the Grape Grazing festival.
Promoter Roundhouse Entertainment has had a strong presence in the Yarra Valley since its first show in 2001. Since then, there's been 45 highly-memorable events across 12 summer seasons! It therefore felt most appropriate to support the region's wine-makers and join the re-launch festivities for the first Grape Grazing since the Black Saturday bushfires in 2009.
The show will also offer real value-for-money with General Admission tickets just $89.90!
JIMMY BARNES is no stranger to the a day on the green stage, both as a solo performer and with Cold Chisel, however it's been four years since his last winery concerts as a solo artist.
"I've played many a day on the green concerts over the years both with my band and with Cold Chisel and we've always had an absolute blast," Jimmy says. "It's a fantastic way to enjoy music, sitting back with your friends in a great location. a day on the green's support of Australian music should be commended because the line-ups are first-class. We all have a great time catching up backstage! There's always a good feeling across the whole day which makes it a pleasure to play."
It is hard to believe but 2014 will mark 30 years since Jimmy began his solo career! Since the release of his debut album 'Bodyswerve' in 1984, he has notched up more #1 ARIA albums (nine) than any other Australian artist – an amazing achievement. Cold Chisel's triumphant sell-out return to the stage in 2011 added another chapter to that band's amazing legacy and reaffirmed – not that there were any doubts – that Jimmy reigns supreme as not only the undisputed king of Australian rock'n'roll but also one of our most-loved performers.
To see BABY ANIMALS back in full flight on stage this past year has been an unabashed delight. The band has been touring to promote their first album of new music since 1993 "This Is Not The End". The compelling Suze DeMarchi still commands the stage and the new songs like 'Email' and 'Stitch' have been well and truly embraced by fans next to set list favourites like 'Early Warning', 'One Word' and 'Rush You'.
The release of DARYL BRAITHWAITE's new album "Forever The Tourist" and rejoining Sony Music, the home of his hugely successful solo records in the 80s, has been called a "comeback" but his hordes of fans across Australia will attest that he has never really been away. From Sherbet days to solo hits like 'As The Days Go By', 'Horses' and 'One Summer', Daryl has continued to do what he loves best - performing to a dedicated fan base all over the country.
The latest incarnation of Jon Steven's multi-faceted career, new band THE DEAD DAISIES - may well end up being one of his most successful. Formed with fellow Australian, guitarist David Lowy, the powerful musical collective includes Charley Drayton (The X-pensive Winos/The Cult),Richard Fortus (Guns 'N' Roses/Thin Lizzy), Darryl Jones (The Rolling Stones) and Dizzy Reed (Guns 'N' Roses). The band's first single 'Lock'N'Load' features and was co-written by Slash. The Dead Daisies have just finished the a 25-date US festival tour alongside Alice In Chains and Jane's Addiction and in a few weeks begin a five week UK tour. Their self-titled debut album is due for release here soon.
Yarra Valley's Grape Grazing Festival runs from February 14 – 16. For more information go to grapegrazing.com.au
SATURDAY FEBRUARY 15 – ROCHFORD WINES, YARRA VALLEY
EVENT INFORMATION:
a day on the green is a fully licensed event. Strictly no BYO alcohol. Food will be available on site or BYO picnic. Deck chairs and picnic rugs are recommended. For all event information, click here.
TICKETING INFORMATION:
Platinum: $149 plus b/fee
Gold: $129 plus b/fee
Silver: $110 plus b/fee
General Admission (BYO chairs & rugs): $89.90 plus b/fee
TRANSPORT & ACCOM INFORMATION:
For coach enquiries, contact Melbourne On The Move 1300 558 686.
Accommodation enquiries to the Yarra Valley Information Centre on (03) 5962 2600.
ON SALE MONDAY NOVEMBER 18
From ticketmaster.com.au & 136 100 and Rochfordwines.com & (03) 5962 2119.
a day on the green member presale starts 9am Monday 11 November, click here to sign up.
To view full event details, click here.