News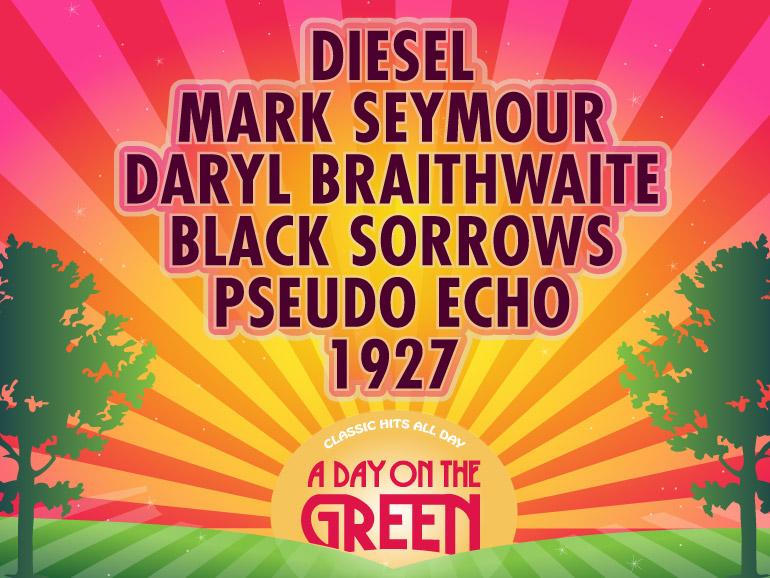 ANNIE'S LANE NINTH ANNUAL EVENT
1st November, 2012
DIESEL, MARK SEYMOUR, DARYL BRAITHWAITE, THE BLACK SORROWS, PSEUDO ECHO & 1927
ANNIE'S LANE, CLARE VALLEY - SATURDAY FEBRUARY 23
a day on the green launches a summer invasion of Australian rock'n'roll with its next event at Annie's Lane, Clare Valley on Saturday February 23.
Since the first show in 2005, the annual a day on the green has become one of the most eagerly-awaited concerts in the Clare Valley and surrounding regions. This year, the event's ninth, promoters have once again put together a cracking line-up.
Six great artists - Diesel, Mark Seymour, Daryl Braithwaite, the Black Sorrows, Pseudo Echo and 1927 - will take to the stage for a mighty day of rock'n'roll and all for just $89.90!
Expect an electrifying live performance from Diesel with his trademark virtuoso guitar playing and soulful vocals, the power and passion of the incredible Mark Seymour, feel-good chart-topping hits and showmanship of Daryl Braithwaite and Joe Camilleri's Black Sorrows, the funky grooves of Pseudo Echo and the classic pop of 1927 to kick start the day.
Annie's Lane is once again going to be THE place to be on Saturday February 23!
EVENT INFORMATION:
a day on the green is a fully licensed event. Strictly no BYO alcohol. Food will be available on site or BYO picnic. Deck chairs and picnic rugs are recommended. For all event information, go to adayonthegreen.com.au.
TICKETING INFORMATION:
Front General Admission (byo rugs & deck chairs): $129 plus booking fee.
General Admission: $89.90 plus booking fee.
Concert & Dining Packages from Ticketmaster 1300 889 270.
TRANSPORT & ACCOM INFORMATION:
For coach enquiries from anywhere within SA, call LinkSA on (08) 8564 3022 or go to linksa.com.au. Shuttle buses will be operating from Clare to Annie's Lane on the event date and returning after the last act performs. For enquiries, call LinkSA.
For Clare Valley Accommodation and Camping Enquiries, phone 1800 242 131 or go to clarevalley.biz
ABOUT THE ARTISTS:
DIESEL - In a career spanning 13 albums and 25 years, Diesel aka Mark Lizotte has proved himself to be a master musician across multi genres, and vocalist of the highest order. The multi ARIA-award winner is a prodigious talent both on stage and in the studio. Diesel's most recent album 'You Got There From Here' (June 2012) is a collection of hits, acoustic tracks and live recordings.
MARK SEYMOUR - Acclaimed singer / songwriter Mark Seymour has followed up his successful 18 years with Hunters & Collectors with a vibrant solo recording career. Mark's song-writing ever evolves, he continually produces songs that resonate and permeate one's consciousness. His current pursuits include composition of film scores, writing and performing music for a theatrical production and acting. He continues to draw live audiences with his intense passionate vocals delivered with a measure of wry humour. His most recent - and 6th solo album - Mark Seymour & the undertow was released last year.
DARYL BRAITHWAITE - In a distinguished career spanning more than 40 years, Daryl has stamped his reputation as one of Australia's award-winning premier performers. Sherbet re-wrote the history books with 20 Top 40 hit singles, success which has continued to Daryl's solo career with hits like 'As The Days Go By', 'Horses' and 'One Summer'. He continues to do what he loves, performing to a dedicated fan base all over the country.
JOE CAMILLERI'S BLACK SORROWS - Joe may be celebrating his 45th year in the music industry but he sounds better than ever! Camilleri is that rare musician who can turns his hand to many musical genres, with one of his favourites and best-loved being the infectious blend of pop/rock and roots music that is The Black Sorrows. Expect to hear 'Harley & Rose', 'Chained To The Wheel', and 'Hold On To Me' amongst many others.
PSEUDO ECHO - Electro-pop pioneers, Pseudo Echo are back! After notching up over one million album sales and topping the charts in Australia, US, UK, Canada, Sweden and more, Pseudo Echo became a household name across the globe, best known for their smash hit, 'Funky Town'. 2012 marks the band's 30th anniversary and they're ready to celebrate, armed with their first new single 'Suddenly Silently' since the 80's and shows across Australia.
1927 - Fronted by singer Eric Weideman, 1927's classic album "...ISH" remains one of the highest selling debut albums ever by an Australian artist with songs like 'That's When I Think Of You', 'If I Could', 'You'll Never Know' and 'Compulsory Hero' dominating charts and to this day, remaining radio favourites. The band supported Roxette on their sold out national area tour earlier this year and are now working on new material and hope to record soon.
TICKETS ON SALE FRIDAY NOVEMBER 9
From ticketmaster.com.au & 136 100, venuetix.com.au & (08) 8225 8888 and Annie's Lane (08) 8843 2320
a day on the green is proudly presented by Roundhouse Entertainment, MAX and LG.