News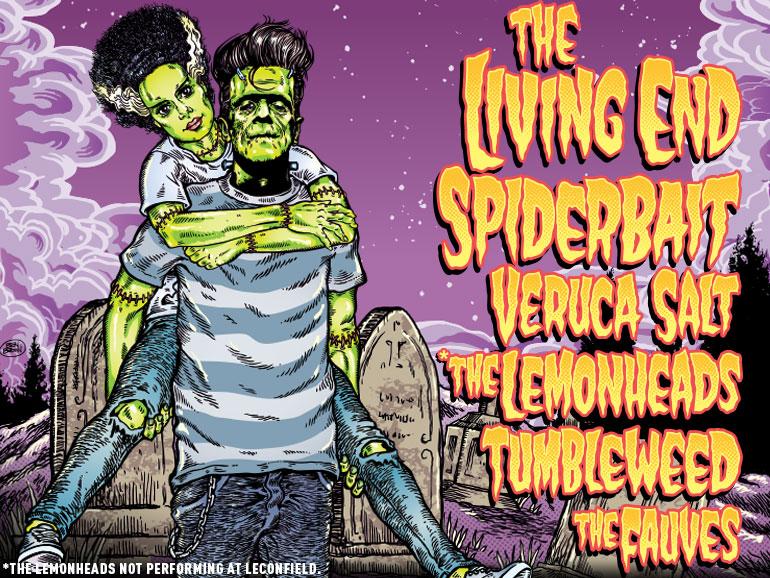 Almighty Monster Rock Line-up
14th September, 2017
COMES TO A DAY ON THE GREEN

Prepare for iconic indie rock anthems in the great outdoors when THE LIVING END, SPIDERBAIT, VERUCA SALT, THE LEMONHEADS, TUMBLEWEED and THE FAUVES combine for an almighty a day on the green national tour next February/March.

It's a bill bursting with bands who were part of the alternative heyday of the 1990s, a period that has left a remarkable legacy on Australian music fans and continues to be held with muchos affection.

Between them, these six bands have notched up eight ARIA Awards, received more than 30 ARIA Award nominations, had 12 Top 10 albums and 19 Top 40 hit singles. They've played just about every major music festival in the world and worked with a wide range of collaborators – everyone from Kylie Minogue to The Wiggles!

In the live arena their reputations were made through performances marked by energy, passion and verve – qualities that will once again be on display during this tour.

If the resounding success of similar alt-jaunts with Hoodoo Gurus, Sunnyboys, Violent Femmes, Died Pretty and Ratcat in 2015 and last year's You Am I, Something For Kate, Spiderbait, Jebediah and The Meanies run are anything to go by, this will be a tour to savour!

THE LIVING END have earnt their enviable standing as one of the most compelling and captivating bands in Australian rock history. Their 1998 self-titled debut album hit number one on the ARIA chart, spawning singalong anthems Prisoner Of Society, All Torn Down, Second Solution, West End Riot and Save The Day, beginning a chart domination that continued with Roll On, Pictures In The Mirror, What's On Your Radio, Wake Up and White Noise to name but a few. Twenty years on they continue to be a force to be reckoned with, with last year's Shift becoming their seventh ARIA Top 10 album. Having just completed a huge US tour, their live shows continue to excite fans worldwide.

The Living End's Chris Cheney said. "Check it out folks, grab the esky and your picnic blanket because we are excited to announce we're playing a day on the green! After spending a huge chunk of this past year touring internationally we can't wait to play shows in our own beautiful Australian backyard. As anyone who's ever gone to a day on the green knows, they're always unique gigs but this one is extra special. The line-up is killer! We'll be joined by Spiderbait, Veruca Salt, The Lemonheads, Tumbleweed and The Fauves … Hot damn! Get on it!"

SPIDERBAIT thrilled audiences when they saddled up for their first a day on the green tour in 2016, so are very happy to being doing another lap of the winery map. With five Top 20 albums, two ARIA Awards, a massive number one anthem with the irrepressible Black Betty and a huge and loyal following, it's true to say Kram, Janet and Whitt's special musical alchemy is a wondrous thing! Earlier this year they embraced their past by playing in full their most popular album, Ivy And The Big Apples, – home to the triple j Hottest 100 number one Buy Me A Pony. We can't wait to welcome them back!
Spiderbait's Kram said: "We're all so stoked be playing a day on the green again next year all around Australia. The last time we did these shows the response was amazing and the gigs were so awesome. Thanks to the fans that came out and made these events so brilliant for us. We hope to see you all again with our mates The Living End, Veruca Salt, The Lemonheads, Tumbleweed and The Fauves … such a great line-up and we can't wait for it all to start!"

VERUCA SALT's signature hit Seether remains one of the most-loved rock tunes of the '90s. Not surprisingly, the band experienced a meteoric rise, doing everything a young band coming of age in the grunge era could hope for – selling more than a million records, touring with alt-rock royalty Hole and PJ Harvey, and winning critical acclaim for albums like American Thighs (named after an AC/DC lyric). After breaking up in 1998, the original line-up – Nina Gordon, Louise Post, Jim Shapiro and Steve Lack – re-formed in 2013 and were warmly welcomed back on stage. In 2015 they released their fifth studio album, Ghost Notes, the first to feature the band's original line-up since 1997's Eight Arms To Hold You. This will be their first a day on the green tour.

THE LEMONHEADS' Evan Dando was '90s rock royalty, writing much of his band's breakthrough album – 1992's It's A Shame About Ray – in his second home of Australia. A concentrated blast of pure pop perfection, Come On Feel The Lemonheads, followed reaching number 19 on the ARIA chart, giving the band their first Top 20 album in the world. Since then, Evan has been a regular visitor to Australia, both as a solo act and reactivating THE LEMONHEADS. We look forward to hearing those melodic masterpieces like Into Your Arms, Being Around, The Outdoor Type, The Great Big No, Rudderless, Big Gay Heart, Alison's Starting to Happen, It's A Shame About Ray and Mrs. Robinson.

Straight outta Tarrawanna, TUMBLEWEED personified stoner rock in the '90s with signature thundering riffs through tracks like Sundial, Hang Around and Gyroscope. They won the prestigious support slot on Nirvana's only Australian tour and cemented themselves as one of the most-loved bands of the era with the 1995 release of their ARIA Top 10 album, Galactaphonic. Reactivated nearly 10 years ago, they've effortlessly picked up where they left off.

Known for their witty lyrics, melodic pop-rock and often satirical explorations of Australian themes, THE FAUVES fast became the best band to come out of the Mornington Peninsula since Australian Crawl. Releasing 11 studio albums with radio hits like Everybody's Getting A 3 Piece Together and Dogs Are The Best People, scoring an ARIA nomination for Future Spa, as well as being the subject of the acclaimed documentary 15 Minutes To Rock, nearly 30 years later The Fauves continue to do what they do best.

There you have it … The Living End, Spiderbait, Veruca Salt, The Lemonheads, Tumbleweed and the Fauves. Six rocking bands, six rocking concerts!

A DAY ON THE GREEN
The Living End, Spiderbait, Veruca Salt, The Lemonheads, Tumbleweed and The Fauves

Saturday Feb 24 Bimbadgen, Hunter Valley NSW
Sunday Feb 25 Sirromet Wines, Mt Cotton QLD
Saturday Mar 3 Petersons Winery, Armidale NSW
Saturday Mar 10 Josef Chromy Wines, Launceston TAS
Sunday Mar 11 Mt Duneed Estate, Geelong VIC
Saturday Mar 17 Leconfield Wines, McLaren Vale SA * The Lemonheads not performing

Tickets on sale from ticketmaster.com.au | Ph: 136 100

VERUCA SALT will also perform two headline shows:

Thursday Mar 1 – Metro Theatre, Sydney (18+)
Tickets on sale from Ticketek.com.au | 132 849

Friday Mar 9 – 170 Russell, Melbourne (18+)
Tickets on sale from moshtix.com.au | 1300 438 849
All event information frontiertouring.com

ABOUT A DAY ON THE GREEN:
This summer season marks the 17th year of a day on the green, which started in January 2001. After more than 425 shows and three million happy patrons, the a day on the green experience of good food, good wine and great music is firmly established as one of Australia's most popular concert events.

EVENT INFORMATION:
a day on the green is a fully licensed event. Strictly no BYO alcohol. Food will be available on site or BYO picnic. Camping chairs and picnic rugs are recommended. For all transport, accommodation and event information, go to adayonthegreen.com.au

TICKETS ON SALE MONDAY SEPTEMBER 25 AT 10.00AM
From ticketmaster.com.au | Ph: 136 100