News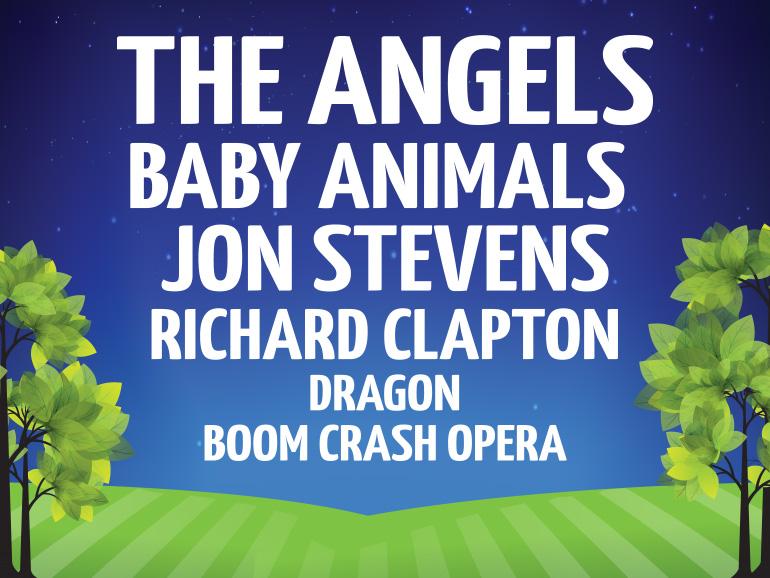 ALL SAINTS 2015 LINEUP ANNOUNCED
9th December, 2014
The Angels, Baby Animals, Jon Stevens,
Richard Clapton, Dragon, Boom Crash Opera
All Saints Estate, Rutherglen – Saturday 11 April 2015
a day on the green members pre-sale: 10am Wednesday 10 December until 5pm Thursday 11 December. Click here to sign up.
a day on the green launches an invasion of Australian rock'n'roll with its next event at All Saints Estate, Rutherglen on Saturday 11 April 2015.
Six great artists – The Angels, Baby Animals, Jon Stevens, Richard Clapton, Dragon and Boom Crash Opera will take to the stage for a mighty day of rock'n'roll and all for just $89.90!
The a day on the green classic Aussie rock shows are hugely popular all around Australia – what's not to love! Good food and wine, friends, a magnificent location and five hours of unforgettable hits. .
For this 12th annual event at All Saints Estate - let there be rock we say!
THE ANGELS celebrated their 40th anniversary this year with the May release of two commemorative career-spanning albums; 'The Angels Volume 1 – 40 Greatest STUDIO Hits' and 'The Angels Volume 2 – 40 Greatest LIVE Hits', backed up with a predominantly sold-out tour.
Since joining in 2011, frontman Dave Gleeson has totally re-energised the band, prompting two albums of new material 'Take It To The Streets' (2012 – their first studio album in 14 years) and 'Talk The Talk' (2014) and a renewed love of touring resulting in constant sold out shows around the country. The band will be recording again early next year. The Angels debuted on the a day on the green stage in 2012 and received what can only be described as an overwhelmingly raucous reception!
Another a day on the green crowd favourite is the Suze DeMarchi-led BABY ANIMALS. The band has been warmly embraced since reuniting and releasing 'This Is Not The End', their first album of new music since 1993. Recent singles 'News Email' and 'Stitch' sit well next to fan favourites like 'Early Warning', 'One Word' and 'Rush You' in the set list. Suze remains one of rock's most charismatic frontwomen.
Through his solid studio recordings and incredible live performances, JON STEVENS has deservedly earned a reputation as one of Australia's most respected and popular performers. Noiseworks enjoyed four Top Ten albums and dominated the radio airwaves and the charts, Jon fronted INXS for three years after the death of lead singer Michael Hutchence, was part of three Australian productions of Jesus Christ Superstar and has received wide spread acclaim for his solo albums. Most recently he has been fronting The Dead Daises who released their debut album last year and continue to tour solidly in the UK and US.
RICHARD CLAPTON has endeared himself to music-lovers everywhere through his heartfelt inspired performances and a songbook that defines our times. With hits like 'Girls On The Avenue', 'Deep Water', 'Capricorn Dancer', Richard was a thoroughly deserving and popular inductee into the ARIA Hall Of Fame. He released his much-acclaimed autobiography 'The Best Years Of Our Lives' in August this year.
With an unforgettable run of chart-toppers like 'Are You Old Enough', 'April Sun In Cuba', 'Still In Love With You', 'Rain' and many others, DRAGON'S legacy is of one of Australasia's most successful pop bands. Joined many years ago by veteran vocalist Mark Williams as front man, a revitalised Dragon has continued to release new material and tour nationally.
Growing out of the fertile post-punk scene in Melbourne, BOOM CRASH OPERA hit heady heights with smash hits 'Great Wall', 'The Best Thing', 'Onionskin', 'Dancing In The Storm' and 'Get Out Of The House'. The band members have continued to work in music, theatre and TV worlds, reconvening sporadically for live appearances.
ABOUT A DAY ON THE GREEN:
This summer marks the 14th year of a day on the green. After more than 350 shows and more than 2.5 million happy patrons, the a day on the green experience is firmly established as one of Australia's most popular concert events.
SATURDAY 11 APRIL - ALL SAINTS ESTATE, RUTHERGLEN
EVENT INFORMATION:
a day on the green is a fully licensed event. Strictly no BYO alcohol. Food will be available on site or BYO picnic. Deck chairs and picnic rugs are recommended. For all event information, click here.
TICKET INFORMATION:
Platinum: $149.90 plus b/fee
Gold: $129.90 plus b/fee
Silver: $115.90 plus b/fee
General Admission (BYO chairs & rugs): $89.90
TRANSPORT INFORMATION:
For ticket and transport packages contact Martins Travel (Albury) on 02 6040 4400 & Cullens Coaches (Wangaratta) on 03 5721 6611.
For transport only contact Cann's Buslines on 02 6033 2249.
For accommodation contact Rutherglen Wine Experience on 1800 622 871 or the Visitors Centres at Corowa 1800 814 054, Wangaratta 1800 801 065, Albury/Wodonga 1300 796 222 or Yarrawonga/Mulwala 1800 062 260.
TICKETS ON SALE MONDAY DECEMBER 15
From Ticketmaster.com.au & 136 100
GA tickets also available from the Corowa Visitor Centre (02) 6033 3221 and Rutherglen Wine Experience 1800 622 871.
a day on the green is proudly presented by Roundhouse Entertainment, AAMI and Sunsuper.