News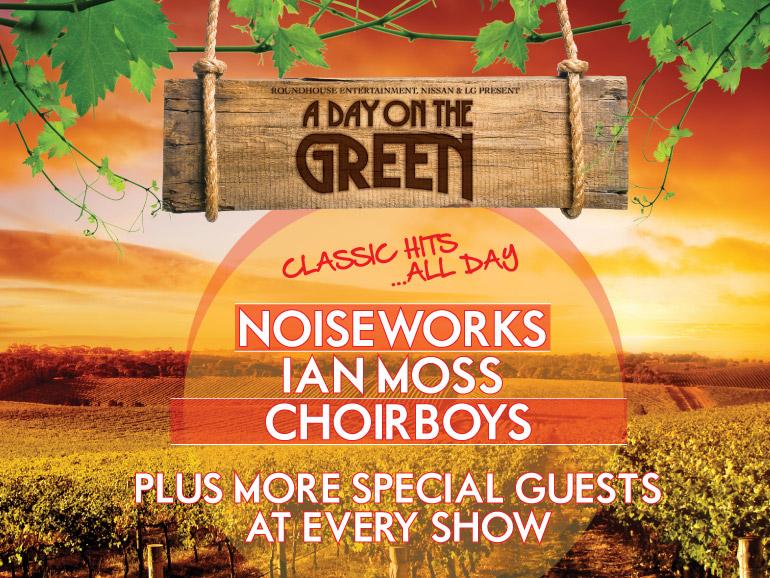 3 MORE NOISEWORKS SHOWS!
23rd November, 2011
A celebration of Oz Rock
Noiseworks, Ian Moss, Ross Wilson, Richard Clapton, Dragon & More...
The national concert series a day on the green celebrates classic Oz Rock with a mighty big bang with its next run of events in early 2012.
Noiseworks, Ian Moss, Ross Wilson, Richard Clapton, Dragon, Daryl Braithwaite, 1927 and Choirboys will play across concerts in NSW, VIC and SA - events best described as musical feasts given they will be a celebration of the Australian rock music history these artists have so vibrantly helped define.
And how's this for value - each show will feature at least five bands for only $89!
With classics like 'Take Me Back', 'Love Somebody', 'No Lies', 'Tucker's Daughter', 'Bow River', 'When The War Is Over', 'Eagle Rock', 'Come Said The Boy', 'Cool World', 'April Sun In Cuba', 'Are You Old Enough', 'Howzat', 'That's When I Think Of You', 'Run To Paradise' and 'Boys Will Be Boys' to name just a few, the wineries promise to be one giant sing-a-long of home-grown hits.
The tour also introduces the first new venue to the a day on the green family in three years, the magnificent Petersons Winery, Armidale in the NSW Central Tablelands.
The concerts are all general admission so with good food and wine and your favourite deck chair, a magnificent location, classic rock all day long and tickets at just $89 - it sounds like a sensational value-for-money party day to us!
CONCERT LINE-UPS:
SATURDAY FEBRUARY 28 - ANNIE'S LANE, CLARE VALLEY SA
Noiseworks, Ian Moss, Richard Clapton, Dragon, Choirboys
SATURDAY MARCH 3 - BIMBADGEN WINERY, HUNTER VALLEY NSW
Noiseworks, Ian Moss, Richard Clapton, Dragon, 1927, Choirboys
SATURDAY MARCH 10 - PETERSONS WINERY, ARMADALE NSW
Noiseworks, Ian Moss, Ross Wilson, Richard Clapton, Dragon, Choirboys
SATURDAY MARCH 17 - ALL SAINT'S ESTATE, RUTHERGLEN VIC
Noiseworks, Ian Moss, Ross Wilson, Daryl Braithwaite, Choirboys
Click here to view full Media Release
Click here for full event details
Member pre-sale starts 9am Monday 28 November - click here to join