News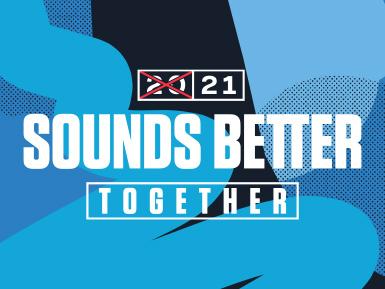 2021 Sounds Better Together
18th January, 2021
VISIT VICTORIA AND MUSHROOM GROUP PROUDLY PARTNER FOR
'2021 SOUNDS BETTER TOGETHER'
A CELEBRATION OF LIVE MUSIC IN THE STATE OF MUSIC
EIGHT DAYS OF CONCERTS TO BE STAGED ACROSS METRO & REGIONAL VICTORI

● Concert series to be held across eight days from Sat 23 January – Sat 30 January
● Some of Victoria's most spectacular venues to welcome the return of live music in 2021
● Artists performing include: Jimmy Barnes, Tones And I, Missy Higgins, The Teskey Brothers, James Reyne, Daryl Braithwaite, Vika & Linda, Deborah Conway, Gordi, Didirri, Mia Wray, Something for Kate and more

2020 saw our live music industry brought to its knees as COVID-19 turned the lights out on venues across the country. But with the dawning of 2021 the Australian spirit shines bright as our nation unites together in hope of a better year ahead. The roadcases are about to be packed, sound levels checked, and spotlights positioned. Live music is ready to return…and in a most spectacular fashion.

Mushroom Group and Visit Victoria are proud to announce their partnership for 2021 SOUNDS BETTER TOGETHER, an unprecedented series of COVIDSafe concerts across multiple metro and regional venues from Saturday 23 January to Saturday 30 January, featuring some of our finest home-grown talent in some of Australia's most stunning locations.

From fire recovering Mallacoota, to the rolling vines of Rutherglen and the Yarra Valley, to the sweeping Surf Coast, to the intimacy of Melbourne's Prince Of Wales Bandroom ; live performances from some of Victoria's most renowned venues and unique locations will kick off at two of the State's finest wineries and culminate at Mallacoota Oval on Saturday 30 January.

The first round of concerts to be announced feature Jimmy Barnes, Tones And I, Missy Higgins, The Teskey Brothers, James Reyne, Daryl Braithwaite, Vika & Linda, Deborah Conway, Gordi, Didirri and Mia Wray. Further concerts in established live music venues will be added this week, including an intimate show at Melbourne's iconic Prince Bandroom with indie favourites Something for Kate, which was teased at today's official launch of 2021 SOUNDS BETTER TOGETHER.

Martin Pakula, Minister for Tourism, Sport and Major Events said: "The 2021 Sounds Better Together series will get musicians back on stage and help people enjoy a great night out, supporting communities across the state. It's another part of the extensive support we've provided to the tourism, creative and major events industries, which had a very challenging year last year. Our music industry supports thousands of jobs and injects millions into our economy, and we're helping the sector get back on track."

Michael Gudinski, Mushroom Group Founder & Chairman said: "Live music is integral to the heart and soul of Australia. These COVIDSafe concerts may be a little different to what we're used to but the chance to finally experience live music again is incredibly exciting. This is the State of Music and the Victorian Government have been major music supporters. Our partnership for this concert series is designed to both support our local industry, who did it tough in 2020, and deliver live concerts to music lovers – and with tickets for only $49.90*, and limited COVID Safe capacities, you'll need to get in quick."

Ahead of her sold out Sidney Myer Music Bowl performance on 27 January, beloved Melbourne artist Missy Higgins performs at Mt Duneed Estate for 2021 SOUNDS BETTER TOGETHER. Appearing at today's official launch, Missy said "Live music has always been an essential part of life in Victoria so it's exciting to finally be getting back to playing gigs here again. Hopefully these special shows can be a bit of a thank you to everyone for all the sacrifices they made last year."

The five-time chart topper and nine-time ARIA Award winner will perform songs from her extensive catalogue – with iconic tracks like 'Scar', 'The Special Two', 'Steer' – along with new music including her latest single 'When The Machine Starts', which reflects her experience during Melbourne's 2020 lockdowns. With more than two million albums sold globally, Missy is truly one of Australia's greatest musicians, her live performance sure to captivate audiences this weekend.

Global powerhouse Tones And I joins Missy Higgins in co-headlining 2021 SOUNDS BETTER TOGETHER at Mt Duneed Estate on Saturday. Hailing from Victoria's Mornington Peninsula, Tones is Australia's biggest international success story, a multi-platinum singer-songwriter amassing a record number of global streams of her hit single 'Dance Monkey', along with follow up singles 'Never Seen The Rain', new single 'Fly Away', which is climbing charts globally and more ('Dance Monkey' has also taken the crown for the Most Shazamed song of all time!).

With a "remarkable voice that can go from hushed to hurricane" (Sydney Morning Herald), Tones And I is without doubt one of the most exciting artists to emerge from Australia in years. "It's great to be a part of Sounds Better Together and bring live music back to Victoria", says Tones. It's going to be an epic night of music, when these legendary ladies join forces for Victorian audiences in a matter of days!

Sydney-via-Canowindra artist Gordi joins a huge line-up at Mt Duneed on the weekend. Alongside working her day job as a doctor, a particularly remarkable feat during COVID, the acclaimed singer-songwriter released her second studio album, Our Two Skins in June last year, garnering critical praise, two J Award nomination's (Australian Album of the Year and Artist of the Year). Gordi said, "I'm thrilled to be coming together to bring live music back to Victoria, it's going to be really special."

Rounding out Mt Duneed's sensational program is Warrnambool singer-songwriter Didirri. Known for his ethereal vocals, poetic, candid songwriting, and captivating on-stage presence, Didirri's performance will stay with music lovers long after his set has finished.

Music legend Jimmy Barnes needs no introduction. The master singer-songwriter-performer will deliver headline performances with his band at the Yarra Valley's Rochford Wines on 23 January and Rutherglen's All Saints on 25 January.

Jimmy Barnes is the heart and soul of Australian rock'n'roll. He has been inducted into the ARIA Hall of Fame twice, sold over 13 million albums, scored 17 #1 albums on the ARIA Charts, a feat that not even The Beatles have achieved. For more than 40 years, Barnesy has delivered some of our most intense and iconic live performances, with anthems like 'Working Class Man', 'Flame Trees', and 'No Second Prize' rocking pubs, arenas and stadiums across the globe. His bestselling memoirs have sold more than 500,000 copies and won the ABIA Biography Book of the Year Award in 2017 and 2018 – the only Australian author to do so twice. Jimmy's latest book, Killing Time, short stories from the long road home, was released in late 2019 and went to #1 on the Non-Fiction book chart. Released in 2019, Jimmy's latest album, My Criminal Record, picked up on many of the themes in his books and spawned the hit singles, Shutting Down Our Town and I Won't Let You Down.

Jimmy said, "It's so great to be a part of these shows. I get to take the stage with The Teskey Brothers, Daryl Braithwaite, Vika & Linda and more. I love playing music and it always sounds so much better playing live in front of a Victorian audience. Bring it on!"

One of Melbourne's greatest success stories, The Teskey Brothers are a rare musical gem. A raw combination of soul and blues, the four-piece have wowed audiences around the world with their undeniable live show. They join Jimmy Barnes for an evening of blues and rock in the stunning Yarra Valley this weekend. "We're very excited to be playing this surprise show," says bassist Brendan Love, "but especially because our first show of 2021 is with the legendary Jimmy Barnes. We can't wait."

Responsible for some of Australia's best-loved songs, from the undeniable 'The Horses' to HOWZAT', 'One Summer' and more, Daryl Braithwaite is a local music titan. An ARIA Hall of fame inductee, his latest single 'Love Songs' saw the music icon return to the ARIA Singles chart in 2020. Daryl has launched a brand-new chapter in his unparalleled career and will enthrall audiences in Rutherglen and Mallacoota this month.

Lauded songstress Deborah Conway has been a staple of the Australian music scene since the 80's, when she made waves fronting pop rock outfit Do-Re-Mi. She's a multi-ARIA Award winner, has multiple Gold albums her belt, and was inducted into the Live Legends Hall of Fame at the 2019 National Live Music Awards.

James Reyne's songs have provided the soundtrack to endless Australian summers, and they'll continue to do so at Mallacoota Oval on the eve of 30 January. With 19 x Top 40 hits across his celebrated career, Reyne is an ARIA Hall of Famer that has sold out shows around the world both solo and out front of the legendary Australian Crawl. His twelfth studio album Toon Town Lullaby was released last year, and sees Reyne focused firmly on the future.

Together with Daryl Braithwaite, Vika & Linda and Mia Wray, local audiences will be treated to a night of Australia's finest talent in Mallacoota later this month.

Vika and Linda Bull are Australia's most revered singing sisters, known for their rich vocal harmonies and stylistic breadth. After three classic albums with The Black Sorrows, Vika & Linda have released six studio albums, two live albums and a chart-topping anthology. They have also sung on number one albums by Paul Kelly, Kasey Chambers and John Farnham, done gigs for the Dalai Lama, Nelson Mandela and the King of Tonga, and been nominated for four ARIA Awards.

And recently, whilst still celebrating the recent release of their first ever best-of collection (and first ARIA #1) 'Akilotoa (Anthology 1996-2004), Vika & Linda have wasted no time in following up with an inspired album of gospel songs titled Sunday (The Gospel According To Iso), out now (ARIA #2).

Last year, Melbourne artist Mia Wray made a grand debut with her single 'Work For Me', which captured the attention of tastemakers around the country. Her soulful voice has drawn comparison to the likes of Lorde and Meg Mac, but Mia Wray is carving her own path and is a talent to watch in 2021.

For all 2021 SOUNDS BETTER TOGETHER events, a COVIDSafe event plan has been approved by the Victorian Public Health Advisory Panel, Chief Health Officer (CHO) and the Major Events Taskforce.

To ensure a COVIDSafe event the following will be implemented:
●
Reduced capacity shows
●
Digital tickets
- this ensures all contact details are recorded even when a ticket is forwarded or sold to another patron.
●
"Buy together to stay together"
- Shows will be reserved allocated seating only (we have increased the row widths to ensure social distancing between groups)
●
Regular touchpoint cleaning
●
Additional Bar, Food & Sanitary facilities
- to minimise queuing
●
Additional Staffing
– Security and Event staff to help manage social distancing onsite
●
COVIDSafe officer to ensure compliance
●
Hand Sanitiser station
s
●
Increased communications to patrons and staff
●
Event staff health check and training
●
Additional medical facilities and staffing

All 2021 SOUNDS BETTER TOGETHER events at indoor venues will be operating in a COVIDSafe environment. For full details please contact the individual venues directly.
Important COVID Information:
Given the current locations of outbreaks in the NSW region, anyone coming into Victoria from the NSW border region should check the NSW Health website and follow the instructions listed. Individuals can not attend if they have been outside the NSW bubble region.
Tickets to attend these special
2021 SOUNDS BETTER TOGETHER
concerts are priced at an incredible $49.90* and are on-sale from noon AEDT tomorrow (Tuesday 19 January). For details head to
soundsbettertogether.com
.
An exciting second round of artists and shows will be announced later this week - stay tuned!
* transaction fees apply
2021 SOUNDS BETTER TOGETHER
JANUARY 23-30
Presented by Visit Victoria and Mushroom Group
GENERAL PUBLIC ON SALE
Begins:
Tuesday 19 January 12noon AEDT
ALL SHOWS LICENSED ALL AGES
Please note all patrons will require a ticket regardless of age, including infants and babes in arms
Tones and I + Missy Higgins + Gordi + Didirri
Saturday 23 January
Mt Duneed Estate | Surf Coast, VIC
On sale: Tuesday 19 January 12noon AEDT
ticketmaster.com.au
| 136 100
Jimmy Barnes + The Teskey Brothers + Vika & Linda
Saturday 23 January
Rochford Wines | Yarra Valley, VIC
On sale: Tuesday 19 January 12noon AEDT
ticketmaster.com.au
| 136 100
Jimmy Barnes + Daryl Braithwaite + Deborah Conway
Monday 25 January
All Saints Estate | Rutherglen, VIC
On sale: Tuesday 19 January 12noon AEDT
ticketmaster.com.au
| 136 100
James Reyne, Daryl Braithwaite + Vika & Linda + Mia Wray
Saturday 30 January
Mallacoota Oval | Mallacoota, VIC
On sale: Tuesday 19 January 12noon AEDT
ticketmaster.com.au
| 136 100
Patrons are advised to purchase tickets only through authorised ticket sellers.
We cannot guarantee any ticket purchase made through any means other than the official ticketing agents listed on the Frontier website.

-

Important COVID Information: Ticket purchases are subject to change dependent on Government COVID guidelines and regulations at the time of the event. This may require a reduction in the number of persons who may attend the event or changes to Reserved Seating allocations and General Admission configurations