News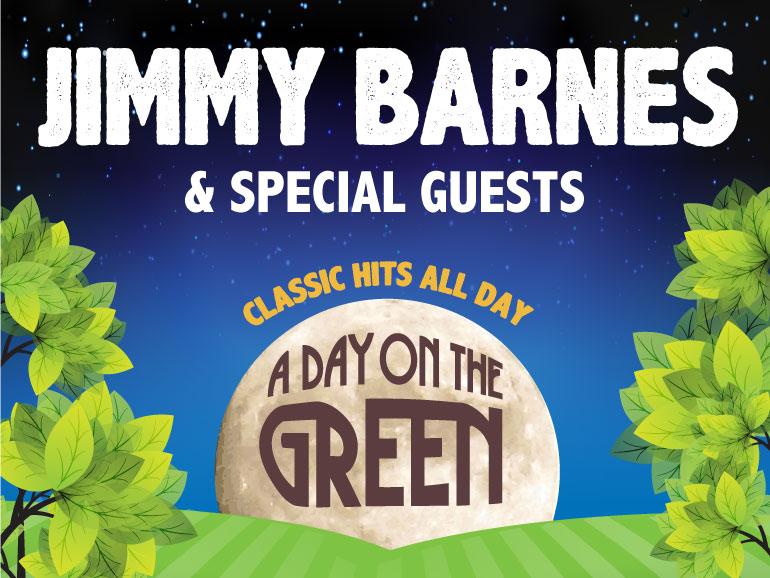 10TH BIRTHDAY CONCERT - CLARE VALLEY
7th November, 2013
Classic Hits All Day
With Jimmy Barnes, Baby Animals, Jon Stevens & The Dead Daisies, James Reyne and more.
Annie's Lane, Clare Valley - Saturday February 8
Happy birthday to us! a day on the green is celebrating 10 fantastic years of concerts in the Clare Valley.
The next event at Annie's Lane on Saturday February 8 2014 marks the 10th birthday of the popular winery event in the region – and like all good birthdays, promoter Roundhouse Entertainment has a big celebration planned.
The winery will rock to the sounds of Jimmy Barnes, Baby Animals, Jon Stevens & The Dead Daisies (in their first ever SA show), James Reyne, Ross Wilson and Richard Clapton. That's six incredible acts and more than five hours of some of the greatest Australian rock ever produced – all for just $89.90!
Promoter Michael Newton said: "Since the very first event at Annie's Lane, it's become one of our favourite destinations amongst all our wineries around Australia. We've seen some incredible shows over the years and we've had fantastic support from everyone in the region. We wanted something special for this 10th birthday and we've got that with this all-star line-up."
JIMMY BARNES is no stranger to the a day on the green stage, both as a solo performer and with Cold Chisel, however it's been four years since his last winery concerts as a solo artist. His Annie's Lane show in February 2009 was one not easily forgotten!
"I remember well the last time we played at Annie's Lane. We stayed up there in the Clare Valley and had an absolute blast," Jimmy said. "It's a fantastic way to enjoy music, sitting back with your friends in a great location. I'm honoured to be coming back to head-up this 10th birthday celebration concert next February. It's another great line-up of Australian talent so we'll definitely be in party mode!"
It is hard to believe but 2014 will mark 30 years since Jimmy began his solo career. Since the release of his debut album 'Bodyswerve' in 1984, he has notched up more #1 ARIA albums (nine) than any other Australian artist – an amazing achievement. Cold Chisel's triumphant sell-out return to the stage in 2011 added another chapter to that band's amazing legacy and reaffirmed – not that there were any doubts – that Jimmy reigns supreme as not only the undisputed king of Australian rock'n'roll but also one of our most-loved performers.
To see BABY ANIMALS back in full flight on stage this past year has been an unabashed delight. The band has been touring to promote their first album of new music since 1993 "This Is Not The End". The compelling Suze DeMarchi still commands the stage and new songs like 'Email' and 'Stitch' have been well and truly embraced by fans next to set list favourites like 'Early Warning', 'One Word' and 'Rush You'.
The latest incarnation of Jon Steven's multi-faceted career, new band THE DEAD DAISIES - may well end up being one of his most successful. Formed with fellow Australian, guitarist David Lowy, the powerful musical collective includes Charley Drayton (The X-pensive Winos/The Cult), Richard Fortus (Guns 'N' Roses/Thin Lizzy), Darryl Jones (The Rolling Stones) and Dizzy Reed (Guns 'N' Roses). The Dead Daisies have just finished the a 25-date US festival tour alongside Alice In Chains and Jane's Addiction and in a few weeks begin a five week UK tour. The band's first single 'Lock'N'Load' features and was co-written by Slash and their self-titled debut album is due for release here soon. The band has done only a handful of gigs in Australia and this will be their first one in SA.
A true icon of the Aussie music business, JAMES REYNE just seems to get better with age. His latest solo album "Thirteen" finds the popular performer in brilliant form both as a vocalist and song-writer. His razor sharp observations and passion for melody continue to drive him to find excellence as an artist as evidenced on "Thirteen". And then there's that enviable catalogue of great hits as well!
Singer, songwriter and producer ROSS 'Mr Eagle Rock' WILSON is one of the truce icons of the Aussie music industry. From the legendary Daddy Cool through 80's chart-toppers Mondo Rock, through his acclaimed solo work including latest album 'I Come In Peace', Ross's live shows are always huge a day on the green favourites.
RICHARD CLAPTON has endeared himself to music-lovers everywhere through his heartfelt inspired performances and a songbook that defines our times. In late 2012 he released his first album in eight years "Harlequin Nights" to universal acclaim. With hits like 'Girls On The Avenue', 'Deep Water', 'Capricorn Dancer', Richard is a thoroughly deserving and popular inductee into the ARIA Hall Of Fame and is the perfect way to kick off the celebrations!
THRU THE YEARS:
2005 – Pete Murray, Missy Higgins, Tim Rogers, Clare Bowditch
2006 – Missy Higgins, Tim Freedman, Lior, Serena Ryder
2007 – The Pretenders, Paul Kelly, The Church, Josh Pyke
2008 – Hoodoo Gurus, Thirsty Merc, Diesel, Low Ryder
2009 – Jimmy Barnes, The Angels, Mark Seymour, Mahalia Barnes
2010 – Tom Jones, David Campbell, the Wolfgramm Sisters
2011 - INXS, Train, Baby Animals, Sean Kelly
2012 – Noiseworks, Ian Moss, Richard Clapton, Dragon, Choirboys
2013 – Diesel, Mark Seymour, Daryl Braithwaite, The Black Sorrows, Pseudo Echo, 1927
2014 - Jimmy Barnes, Baby Animals, The Dead Daisies, James Reyne, Ross Wilson and Richard Clapton. It sounds like a great 10th birthday party to us - see you there!
SATURDAY FEBRUARY 8 – ANNIE'S LANE, CLARE VALLEY
EVENT INFORMATION:
a day on the green is a fully licensed event. Strictly no BYO alcohol. Food will be available on site or BYO picnic. Deck chairs and picnic rugs are recommended. For all event information, click here.
TICKET INFORMATION:
Front General Admission (BYO deck chairs & picnic rugs): $129 plus b/fee
General Admission: $89.90 plus b/fee
TRANSPORT & ACCOM INFORMATION:
For coach enquiries from anywhere within SA, call LinkSA on (08) 8564 3022 or go to www.linksa.com.au. Shuttle buses will be operating from Clare to Annie's Lane on the event date and returning after the last act performs. For enquiries, call LinkSA.
For Clare Valley Accommodation and Camping Enquiries, phone 1800 242 131 or go to www.clarevalley.biz
ON SALE MONDAY NOVEMBER 18
From ticketmaster.com.au & 136 100, venuetix.com.au & (08) 8225 8888 and Annie's Lane (08) 8843 2320
a day on the green member presale starts 9am Monday 11 November, click here to sign up.
To view full event details, click here.